With the rise of streaming media in the last decade, DVD and Blu-ray discs gradually disappeared in our life. But there are some movie lovers, who still collect many DVD/Blu-ray discs. For making the DVD/Blu-ray playback easier, they need to rip these DVD/Blu-ray collections into digital files, because people are willing to watch movies on their portable devices due to the convenience.
In addition, digitizing DVD and Blu-ray not only can help you play DVD/Blu-ray more conveniently, but also can preserve the physical DVD/Blu-ray discs better. That is why developers bring out much software on the market to convert DVD and Blu-ray discs. According to my experience, VideoSolo BD-DVD Ripper is a strong performer among these competitors. Here, I would like to show you more details about this software and you will know why I believe it's an ace.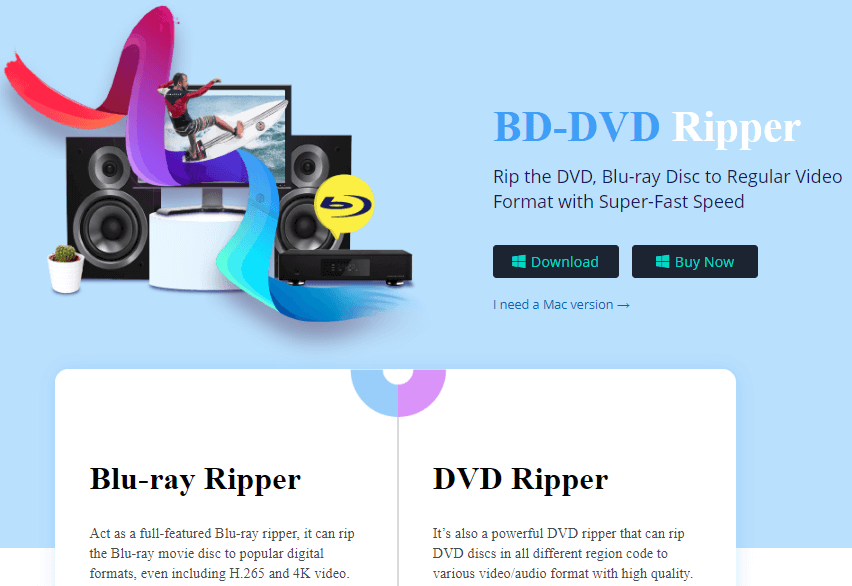 Wonderful Features of VideoSolo BD-DVD Ripper
When it comes to the conversion of DVD/Blu-ray, some points are important to most users, such as the quality of video or audio, the conversion speed, the available output format or the usable user interface. Then how is this program performing? I will share you the review.
Digitize DVD to Multiple Formats
It supports almost over 300 formats available for Android, iOS, Mac, or even Gaming Console, TV and any other digital devices. You are able to convert Blu-ray or DVD discs to MP4, MKV, FLV, MOV, M4V as well as rip the discs to MP3, AAC, M4A, WAV, etc. But too much formats for chosen may be the cons, I think it should be more simplified in this aspect.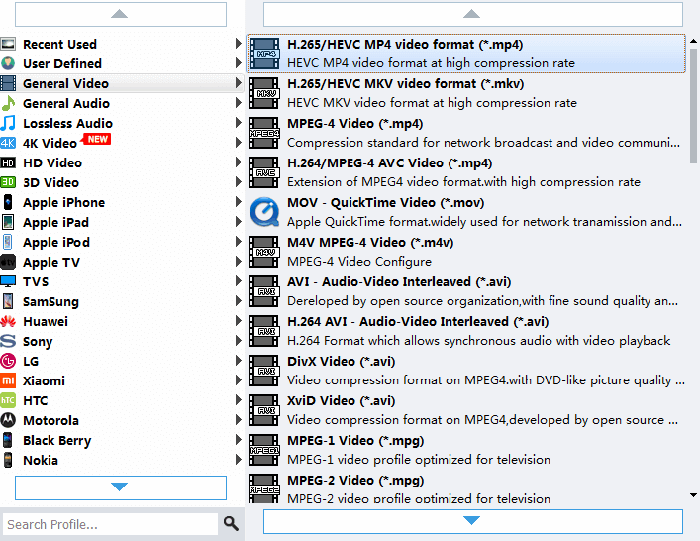 Custom Settings for Output Formats
If you want to make the conversion better, the corresponding parameter of output profile can be adjusted. For video settings, you can set the encoder, frame rate, resolution, video bitrate and so on. For audio settings, the options of encoder, sample rate, channels, and audio bitrate.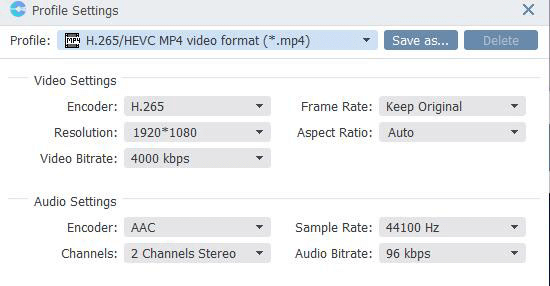 Accelerate Conversion Speed
Through accelerating GPU which is the advanced feature of VideoSolo BD-DVD Ripper, you can improve the conversion speed. Unfortunately, this function still cannot support Mac users because of the technical issue.
Keep High Quality Output
You know that some rippers would sacrifices quality for speed. Whereas VideoSolo BD-DVD Ripper wouldn't lose high quality while running the conversion at a high rate of speed. With the onward and upward conversion technology, the video or audio would keep the original quality.
Enhance Video
It also provides simple editing to help you perfect the video. You can clip, edit, rotate or enhance 3D effect. Moreover, there have a preview window for playing the videos.
Easy-to-Use
Take it easy! The user interface is designed to clear and simple that you just need the easy steps to do it, and you can find any features you need quickly. The detailed steps below for you.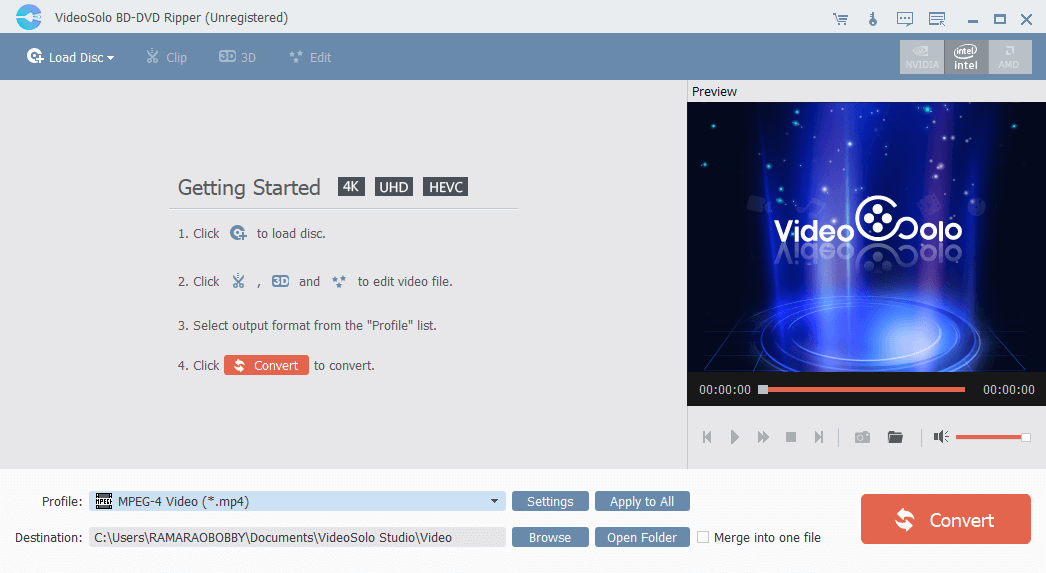 How to Rip DVD/Blu-ray Movie Disc with VideoSolo BD-DVD Ripper
Step 1. Insert your DVD or Blu-ray disc to the optical drive. And then click the "Load Disc" button to load the movie to the program. After the program finished loading, the DVD/Blu-ray movie will be displayed as below.
Step 2. Next, select the contents you want to rip, including subtitle tracks, audio tracks. Then you can set the corresponding parameter by clicking the "Settings" button. And the most important thing is clicking on the downwards arrow of "Profile" to choose one output format to rip your disc. Or you can select your digital device to find the proper format in the pull-down list.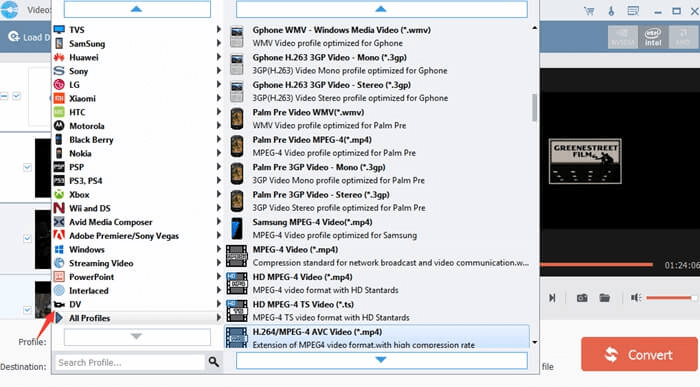 Step 3. Click the "Convert" button to start the conversion process. Waiting for some time, the DVD or Blu-ray movie will be converted into digital video files.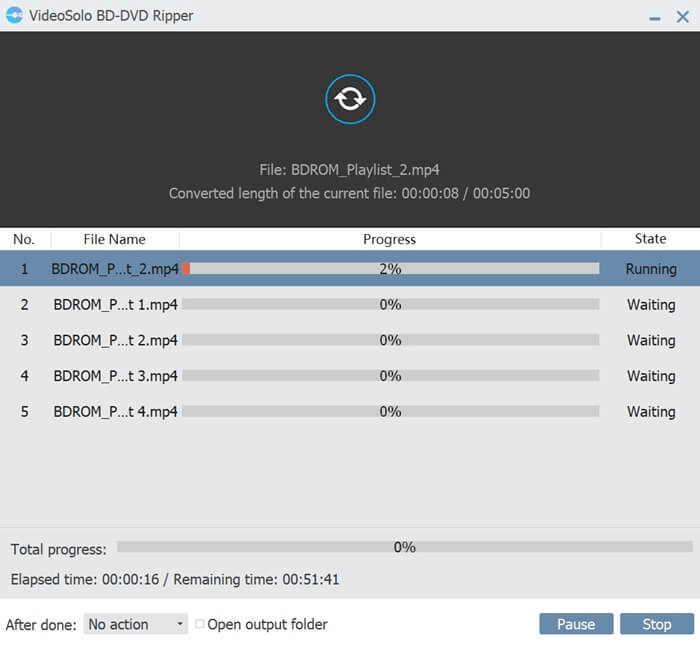 Next, let's see the pricing. VideoSolo BD-DVD Ripper brings out different paid version for individual users and home users. You can choose one according to your using requirement. Furthermore, it should be noted that, the pricing below is for the date of the article published, please refer to the product official website.
Version
For Windows
For Mac
1 Year Subscription
$34.95
(1 Year/1 PC)
$34.95
(1 Year/1 Mac)
Single License
$49.95
(Lifetime/1 PC)
$49.95
(Lifetime/1 Mac)
Family License
$69.95
(Lifetime / 2-5 PCs)
$69.95
(Lifetime / 2-5 Mac)
Tips: VideoSolo BD-DVD Ripper offers trial version and license version. I suggest you start with the trial version. If you are satisfied with the program, purchasing the license version is the best choice so that you can enjoy more high-grade features.
Whatever you are DVD lovers or just need to rip DVD to digital format, VideoSolo BD-DVD Ripper is an appropriate and good-value choice with the amazing features. Although the program is not definitely consummate, all the base functions can be enough to meet most of the conversion requirements. Therefore, I believe it is an ideal program for the majority and I recommend you to use.
You may also like to read: