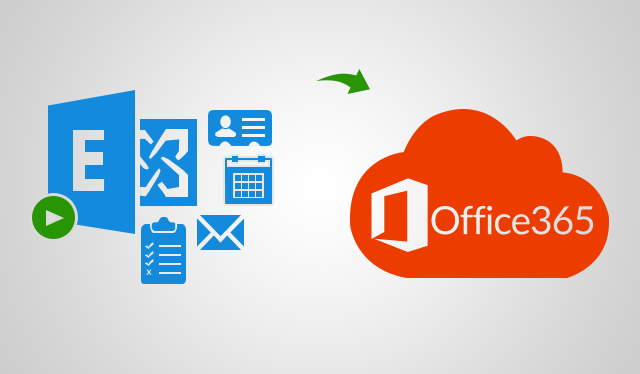 In the present era, a lot of Enterprises are moving from On-Premise Exchange to Exchange Online (Office 365). Unquestionably, many of them will migrate within a short time. Thus, it is quite a hectic and challenging task for the Exchange administrators to migrate Exchange 2016 to Office 365 cloud. Easy manageability, enhanced management, reduced maintenance costs for running Server are certain factors that encourage them to consider this migration.
Luckily, there are various methods available for the admins to carry out the entire process. But, let us first discuss the reasons why users should choose Office 365 over Exchange 2016.
Why Go for Office 365 Over Exchange 2016?
Microsoft Office 365 cloud service provides some great set of features due to which it is becoming an essential requirement for every business nowadays. Other than Outlook, OneDrive, SharePoint and Skype, it offers various other benefits as well such as:
1. Ease of Use & Cost Reduction – Microsoft has provided great flexibility when it comes to Office 365 subscription plans. There are multiple plans from which users can choose the best plan depending on their requirements. Moreover, users just have to pay for what they use. You can access Skype for Business, SharePoint Online, OneDrive, etc. with just one license (depends on the plan).
2. No Chances of Data Loss – Another important reason why users migrate Exchange 2016 mailbox to Office 365 is that it is backed by Microsoft's cloud services which is one of the most trusted vendors. Thus, there is no risk of data loss and Microsoft also offers high uptime of O365 services.
3. Security & Compliance – Security is a major concern for all organizations when it comes to storing data on cloud. That is why Office 365 becomes the first choice of users because it provides a wide range of security and compliance features.
All these benefits give Office 365 an edge over Microsoft On Premise Exchange 2016. Now, the following section explains the methods to move mailboxes from Exchange 2016 to Office 365.
How to Migrate On Premise Exchange 2016 to Exchange Online?
The users can choose from several ways which are available to move mailboxes from On Premise Exchange 2016 Server. It entirely depends on the user to opt for the options from manual or automated solutions. However, every process comes with some advantages and disadvantages. Please undergo the following segment of the article to get the method which best fits your requirements.
Best Way to Export Exchange 2016 to Office 365
Even though the users have the option to opt for manual process, but it is quite complex and time taking. Thus, we have come up with a quick way to migrate mailboxes without any hassle. The software provided by SysTools to migrate On Premise Exchange to Office 365 is a tried and tested tool by many experts. It does not impose any mailbox size limitation and makes sure that users get their complete data in the destination account.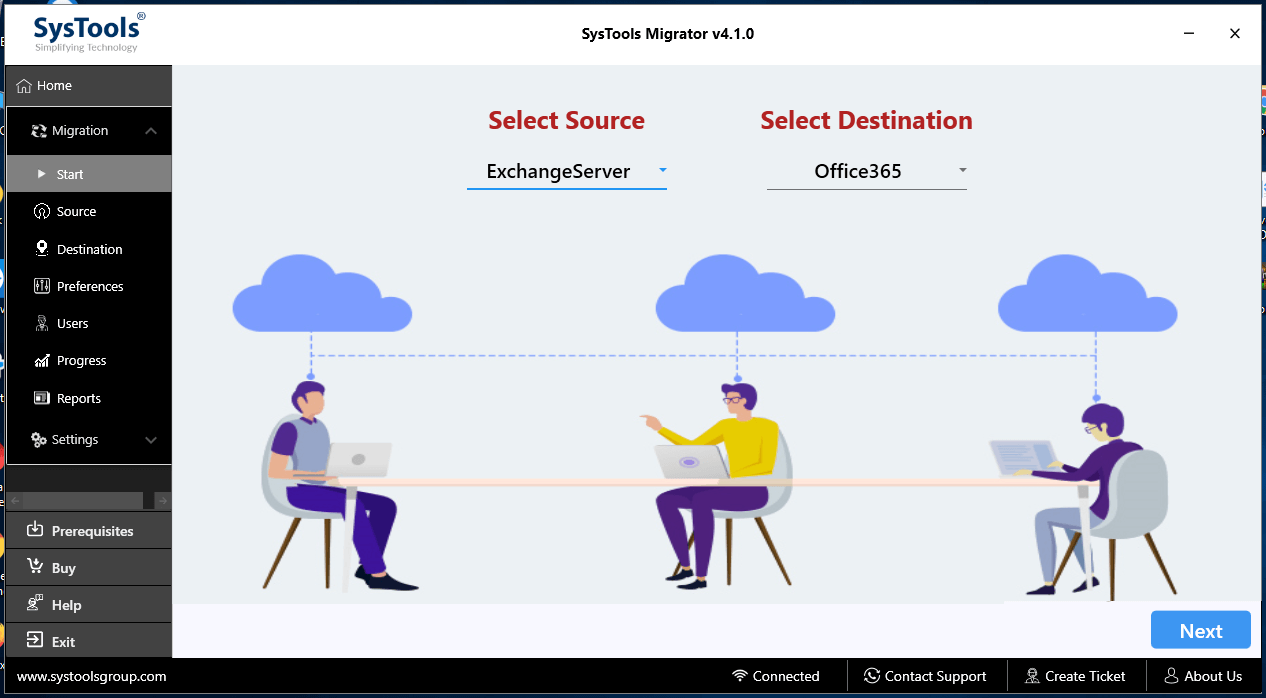 The software is loaded with some unique set of features which makes it extremely simple for the Exchange administrators to carry out the entire process. It has the option to transfer all the emails, calendars and contacts or select a specific mailbox item that you want to migrate. Some of the top features of this application are mentioned below:
Migrate Complete Exchange 2016 to Office 365 Data
Exchange Mailbox Size Limitation Not Imposed
Set Priority of Exchange 2016 Source Users
Option to Pause & Resume Process
Migrate On-Premise Exchange Server to Exchange Online Manually
Cutover Migration – This method migrates all mailboxes at once. Since all local mailboxes are transferred at the same time, it is difficult for users to process a large number of mailboxes. This approach supports up to 2000 mailboxes but is best for 150 or fewer mailboxes and can be used for Exchange 2016, 2013, 2010, 2007.
Hybrid Migration – The hybrid migration process works best when many Exchange mailboxes need to be migrated. With this method, a company can manage both online and local mailboxes and gradually migrate data to the Microsoft Office 365 cloud. While this process is smooth, it is complex and time-consuming because it is carried out in small batches.
If a user skips a step during the migration, the process remains incomplete. This method can be used to migrate Exchange 2016 to Office 365 as well as Exchange 2013 and 2010 Server data.
Limitations of Manual Methods Over Automated Tool
There are some limitations associated with the manual approaches which can make the process cumbersome for the administrators. Manual methods are more complex when compared to third-party applications. These procedures are time consuming and does not guarantee 100% data migration. Additionally, the entire process must be carried out by a person who is technically sound. If any mistake occurs at any step, then there might be chances of crucial data loss which cannot be recovered.
Final Words:
How to migrate Exchange 2016 to Office 365 is one of the most asked queries by users nowadays. The cloud productivity suite is becoming a necessity of many organizations as it helps administrators to manage their data efficiently. Now comes the question that how to carry out the complete task without losing any data. Thus, we will recommend the users to use third-party application to export On-Premise Exchange 2016 to Exchange Online without any hassle. Most of the CSPs also prefer using third party tools for migrations such as exchange 2010 to 2016 migration and SharePoint Online Migration etc.
You May Also Like