Slip rings, also referred to as rotary joints, are electromechanical devices. They are popular in electric induction motors and several other systems that require signal transmission between fixed and rotating components. In induction motors, slip rings mainly insert resistance, instead of conducting signals. However, these devices are designed to transmit power (electricity) or data signals from a stationary part to a rotating element.
The fixed part is usually made of carbon graphite and coated with gold, silver, or other metal alloys, although this will vary depending on the application of the slip ring. The rotating metal ring is often made of metal alloy. Slip rings are used in virtually all applications that involve signal transmission between static parts and components making infinite 360° rotations.
As such, there are several designs, including Pancake, Through Hole, PCB, USB, FORJs, Hybrid and Miniature slip ring models, to suit various applications. You can find them in wind turbines, air force and military equipment, smart toys, generator motors and more. Below is an overview of miniature slip rings and where they are used.
What is a miniature slip ring?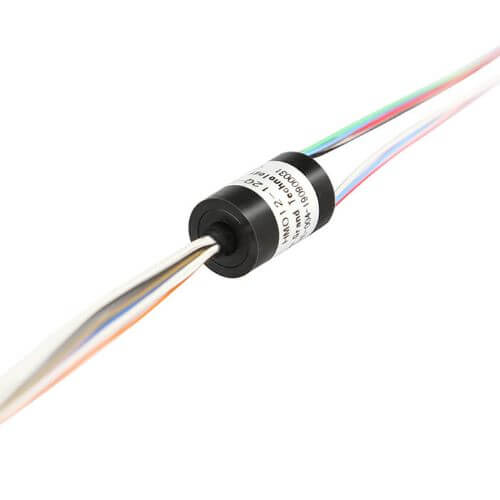 There are various types of slip rings and a miniature refers to designs modeled for small applications. As the name suggests, miniature slip rings feature a thin canvas where all the device specifications are added to suit its application. Most miniature slip rings use PCB because it is lightweight and durable. However, they can be made using other ultra-thin materials.
Miniature designs can also assume the pancake shape, although not all pancake slip rings qualify as miniature. These are strictly small slip rings that are installed in small spaces and little equipment. You can expect them to be some of the smallest rotary joints available in the market. Nonetheless, a miniature design still features the essential components of standard slip rings. This includes:
a) Fixed metal brush
These are tiny brushes that rub and slide on the rotating component to make contact and facilitate signal conversion. The part is manufactured using fiber brush technology and features enhanced plating to protect the contacts from abrasion and other forms of wear. You can find brushless miniature slip rings, which are the ideal choice for those seeking low resistance and torque.
b) Rotating centerpiece
The rotating ring receives signals when the contact brushes slide on its exterior surface and are made of metal alloy. It is also coated using precious metal like gold to improve the overall lifespan of the device.
A full kit will include other structural pieces, such as mounting caps. What's more, slip rings are application-specific, so the intricate specifications of the design depend on the equipment where the device is installed and its unique operating environment. For more about the design and specifications of a miniature slip ring, check https://www.grandslipring.com/miniature-slip-ring/.
Miniature slip ring application
All slip rings are designed for one primary purpose, which is to transfer power and data signals from a fixed part to a rotating part. They are ideal for systems that involve infinite rotations, so wires aren't a practical solution. They also function as rotary joints can insert resistance to help build torque during startup in some motors. Each slip ring is designed for specific equipment and application, so you can find miniature two slip rings that work in totally different setups. Some of the popular uses of miniature slip rings include:
1. Smart toys
Miniature slip rings provide the ideal design for smart toys, small robots, helicopter models and turntables. They are used to transfer signals between fixed and rotating parts of the toy and may feature various specifications required for optimal functionality. All smart toys that feature rotating parts can benefit from a miniature slip ring, which is usually thin, lightweight and fully customizable. Depending on the toy, these slip rings can transmit power signals, data, or both.
2. CCTV
Miniature slip rings are tiny electrical devices that suite space-critical environments of rotating CCTV surveillance systems. These models have low torque and low wear rates to survive the outdoor conditions and come with various specifications for video, data, Ethernet, USB and optical signals. You should pick the right circuit combination for the system you have installed, although all CCTV miniature slip rings will have support for video, Ethernet and power.
3. Tiny rotating systems
Miniature slip rings are functional in small rotary joints that require signal transmission. This includes tiny wind turbine controls, high-speed transmission, laboratory specimen monitoring equipment, stain gauge monitoring systems and high-speed dynamometer measurement, among others.
Conclusion
When comparing miniature slip rings, make sure you review all the specifications. While most are small and assume disc shape, you can still find cylindrical models, so you should pick the best design for your application. There are several reputable manufacturers in the market, but you should customize the specifications to suit the intended equipment and application. If you aren't sure, ask your manufacturer for their professional recommendation.
You may also like