Email is one of the most reliable and useful modes of sharing information among larger firms, employees, colleagues, and friends. The latest encryption methodologies of emails don't let anyone sneak peek into your confidential data. Yet, email failed to make an image of a reliable medium among senior folks at the workplace or at home. They still rely on older communication modes for exchanging sensitive information.
Fax was introduced a long time ago when it was the only trustworthy source of communication. People working in a well-reputed organization thought it as a trustworthy solution to communicate important data among each other or their employees. Even after many years of the origin of the Fax machine, it is still alive and used by many individuals.
But, human beings are always in search of ease. This provoked the need for a convenient way of sending and receiving the fax. The fax machine is bigger in size and hard to manage. Moreover, you have to put papers and ink at the right place to begin faxing. Go through this article and find out more about online faxing without a fax machine.
Is Fax possible from the Computer using Email?
Well, you must know that emails do not offer to fax by-default. Fax and latest devices are based on different platforms and follow different working mechanisms. However, there is always a way out in every situation. What if you come to know that you can send a fax directly from your computer? A positive answer to this question is quite comforting.
Email to fax and fax to email is getting popular as it is easier than conventional ways of faxing. Fax is transmitted by means of telephone lines using analog technology. Whereas, email works via the internet by transmitting digital signals. Therefore, these two are entirely dissimilar mediums and incompatible with each other.
So, get your hands on a well-reputed internet fax service provider to send a fax directly from your computer using an email account. Internet Fax service providers convert incoming faxes to email format and the opposite process is followed to send them.
CocoFax, an Online Free Fax Service Provider
CocoFax is a trustworthy and well-reputed online fax service. Millions of users are sending and receiving fax documents through their email accounts with the help of CocoFax. You can get your online fax solution of CocoFax from the GoogleFaxFree official site. CocoFax offers you to exchange messages on the go via handheld devices.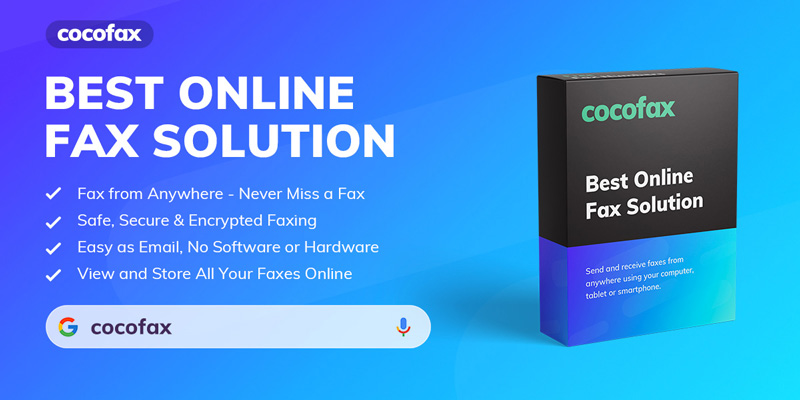 Many prominent media channels have featured CocoFax as a reliable Online fax service provider such as Forbes, Mashable, PCMag, The Huffington Post, and Tom's Guide. You can use any smart device to send fax online without a fax machine. Not only this but you can also save your documents using the cloud-based storage space of CocoFax.
Using the online free fax service of CocoFax, you don't require any hardware tools such as papers, toners, telephone connection or a fax machine. CocoFax has made faxing a wireless procedure by introducing online faxing. The cherry on the cake is that you can send direct faxes from your email account and vice versa.
Exchange Free Online Fax from your Computer using CocoFax
It is relieving that you won't require any sort of hardware equipment anymore. Buying fax machines, fax papers and toners are not a problem any longer. This piece of writing includes complete details of using CocoFax and how to fax from the computer. With the help of CocoFax, you can send and receive faxes over the internet even if you don't have any technical skills.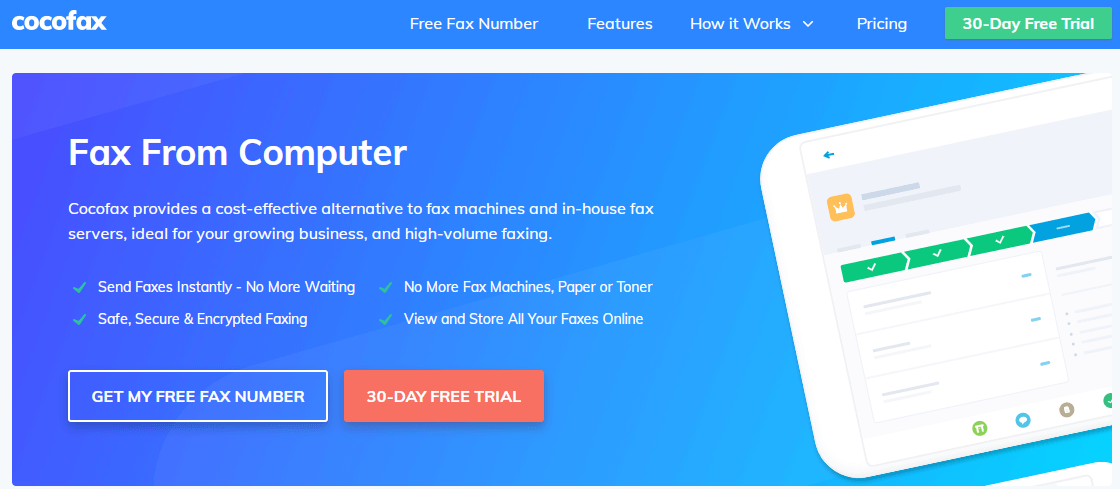 Digital advancement of communication devices has made faxing an effortless procedure. You can send online fax by subscribing to CocoFax. It also provides multi-device support as you can use any device as per your ease. Moreover, you can use it free for a month and get a usage plan later on depending upon your requirements.
Send Free Online Fax via CocoFax
Sending a fax with your email address just takes a couple of minutes. You don't need to install any application or learn any skill to do so.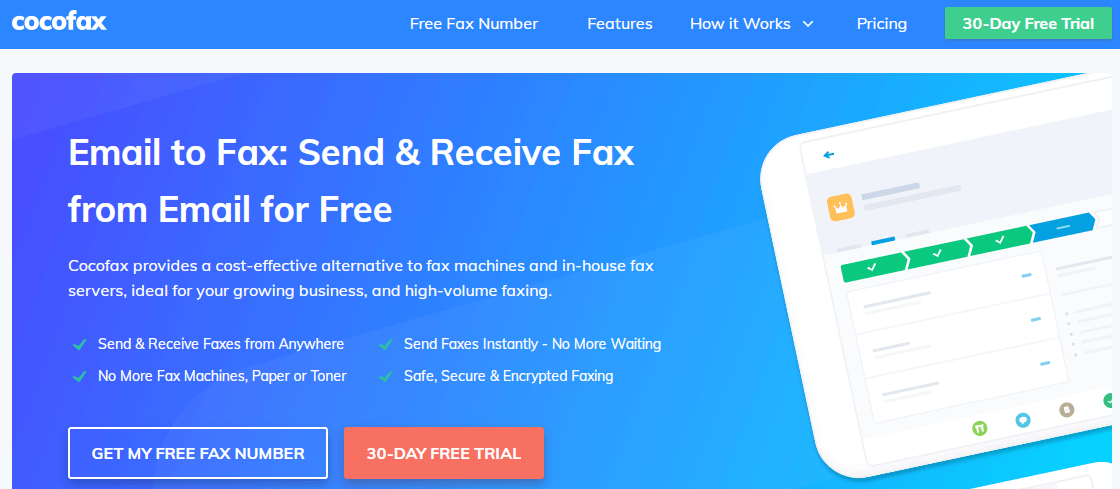 Follow these step-by-step instructions to fax from email with the help CocoFax.
Step 1:
Register your CocoFax account from the official webpage and get a 30 days free trial. You can use any device for signing up with CocoFax.
Provide a valid email address to start faxing with an email account. CocoFax also provides a free fax number to exchange local and international faxes.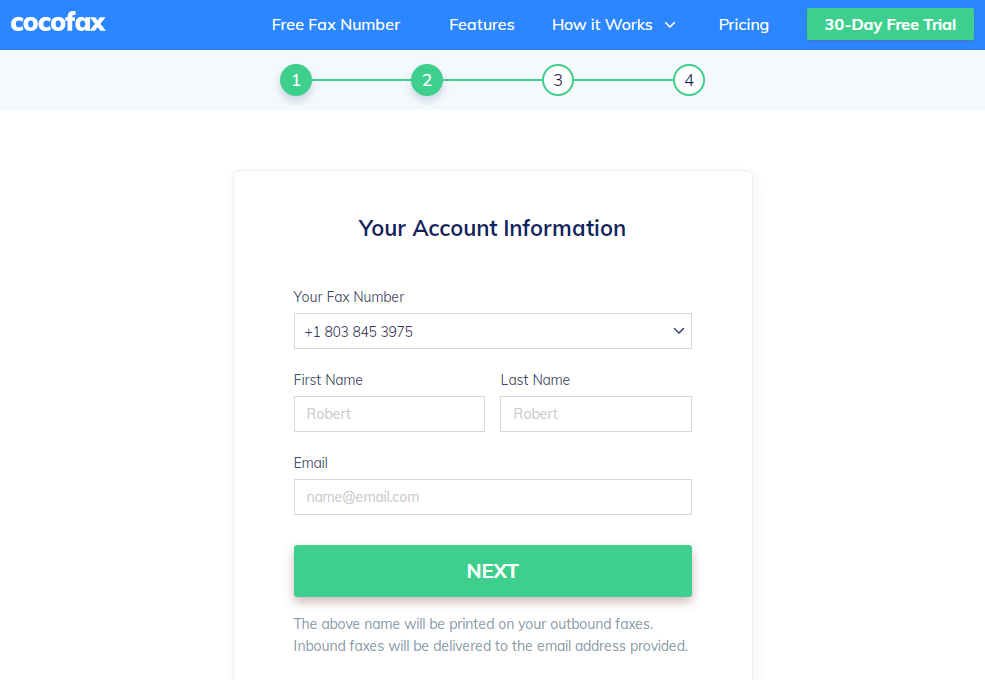 Step 2:
After signing up with CocoFax, open your account using login credentials. You can access the CocoFax dashboard from any web browser via a PC or smartphone. CocoFax also offers iOS and Android applications for portable faxing.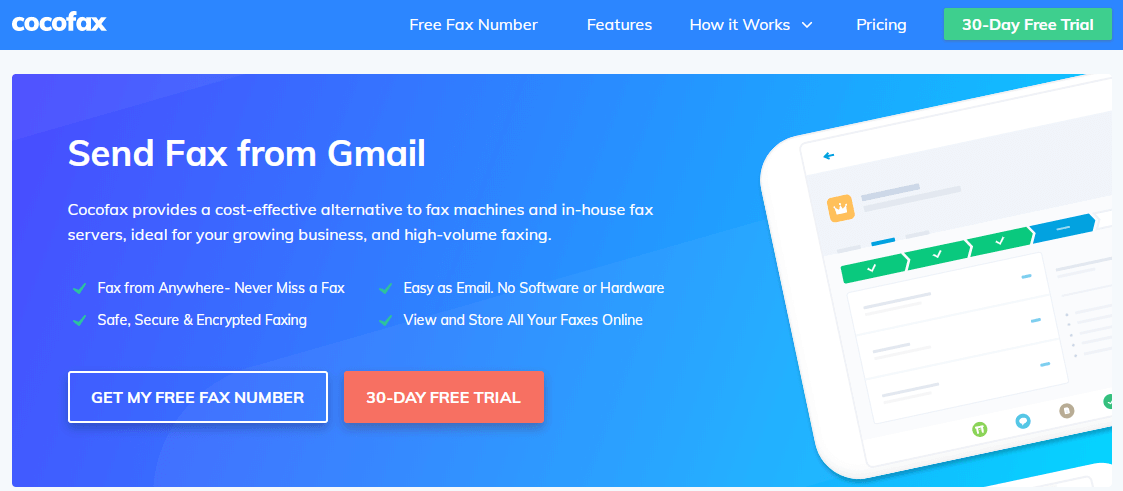 Afterward, open your email account as CocoFax has already registered it for sending and receiving fax documents. You can use Yahoo, Google or any other email client for using an email-to-fax solution by CocoFax.
Step 3: 
You can create a fax just like writing an email. Select the "New Email" option and fill the mandatory fields with relevant information. To send a fax from an email client, you should add cocofax.com at the end of the receiver's fax number. For example, if the recipient's fax number is 12345, you should enter it as 12345@cocofax.com
CocoFax also offers attaching cover pages, notes, and titles to your fax document. Enter the fax title in the Subject area of the email wizard this will appear at the top of your fax document. You can also add a cover page by entering details in the email body.
You can fax multiple documents as fax with email just like composing a casual email. You can also scan your documents or attach a picture with an email. Word documents and excel sheets could be sent as an email attachment for fax.
Step 4: 
Once you have filled the mandatory fields correctly, hit the send button. This will ring the recipient's fax machine to transmit your fax. In the meanwhile, CocoFax converts your email files into a TIFF document as it is the only supported format by fax machines.
The confirmation messages are sent to your email account after the successful delivery of your documents. These messages could also be managed from the CocoFax dashboard. If your email sending was failed, you will get an alert along with the reason for failure. Check the possible errors and resend the document. Mostly it is due to the incorrect fax number or special characters in the attachment name.
Receive Fax Online via CocoFax
Receiving fax to your email accounts is just like receiving casual emails. As you have already registered your email account with CocoFax, there are no more steps to follow. All the incoming faxes to your fax number will be converted into PDF documents and sent to your email inbox. This conversion is done automatically by CocoFax.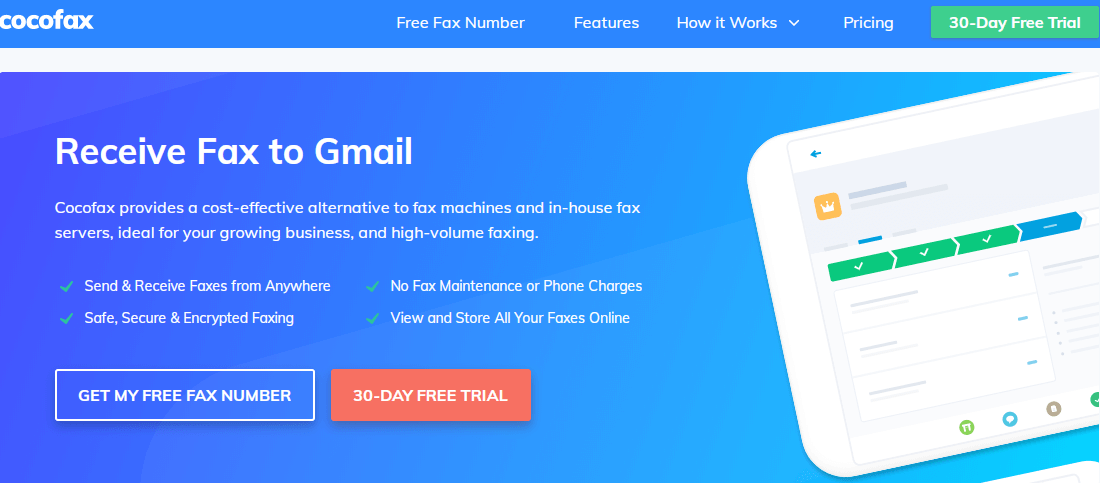 In case of receiving multiple fax documents to your email, CocoFax merges these documents into one PDF file and then forwards it as an email attachment. You can easily read the documents, save and print them. Receiving fax with email is a faster, reliable and portable process. CocoFax guarantees the privacy of your sensitive information.
Conclusion
CocoFax offers many useful features that are better than traditional fax machines. The email address support, 24/7 uptime, and fax previews make it the best faxing application in the market. Sending and receiving fax is usually faster, secure and more convenient with CocoFax due to encryption algorithms. It also proffers a free fax number when you sign up.
CocoFax is just like a compatible fax machine that works well with every operating system. You can send and receive important documents just like fax using your email address on the go. It is an economical solution to online faxing.
You May Also Like to Read