Faxing is an important part of the communication world as it renders many superior security advantages when compared to other means of communication. This makes faxing a reliable source of delivering documents and hence it is used by countless individuals and firms for communicating officially.
That is why it is important to be knowledgeable about faxing because it is the only safe way for your document delivery. When we talk about faxing, we cannot miss the faxing machines that were used in the past as the only way to fax documents. These fax machines devour a lot of effort as well as money. It's not only difficult to buy them but setting them up is also a trouble.
But the faxing world has now moved on and no longer depends on the use of these huge machines. That is why the majority of the fax users are throwing these big messy machines away because there is no more need to utilize them. Many new ways have been invented which fulfill the purpose of faxing and provide ease as well.
Online Faxing through Computers
The Internet is widely available and used all over the world. When combined with faxing, it can come out to be the best. Online faxing contains the combined advantages of both these forums, faxing and the internet. And the product turns out to be wonderful.
However, there is a drawback in this too which arises due to the different techniques incorporated in both these platforms, fax, and internet. Faxes came a long time ago and hence have old techniques that use analog signals. On the other hand, the internet is a global platform and is much advanced too. Hence, it utilizes digital signals in its working.
CocoFax – The Most Trusted Fax App for Online Computer Faxing
CocoFax is one of the leading names when it comes to online faxing. It not only fulfills your fax needs but CocoFax also provides you with a free fax number. And in fact, it is the most trusted and reliable online fax service provider among all of its competitors.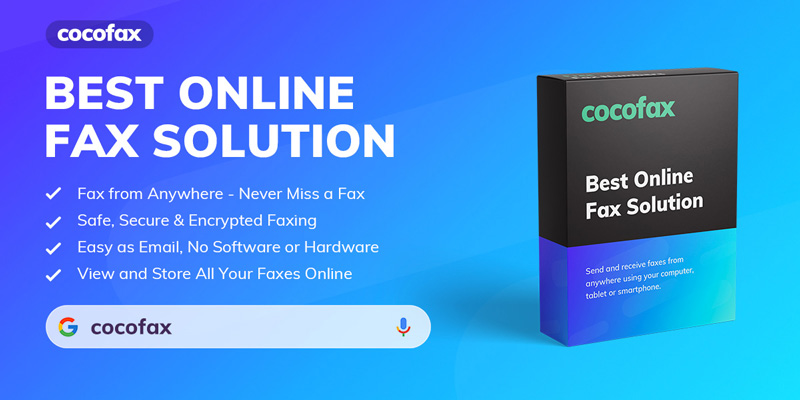 Its high-quality features and services are evident from the fact that it has more than a million customers using its best quality features from all over the world.
Where working and operations are concerned, CocoFax has the best ones. It has some of the most unique features that can be found nowhere else. These features make the task of faxing easy and allow you to send faxes anywhere in the world, in your region, and outside your region too. With CocoFax, it's more than easy to send a fax.
When something is this good, it is more likely to be talked about and be famous. In the same way, CocoFax has also become the most notable name among all other online fax services. TechTimes has praised CocoFax and its work, here is an article they wrote about CocoFax. Various other big media firms like PC World and Forbes have also positively reviewed it.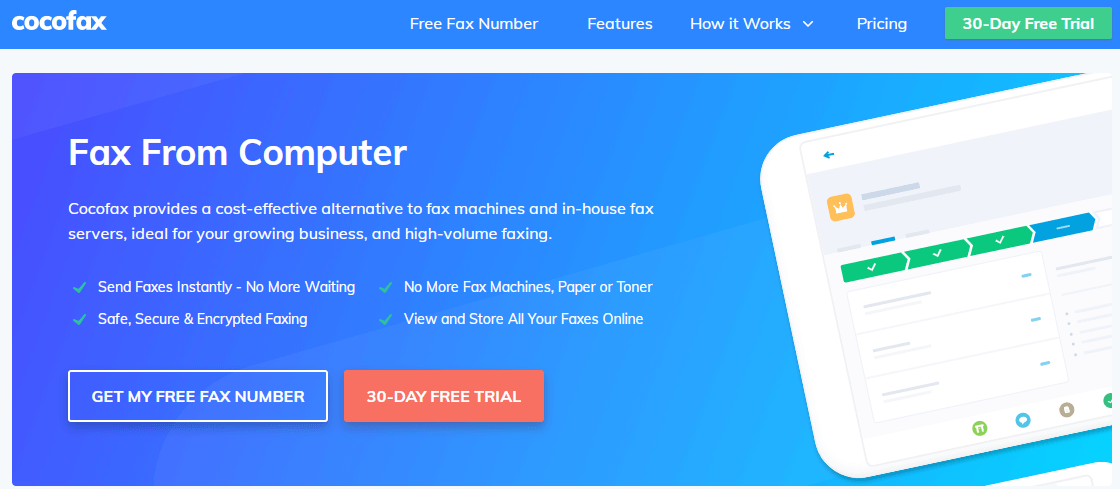 CocoFax has a huge area of work. It provides a variety of services on a variety of devices. Whether you own a computer, tablet, or a phone, you can fax from any of these gadgets in case that you are using CocoFax for the purpose. Moreover, CocoFax is not limited to just one way of online faxing, it has multiple ways through which one can send a fax through the internet. But here, our main focus will be online faxing through a computer.
Fax Online From Computer with CocoFax Web App
One of the ways through which you can fax from the computer is through the use of the web app that CocoFax provides. It is actually an online dashboard that is a platform where you send and receive all the faxes coming to your fax number. It's like a home to all your faxes.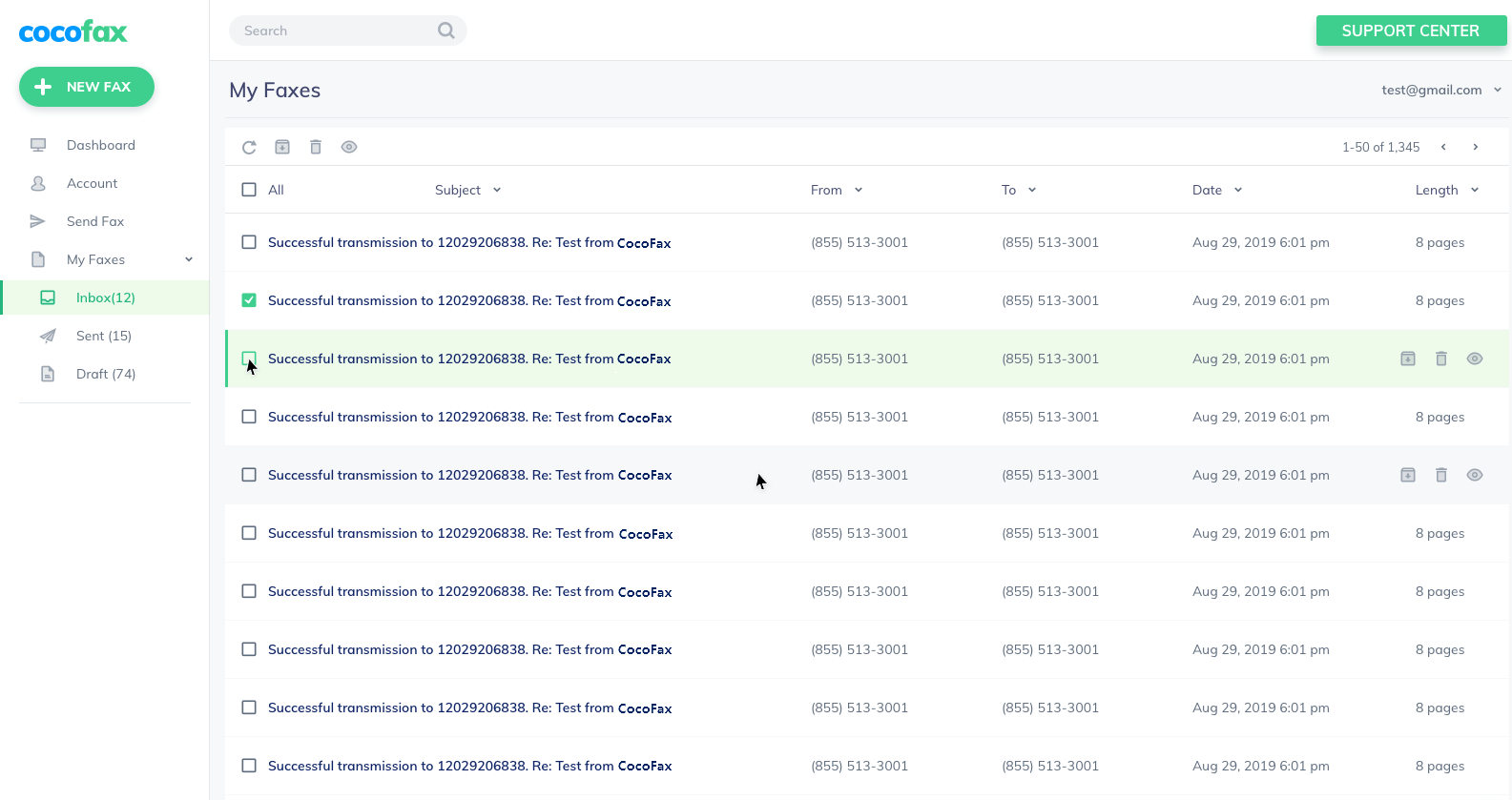 And it is also one of the easiest ways to fax through the web. There is no difficulty using it at all. Once you have known all the processes to use it, you can start using it right away. Down below, we have described the simple steps.
Step 1: Yes, CocoFax is quite easy but you have to sign-up in order to have all that ease. And signing-up is not a problem, it's just a picnic. Just open the official site from any internet browser of your computer and click on the 30-day free trial. With this free month trial, you get to check the fax services for free before actually paying for them.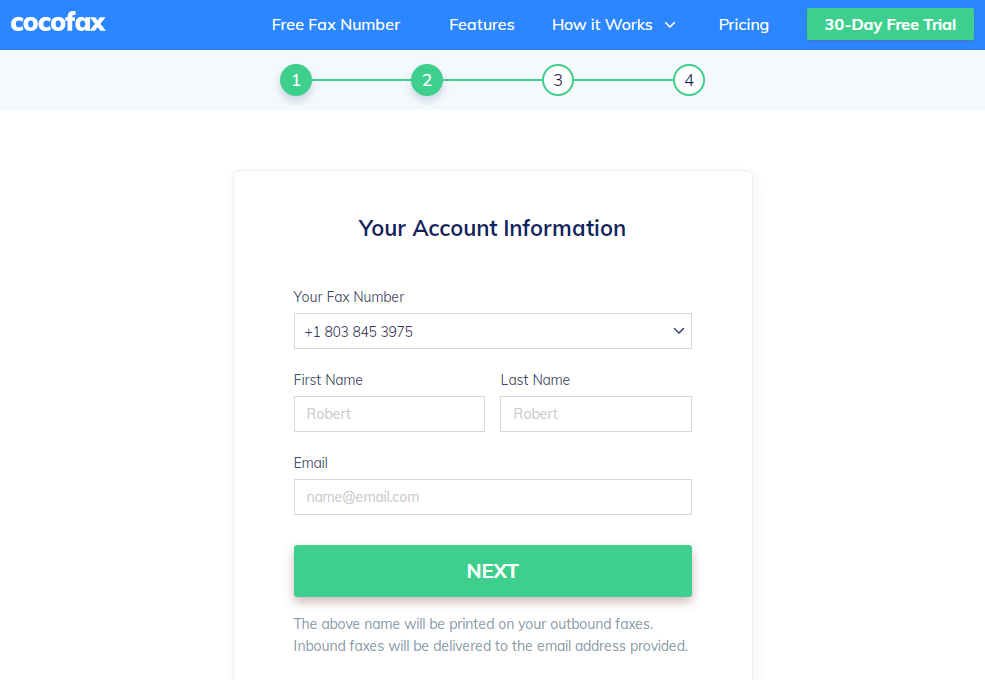 Step 2: With the free month, you also get a free fax number that you can choose yourself. Yes, you get a free and custom fax number with CocoFax.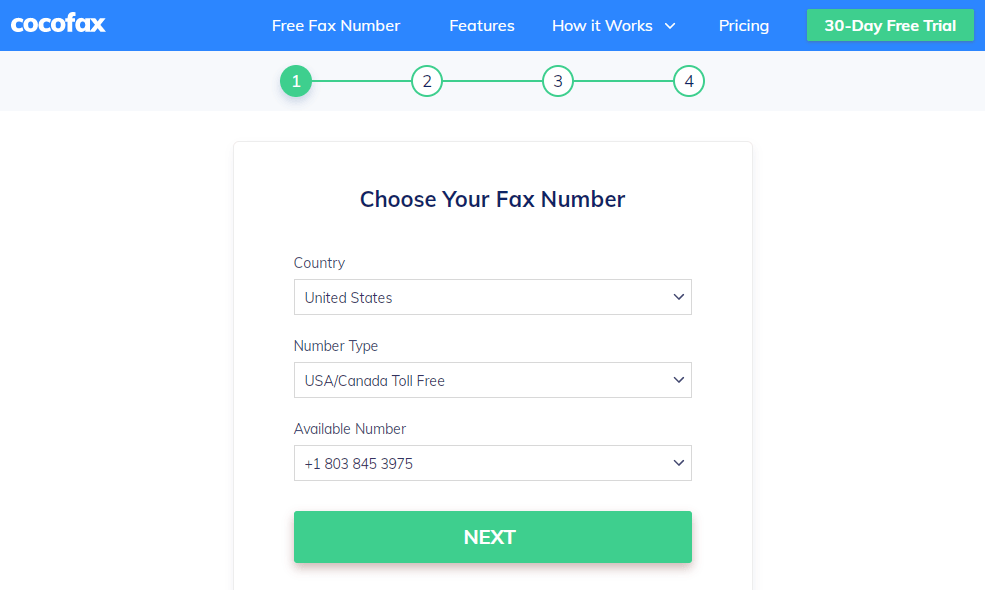 Step 3: After you've chosen a suitable fax number for yourself and completed the registration process, your personal online dashboard will be opened. Click on the button which says 'New Fax' situated at the top corner.
Here you will fill up all the details. The fax address will come in the 'To' field. By fax address, we mean the fax number followed by the fax service extension '@cocofax.com'. If you want to write something at the top of your fax file, it will come in the 'Subject' part. Similarly, if there's anything to write on the first page of the fax file, it will come in the cover page.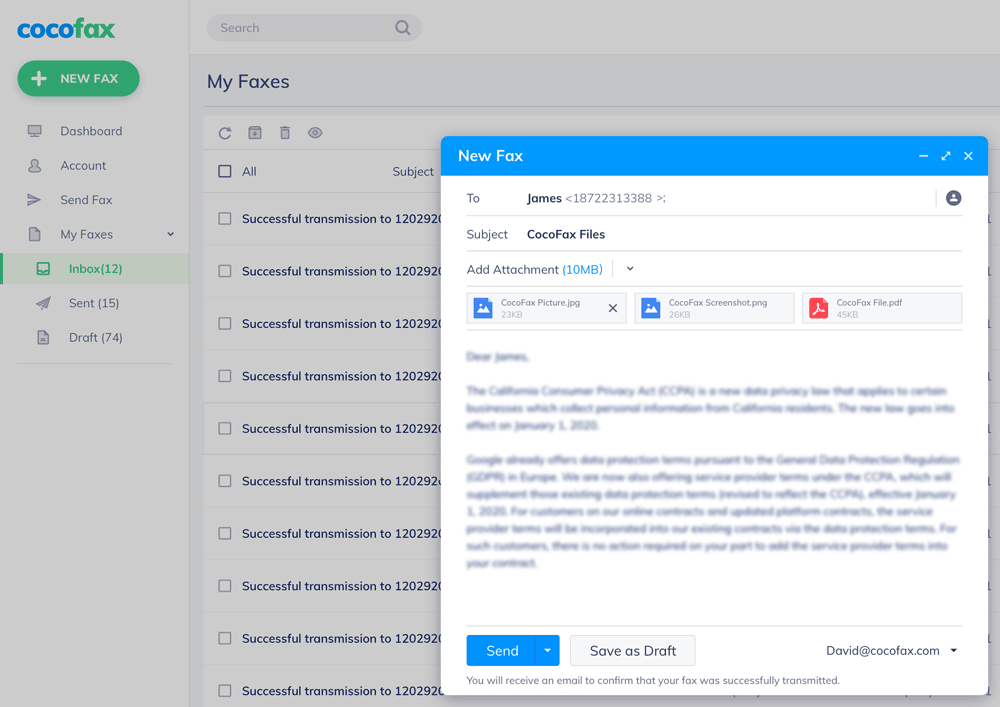 Get the fax file attached and press the send button. CocoFax does not leave you hanging and rather notifies you about whether your fax was successfully delivered or not.
Conclusion
What once was unimaginable and even impossible, CocoFax did it and achieved online computer faxing effectively. If you were searching for a similar faxing solution, then here it is, go start using CocoFax right away.
You May Also Like