If you are an Android gamer, you must have heard about the world-famous Coin Master. Coin Master is not only fun to play, but is the best base-building strategy game with the chaotic thrill of slot machines. Coin Master is not only famous for its gameplay mechanics but also for the ability to play around with your friends and random online people and destroy their villages and steal their coins. Coin Master is so famous that it has been downloaded over 100 million times from the Google Play Store. Now, in this post let us discuss what is the famousness all about and let us discuss everything about the world of Coin Master.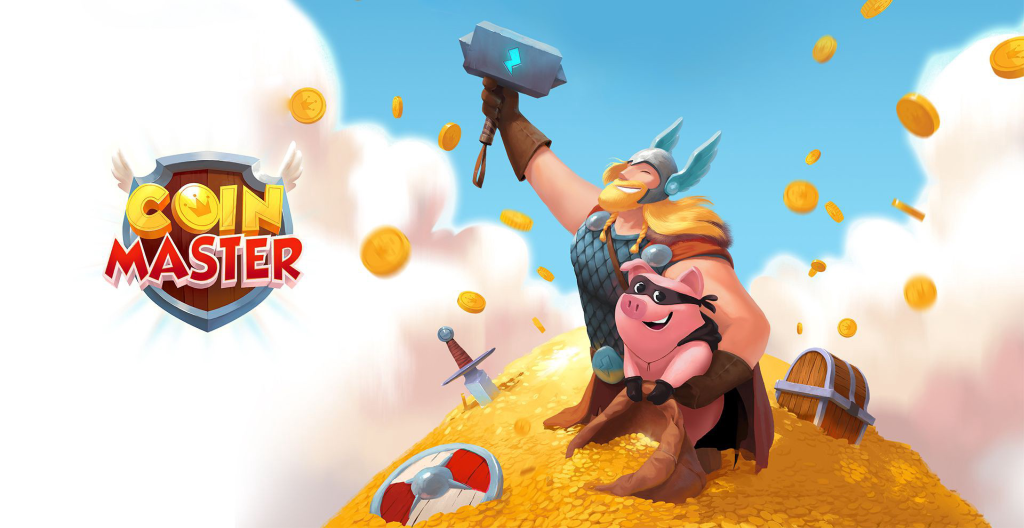 Coin Master, as mentioned earlier is one of the best strategy games with the chaotic thrill of slots and spins. If you are playing for the first time, chances are you will not understand the gameplay at all. Chances are you might not understand what is happening inside the game at all, regardless of all the spinning and winning. Well, to be honest, Coin Master is all about that! The game is all about spinning and winning. The more you spin, you will get to win more and more things which can help you to destroy your friends and their villages. You can sometimes find yourself on auto-spin until you run out of your spins. This is the most common situation among new players: no spins and not enough coins to upgrade your village and thus to level up. You have to wait for an hour to get only 5 free spins, which will not give you many coins. Coin master free spins are for those who do not want to wait for hours just for a few spins to play their favorite game. The coolest thing here is that you can get free coins also and the links from the previous days are not deleted for a very long time.
Coin Master Free Spins
Trust me or not, but without spins playing this game is really difficult. By default, the game gives you around 50 to 70 spins every day. But with these coin master links you can get some extra spins while playing the game. These types of spins are released every day by the official game developers themselves so you can trust and use them.
Get Some Spins From Your Friends
Friends in the game can be beneficial and disadvantageous as well. When you invite your friends from Facebook in the game you will get around 50 free spins which you can use any time as they don't have any expiry date. But as we said that they can be disadvantageous as well, so you might end up your village getting attacked by your friends.
Collect Rare Cards in the Game
Some of the users don't know how to play the game properly, because they just start building villages which can lead in missing some of the most important aspects of the game. So if you want a good amount of free spins you can invest in buying rare cards using the in-game coins.
Complete Villages Using Coins
Completing village is easier in the game. The first thing you need to do is just collect some coins using the spinner tool and use it to build objects in the game. The early-stage villages are easier to complete as they need very less coins to build objects, whereas when you reach 20th village it will be hard to complete because it takes billions of coins to just complete higher villages.
When you complete a village you can get a good amount of coins and spins. Approximately 50 new spins and around 10 million coins are gifted when you complete small villages and as you start completing the bigger villages you will get a bigger amount of free spins and coins.
You can not only destroy villages, but also can raid them to steal their coins and treasures. Overall, this is fun to play game. The more you spin, the more you get. In Coin Master, you have a lot of essentials like coins, hammer, shield, more spins and etc. The spins are totally based on luck, at least that is what Coin Master Developers want you to think, but there are a lot of guides online which prove it the other way. And again, let us stick to the topic here.
The game instantly begins with a tutorial that introduces you to the basic mechanics of the game, then leaves everything on you so that you will have to figure it out yourselves. As mentioned earlier, there is not a lot of things here that you will get to figure out, instead, you will be left with a village in which you can understand that you should be developing with the money or coins you collect in the game. Once everything is developed you will have to move to the next village. This way with Coin Master you can take over the villages, win spins, spin more, and destroy others' villages by protecting your villages.
This is all about the Coin Master. There is no such thing as you won the game. The game goes on and on with more the villages you get to develop and raid on more. It is so much fun to play Coin Master, especially with your friends. You can take your real-life acts of revenge on your friends by destroying and raiding on their coin master villages. With that being said, that is all for this post. Until next time, keep spinning.
You May Also Like