The days when your slow PC does not respond during gameplay are over, speed up and optimize your computer for smoother and more stable gaming experience and restore your computer to the previous state when you stop the game with just one-click.
Smart Game Booster is a quick and easy tool to close unnecessary applications and services, and also cleans up RAM and associated components in the auto-run section. This is useful if you prefer not to shut down background processes and Windows services manually. With its help, we will optimize our computer, speeding up the performance of video games. We will get better fluidity and more frames per second.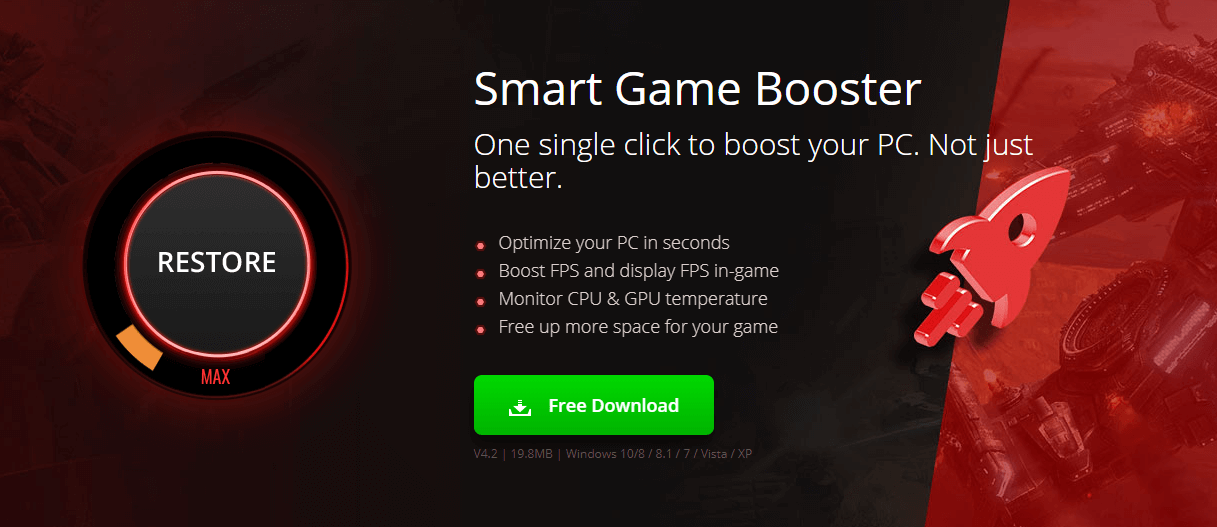 Also, the program provides a convenient way to start games and view the operating temperature of the processor, motherboard, graphics card, and fan speed installed on the computer in real-time. You can also activate the number of frames per second displayed during playback.
Monitor System's Temperature in Real Time
Each gamer knows the importance of the radiator and cooling systems for his equipment. Whether it's a desktop or laptop computer, the heating issue is a significant concern when it comes to games. There are often situations where the laptop or desktop is locked or shut down due to high temperatures. And not only can the processor be overheated with resource-hungry games, but fans and GPUs can overheat.
The best CPU temp monitor solves this problem, allowing us to monitor the temperature of the system so that we can pause or set a cooling mechanism. Previously, our system was shut down due to overheating. After installing the software, it will warn you of overheating so that corrective action can be taken.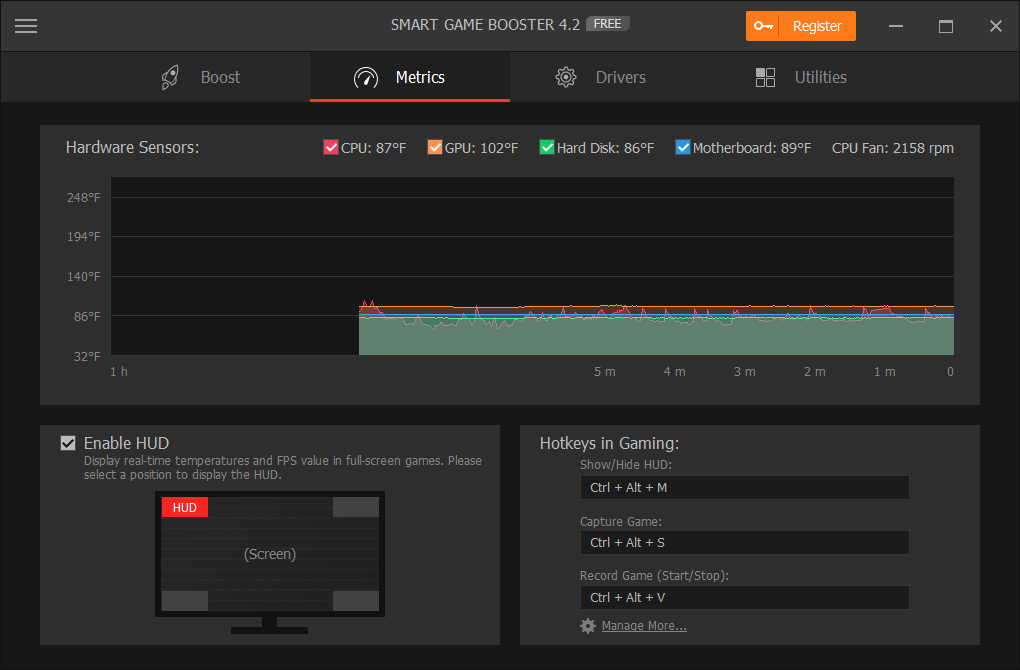 This game booster monitors the CPU & GPU, and reports the temperature in real-time. It is interesting to note that this software displays the temperatures inside the games. It also provides valuable details on fan speed and motherboard temperature. Be careful when the limit temperature is reached. This allows us to suspend the game and save the data for another session.
Increase Your Game FPS
The game was played with a lower FPS on our system. However, when using the Smart Game Booster, it increased the FPS frequency of the system, thereby improving the quality and performance of the video. While our system was limited to playing at 30 fps, the time went up to 60 fps. The result was a much smoother game. It was no longer embarrassing to play games.
This FPS booster allows us to increase the FPS of the system with one click. There was no need to upgrade the hardware, including the graphics card. After installing it, there is a push button which, when pressed, allows you to take advantage of more system RAM by freeing it up. It also stops unwanted processes.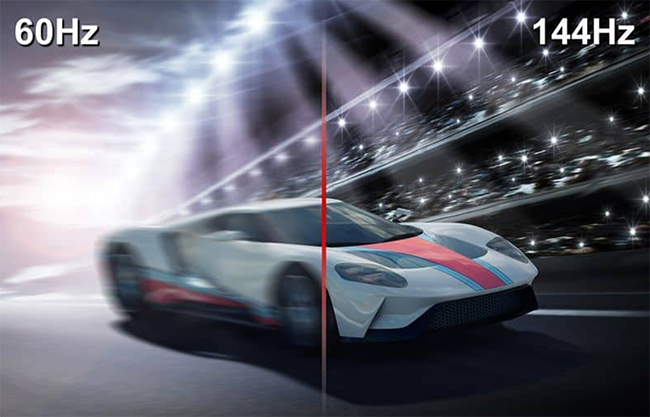 Efficiently Optimize Windows
Smart Game Booster also helps optimize Windows. It works as a driver update program that can automatically detect and update obsolete drivers. From a game point of view, outdated audio drivers and graphics are the primary concerns. Once the drivers are updated, the gaming experience becomes much smoother and better.
Therefore, using this software for gamers has many advantages. Even if you are not a full-time game player, but use rich graphics software, the Smart Game Booster can be an excellent tool for improving your system.
Overclock Your GPU & CPU
Overclocking will increase the operating speed of a specific component or hardware. In computing, overclocking is meant to improve the performance of a processor or GPU by increasing the speed of a computer's clock beyond the limits designed by the manufacturer. Generally, what we have overclocked to improve PC performance includes processors, GPUs, and memory cards.
Sometimes, in order to improve the speed and performance of the game, players want to overclock the CPU or GPU to make a difference, even if they already have a high-end PC. Can overclocking have serious consequences, such as overheating of processors, GPU and PC fans? This intelligent game booster provides the solution to control and monitor the real-time temperature of the CPU and GPU, both in games and other operations.
Conclusion
Smart Game Booster is a handy tool for PC gamers who want to improve system performance when playing computer games. You can manage this occasional delay when playing PC games.
You May Also Like