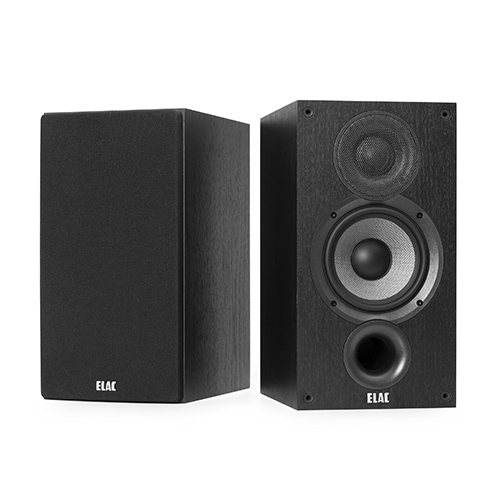 For more than nine decades, ELAC has been working to produce high-quality speakers for their customers. Their bookshelf speakers, designed by Andrew Jones, come in various models.
When one is selecting bookshelf speakers for their home, they need to consider their sound quality and size. Even more importantly, the speakers should meet their existing setup and not get in the way when not in use. That's why bookshelf speakers may be an excellent alternative to floor-standing speakers because they can fit nicely in a bookshelf freeing up some space in the room.
Here are some things you need to know about them.
Things to consider when choosing ELAC bookshelf speakers
Apart from sound quality and size, one should check the performance and compatibility of these speakers based on their preferences. They should be tailored to a user's specific requirements. It's also important to pick speakers that are affordable and have a multidimensional audio experience.
Features
1-inch cloth dome tweeter
These speakers have an inch cloth dome tweeter that delivers high life-like frequencies. The tweeter has a wide-roll surround that improves its response capabilities. It also gives it a crisp, high-frequency performance. The wide-dispersion waveguide also controls directivity and eliminates the diffraction modes which are inherent with most bookshelf speakers.
Woven Aramid Fibre woofer
This fiber on the speaker offers excellent stiffness and damping. Its superior polypropylene paper also significantly improves sound quality, strengthens it, and gives it a smoother extended low-frequency response. Besides that, the larger size of the fiber also gives the speakers a solid sound without giving them any jarring side effects.
The design of these speakers features a sports solid MDF cabinet that has a luxe black ash vinyl finishing. The cabinet is not just attractive to look at but offers better strength and stiffness that subsequently reduces vibrations caused by extreme coloration. Their front has a bass port that makes it easier to place them against the wall in case one doesn't have enough space.
Optimized Center Speakers
The center speakers offer sensitivity and higher impedance, thus requiring minimum power from the AV receiver. Also, they enhance the dynamic impact generated from low-cost receivers, making them a good fit for an individual who's got a starter hi-fi system. Additionally, they have a multi-channel system that enables them to generate sound from the center of the speaker.
Pros
Dual-flared port
1″ tweeter-dome cloth
2-way bass-reflex
6 ½ inch aramid-fiber woofer
Maximum power input of 120 watts
Cons
Cheap-looking grille
The tweeter may produce a high top-end
Conclusion
ELAC bookshelf speakers have plenty of reasons that can make one fall in love with them and make a purchase. From their powerful sound to their design and engineering prowess, they look handsome. However, before deciding on which specific ones to buy, there's a need to consider their sound quality, performance, and compatibility based on an individual's preferences. A person also needs to ensure they choose speakers that are cost-friendly and multidimensional. You should get a high-quality sound system like these bluetooth speakers to enhance your recording and hearing the music you've played.
You may also like: