COVID-19 caught the world woefully under prepared. Despite the technological advances, it took the baffled people some time to come to terms with the pandemic. The entire world went into lockdown to control the spread of the virus.
Scientists scrambled for answers, the public struggled to keep at home. Panic over the disease also grew, as more and more patients ended up with the virus.
On the other hand, there was the economy. Lockdowns led to economic meltdown and the world then struggled to reconcile the two; pragmatism called out to the economic needs of the people, that the lockdown had severely impaired.
Hence, with the lifting of the lockdowns came different and smarter solutions to tackle the coronavirus situations. And in this endeavor, cell phones or mobile phones have played an important role.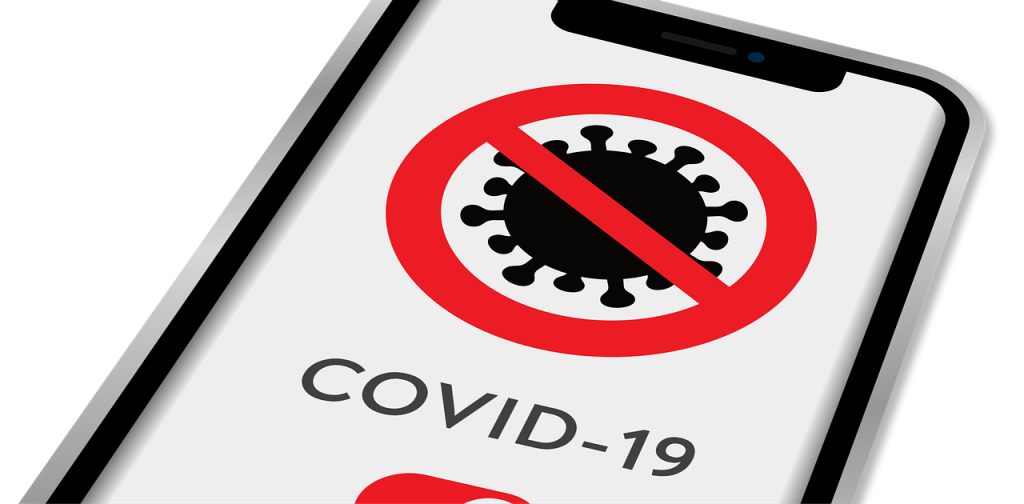 Directly
While the certain disease-spread prevention protocols like rigorous testing, isolation etc. are more effective, however, these methods are resource intensive. Moreover, respiratory viral diseases are very hard to control hence the sheer number of patients is boggling as well, especially population dense countries.
Hence, auxiliary methods like mobile technologies have been widely used and have been helpful in disease control. There have been different ways in which mobile technology has been utilized for combating the war against coronavirus.
Surveillance
Smartphones have been used for surveillance in many parts of the world. One way that it was done by using the Facebook data. GPS coordinates of the people were used to monitor their movement and interaction with others.
Hence, government officials were able to locate public places were social distancing was not practiced, but the clusters of people on the map, and such areas would then be closed off.
Hence, rather than completely locking down areas, this surveillance mechanism has allowed selective cordoning off of public places to minimize the danger of disease spread.
SMS for notifying if you have near an infected person
Another important way through which mobile phones has helped is by issuing alerts of exposure. As the respective authorities have access to patient data, they know who has tested positive and can track such patients.
This data is then utilized to see who else the infected person interacted with. The at-risk patients are then informed via SMS etc. about their risks. They are then encouraged to either get tested to quarantine themselves. This is being practiced in many Asian countries like Qatar, Israel etc.
Identify hotspots
As locking down entire country has been shown to be detrimental to the economy, smart lockdowns are gaining prominence. In it, only areas with 'hotspots' or a lot of patients are sealed in order to contain the spread of the virus.
Mobile technology helps in identifying such hotspots. All the people who have tested positive are analyzed with regards to their spatial location. Any point with a lot of patients is then sealed off.
Indirectly
Mobile technology took part in the war against the coronavirus in other indirect ways as well.
Awareness campaigns
With respiratory viruses, contact needs to be minimized. Hence, the conventional awareness campaigns which were based on distributing leaflets, holding meetings etc. could not be done.
In this endeavor, mobile technology has played a pivotal role. People were informed of the protocols via SMS. They were also provided with several helplines that they could contact in case of emergency or if they wanted to seek information.
Moreover, internet was also a very good source of information for the people. Many chatting groups were created to help make people aware of the risks of the disease. As coronavirus is a novel virus, people had to be informed of the patient care and management protocols as well, in which mobiles had a huge role.
Contact tracing
Contact tracing is an important practice in communicable diseases to find the at-risk patients (those the infected person was in contact with) and thus to stop the spread of the disease. Here too, mobile phones have been vital as they helped establish contact between the officials and the people.
Helped with social distancing
The less people you contact, the lesser risk of exposure. And mobile phones have helped with precisely that.
Many of us had to step out of the house into the busy market complexes to buy the staple items. However, with the fear of coronavirus looming over our heads, it seemed like a daunting task.
But thanks to mobile phones and mobile data, people can order groceries and other utilities online, and thus decrease their risk of exposure. Lowered risks mean that number of patients also remains low.
Moreover, mobile phones have also allowed for digital currency and smooth online banking, thereby decreasing the contact with others even further.
Online consultation with your doctor
Hospitals are not safe place for the people, as the risk of exposure is great. Hence, anyone suspecting they had the virus was encouraged to stay home, talk to the best physician via video or audio call, and get their opinion before venturing out to the hospital.
The war against coronavirus has not ended yet, as a vaccine is yet to be launched. Mobile technologies have been effective in disease control, to date and are being further worked on for a more robust action against COVID-19.
You may also like: