Data deletion doesn't mean you have erased it permanently. Please note that Android doesn't thoroughly eliminate deleted files from the internal storage as you manually delete files. The deleted file will not disappear immediately until new data takes up space.
Once your Android device is in the wrong hands, it is possible to find and steal your personal information, especially when you sell or donate your old Android phone. In this case, it is vital to permanently delete everything on Android, and you can easily make it with Coolmuster Android Eraser, a powerful and secure privacy protector.
So, how can it effectively prevent your Android data from leakage? You can find the answer in the following.
Main Characteristics
Wonder what this Android Eraser can do for you? You can directly get its key features in detail displayed below. Let's have a look.
Wipe Android Devices in 1 Click
This software can wipe all files out on Android in 1 click, including contacts, messages, videos, accounts, passwords, apps, call logs, pictures, and more.
Erase Deleted Files Thoroughly
Besides the existing data, it can thoroughly eliminate the deleted files buried deeply on your device. Therefore, you needn't worry that someone can recover your data.
Support USB and Wi-Fi Connections
Conveniently, USB and Wi-Fi connections are available. Thus, whichever you choose, you can connect your Android phone/tablet to the computer without trouble.
Offer You 3 Security Levels for Erasing
You can see 3 security levels before erasing data: Low Level, Medium Level, and High Level. The Low Level can permanently delete all data fast, the Medium Level can overwrite all files for 1 time without recovery, and the High Level can overwrite data over 3 times for maximum security.
Supports A Wide Range of Android Devices
This Android data cleaner has high compatibility. It can work with most Android handset with Android OS 4.0 and upper, such as Samsung Galaxy S20/S10/S9/S8/S7, LG K62/K52/K42/K71/K31, Motorola Moto G 5G/Moto G9 Power/Razr 5G/Moto G9 Plus, ZTE, Sony, Huawei, OnePlus, Google, HTC, etc.
Compatible with Almost All Windows Computer
It can work well on Windows 10/Windows 8/Windows 7/Windows XP/Vista.
Pros and Cons
Pros
The security standard of the High Level is based on the U.S.DOD 5220.22-M, which can ensure the security to the most extent.
It can erase existing and deleted data on Android at the same time.
It can quickly recognize Android phones and tablets.
Users can finish wiping data in a few clicks.
There is no ad on the interface.
The on-screen instructions are clear.
Everyone can get help from the support center, and contact their customer service by email.
Cons
To get the full functions, it requires registering in advance.
How to Erase Everything on Android with Coolmuster Android Eraser?
Next, we will talk about how to use this eraser software for deleting everything completely on Android. You can follow the steps here to erase files successfully.
1. Download the Program
Please download the program on your computer. Then install and launch it.
2. Connect Android to Computer
You can choose the USB or Wi-Fi connection to connect your Android device and the computer. For connecting via a USB cable, you can enable the USB debugging mode on Android with the on-screen steps.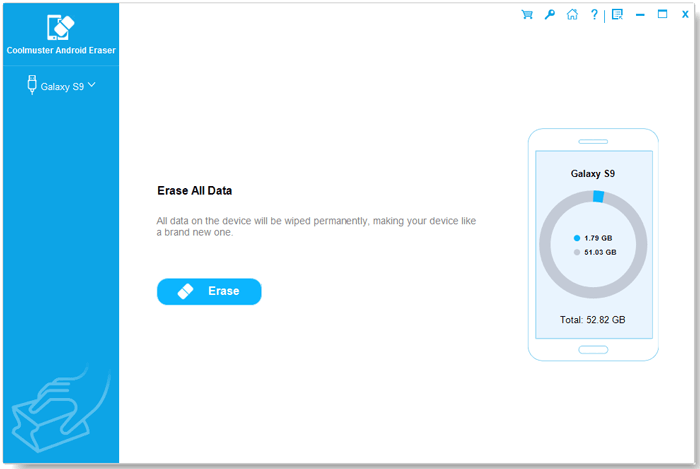 3. Permanently Delete All Files on Android
After that, please tap the "Erase" icon to select a Security Level. Then type the "delete" word for confirmation and choose the "Yes" option on your Android screen.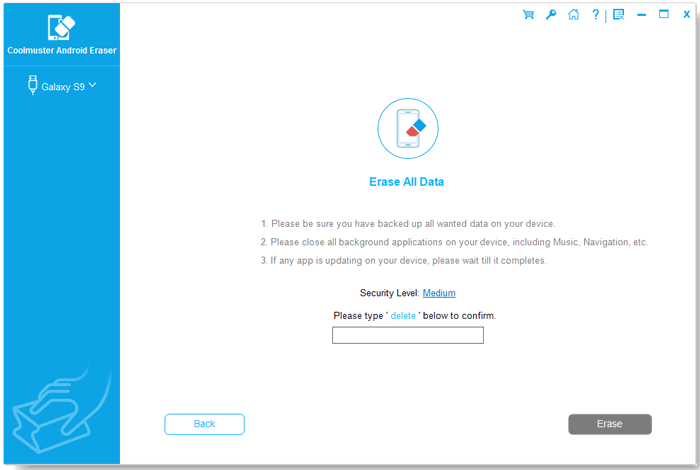 The program will begin to wipe all Android data out. Once finished, you can disconnect the Android device from the computer.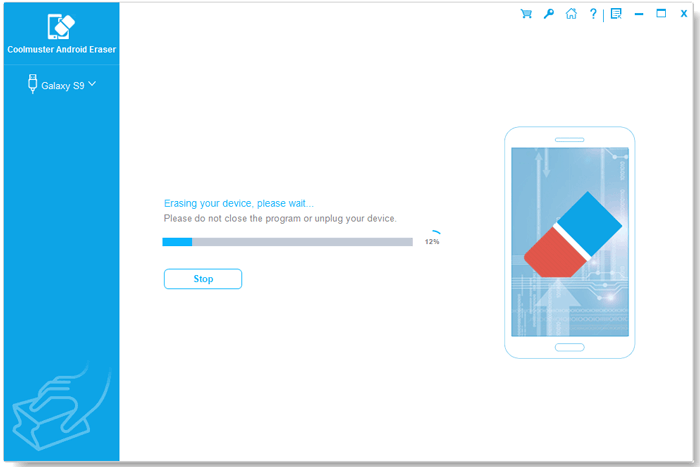 Price and Registration
This Android device eraser is more affordable than other data eliminators. You can purchase the 1-year license for $25.95. And its lifetime license is only $35.95, and you can use it all the time. By the way, there are multiple purchase options on its official website. If needed, you can browse it to get more choices.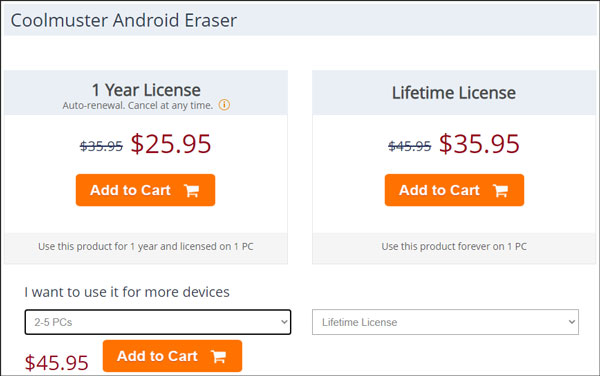 It is also easy to register. After getting a license code sent by email, you can click the "Key" icon on the upper right and hit on the "Register" button. You can straightforwardly enter the license code and the email address that you've used to buy the product. Done!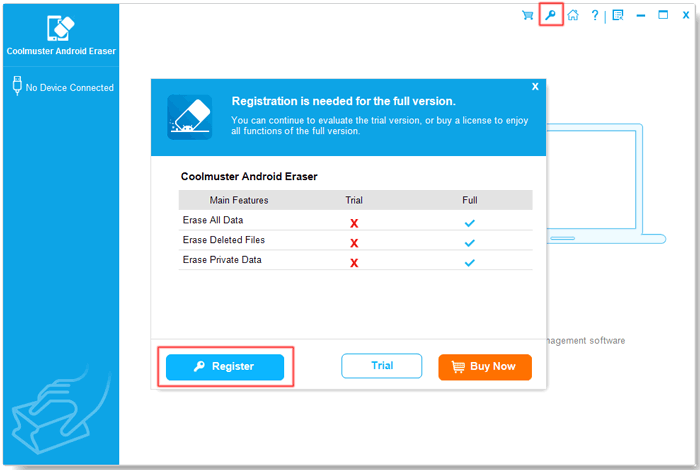 Final Verdict
So, have you got a better view of Coolmuster Android Eraser? This erasing tool is professional to delete everything on Android forever. If you want to keep your personal information from leaking, it is your ideal choice.
Seize this chance and try this Android Eraser. You can effortlessly get rid of unwanted files on the Android handset. At last, please feel free to leave your queries in the comments sections. We will respond to you as fast as possible. Thanks for reading.
You May Also Like: