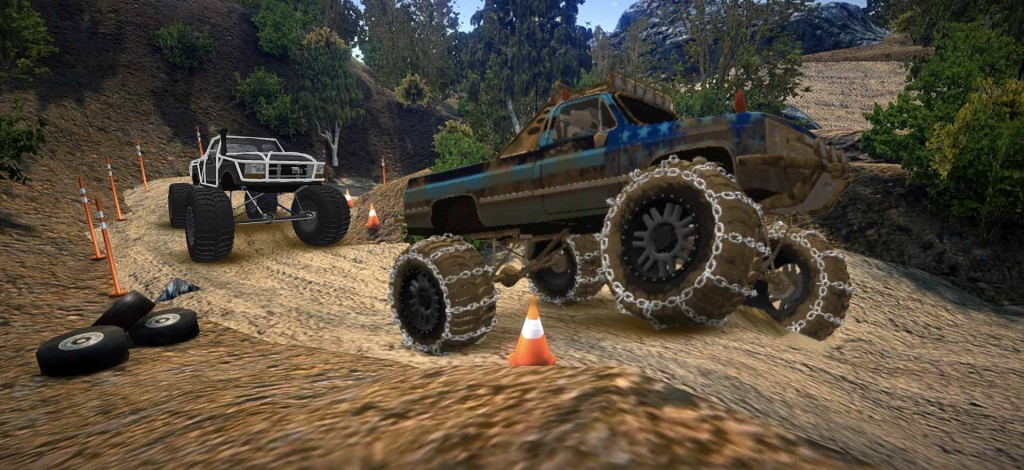 Dirt and mud and rocks and the dusty, open road. Kinda sounds like the starter for a Western-themed song, but that's what you'll expect from the game Offroad Outlaws. The game features vehicles and races – however, the genre is offroad. Unlike most games that feature flashy cars and speeding tickets and cops, the unfamiliar terrain of the offroad paths are your main obstacles here, and your vehicles will mostly be offroad – think flatbed trucks and dune buggies.
Like any other game, however, Offroad Outlaws gives you as much control as you can have over your car design choices. What kind of a racing game would it be if you weren't the king on how you decide your offroad vehicles will look, right? Transform that rust bucket into a powerful, V8-powered offroad monster. Prove your skills by making that 4×4 jump off the hill and into the history books. Maybe this is the offroad game that you've been looking for for a long time, after all.
How Do You Play Offroad Outlaws?
There are not many games that are like Offroad Outlaws, and the closest that come to mind are the dirt rally series games on PC. Outlaws focuses on the grittier side of the races – the uncertainty of trying to navigate uneven terrain, and the difficulty of trying to maneuver a diesel-powered truck or a tall ride over a hill or a dirt road. Not many would go for this, but there is a certain genre that will most definitely choose to play this game without any hesitation.
The game also helps players through an overhead map which is useful. Aside from showing where you are at the present, you will also see different green and red dots on it. These are "Challenge Trail" markers – pointers to mini races that are marked further by posts on a trail that you follow.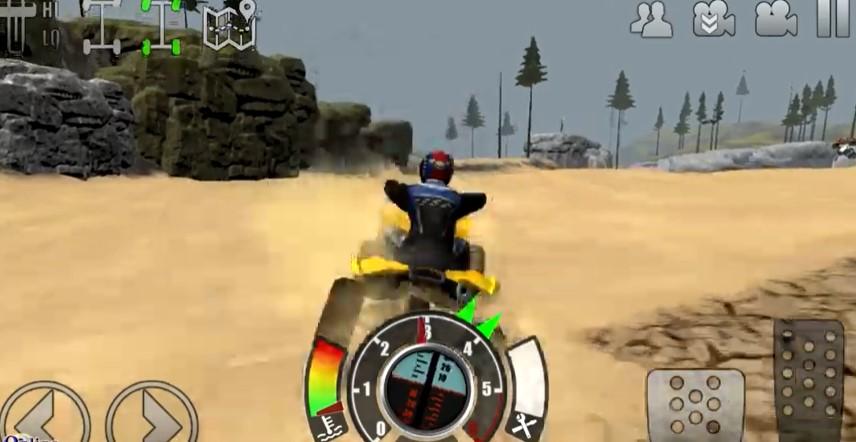 To finish this course, you need to drive through these posts to reach the end, marked by a lit flare. This is how you complete a race, which also rewards you with enough cash for anything you might desire. If you best the recorded times, you'll also receive bonus cash on top of the base amount.
The Vehicles in Offroad Outlaws
When you begin to play, at the start, you'll be offered enough cash to buy your very first vehicle. There are two vehicles here that are available for you outright – the Truck and the Quad. They have different strengths, where the Truck is more balanced, while the Quad is faster. A good tip here is to focus if you want speed or if you want maneuverability. You can buy both with the money, but in Offroad Outlaws – as in any other racing game – buying one and spending the rest of the money for upgrades is a good use of limited profit.
After that, you'll be given the choice to go on your first race. It is suggested that you get familiar with the controls first. It's fairly easy to get introduced to it – basically, there's a control for high and low gear. You'll also get another control for 'differential locks' and one for shifting between FWD, RWD, and 4WD – a staple for offroad vehicles. The FWD is good if you're going for balanced driving, while the RWD is designed for more offroad races. 4WD is great for offroad races, too, but it's also balanced enough to use for regular road races.
How to Play It For the PC
With a game like this, the only natural control for it would be through PC. You can get a completely free copy of the game through Games.lol. The gaming aggregator has a website you can go to, where you can download a client of the game through the "Play Now" button. Agree to install the client on your machine, and you have access to the Offroad Outlaws – as well as other games in the genre.
You have to install the client on your PC, and then you'll have access to different games on the website aside from Offroad Outlaws.
Have Fun with the Offroad Outlaws
Offroad challenges? Check. Tuning? Check. Offroad Outlaws is a unique game in a long line of city-wide mayhem games available to download for PC. You can tune your offroad vehicles and make it into the best vehicle that's ever been on dirt tracks. Make sure to tune your shocks, because you'll be in for a rough time.
You May Also Like: