The annual World Backup Day is on March 31. AOMEI adheres to the mission of "Always Keep Global Data Safer" and provides users with a comprehensive backup solutions. Users can use AOMEI Backupper Pro, AOMEI MBackupper Pro and AOMEI CBackupper for FREE at this giveaway. They can fully protect users' data security from Windows, iOS and cloud, also have a chance to win $331 through share your backup story with #BackupwithAOMEI. You can visit here.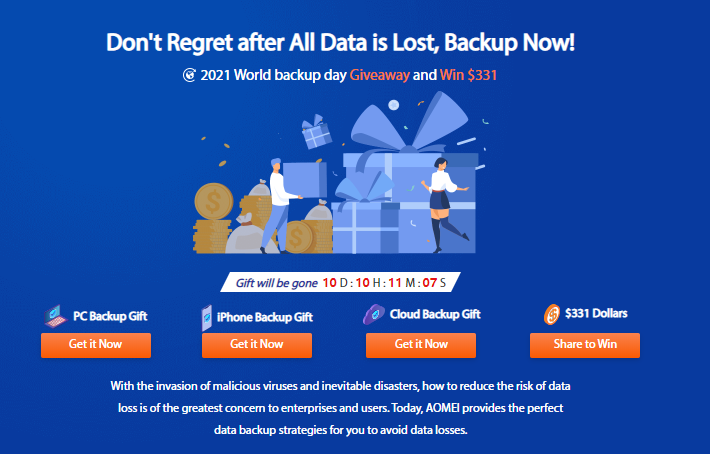 What is World Backup Day?
We often lose our important data due to various reasons, but permanently lose these data because there is no backup. The loss of data often wastes a lot of our money and time, as well as some important memorials. Therefore it is important to back up your files. World Backup Day is the 31st of March every year. The purpose is to remind people to back up their data in time.
Main Features
AOMEI Backupper Pro: A complete and reliable Windows PC backup software for personal use to protect your Windows data security. Smart backup strategy and scheduled differential backup to save time and space. Automatic monitor and real-time sync newly added, modified or deleted files and other unique features. Order process is secured by 256-bit SSL and 100% safe.
The original price is $29.95 and now is free for one year.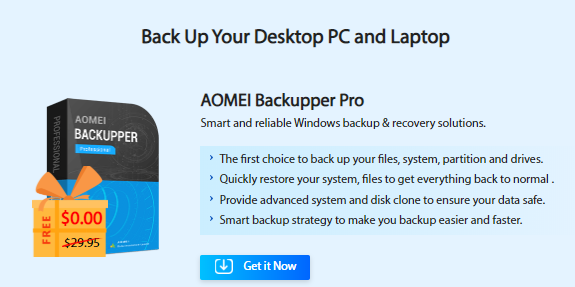 AOMEI MBackupper Pro: Backup and restore your iPhone photos, text messages and iTunes library etc. It also can backup all iPhone data from iPhone to computer. Transfer all old iPhone data to new iPhone or PC make you release more storage. Select the desired items to operate, saving time and space. Use incremental backup technology to speed up backup process and dramatically save backup storage.
The original price is $29.95 and now is free.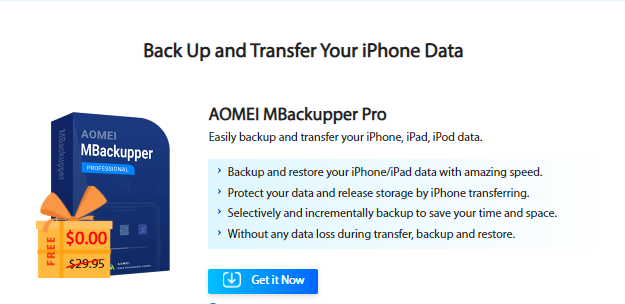 AOMEI CBackupper: A free online backup service, which can backup all your data to the cloud, and combine all your cloud space to store your backup files. Backup your files from your local PC to secure cloud or from one cloud drive to another. It can ensure the security of your data no matter where it is. All free and idle space of connected clouds can be combined into a huge space to store the backup files so that you don't have to pay much money for cloud space. Create schedules to backup files automatically and only back up the difference between the previous version and the later version to save your precious time and space.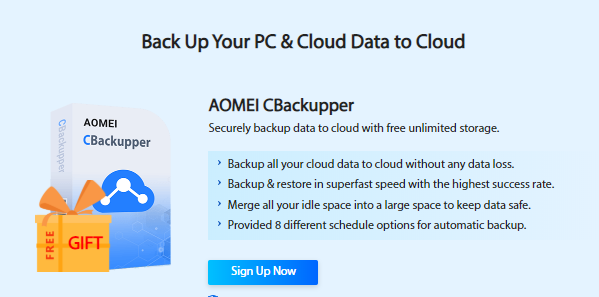 Share to Win $331
Do you usually have the habit of backing up data? Why would you back up your data? You must have a lot of unknown backup stories, share them with hash-tag #BackupwithAOMEI on your Facebook and you will have a chance to get $331.
Download Details
Go to the giveaway page and find the product you want, then click "Get it now", and you will see a setup file and a text file containing the giveaway license key.

When installation is finished, enter the product interface to register and enter the license key. Then you can use it for free.
These three products will protect your data from Windows, iOS and cloud service if you have data security problems. Don't regret your data loss, take the opportunity to backup your data now. Giveaway will last until April 1st.
You May Also Like: