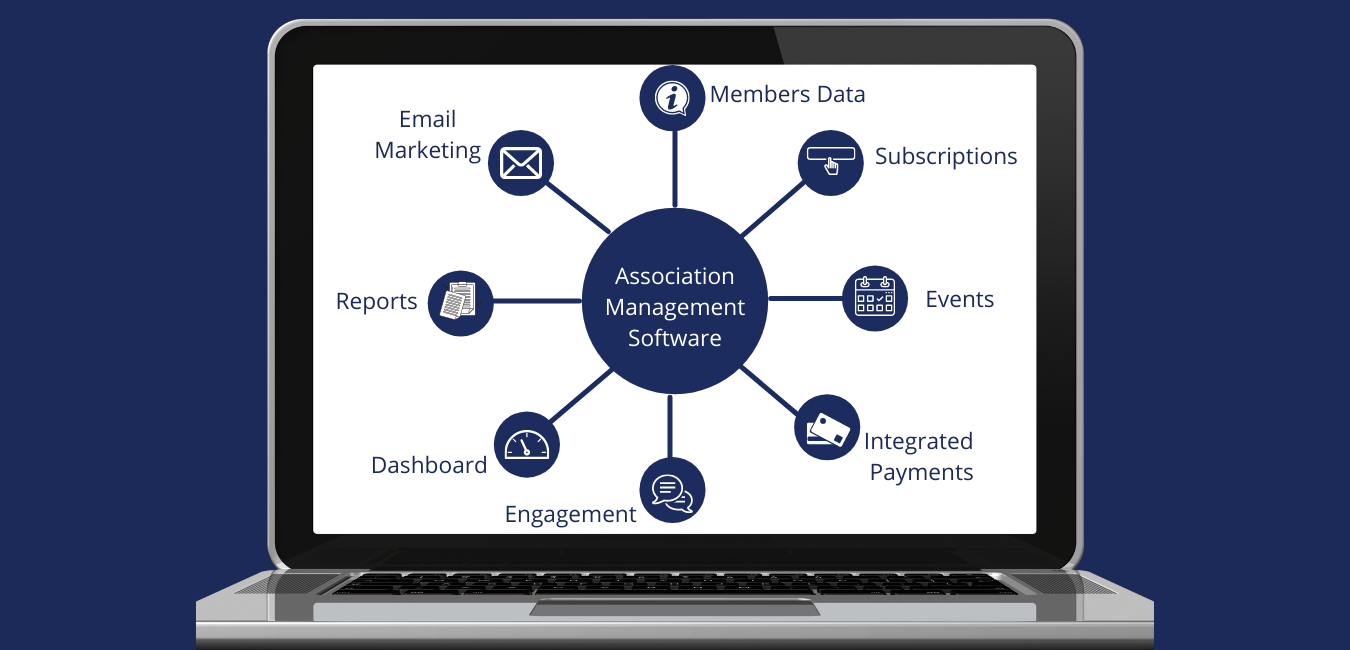 If you are a small association or a big organization, you must have somewhere heard about AMS. It is an effective tool for people who run online communities, trade associations, and membership organizations. Association Management Software or Association Management System (AMS) is a management tool that aids in building websites to track online databases, communication systems, event registrations, finance, and payment systems, to save a lot of time and money.
The features include:
Fees, online payments, and donations.
Automated invoices, emails, and newsletters.
An online database that stores, filters, and manages contact numbers.
Automated administrative tasks to save time and money.
Building professional websites to administer notices, news section, event calendar, members directory, etc.
It is an all-in-one platform that eliminates the need for using multiple software programs. Let us quickly dive deep into the key features of AMS and its benefits to know how to select the right one for your organization.
1. Contact Database
The core of any association management software includes the ability to manage information on the individuals and the organization. It is where you can create records and store databases on all the members, non-members, even on the past, and prospective members too.
It is also convenient to track membership details such as the joining date, renewal letters, membership status. Once you upload the data, it is stored for as long as you make any changes to it. You can keep the past members or prospects hooked into your organization by sending marketing emails and the latest membership offers.
2. Financial Management
It is impossible for big organizations to keep track of the transaction details of the members manually. Imagine your company operating on multiple membership levels, handling events and conferences without the aid of software. For this very reason, companies find this feature highly efficient in simplifying their financial tasks.
Whether it be sending invoices for membership packs, receipts, reminders, or accounting details such as income and expenditure, the association management system takes care of everything all by itself. Manual transactional errors can be avoided as it keeps track of members and sends notifications for them to take the desired action.
3. Fundraising Tools
Many membership organizations conduct online fundraising events and clubs to raise non dues revenue, connect with people, and aid their members financially. With the constant rise in online giving, organizations should optimize AMS to navigate donors easily.
Not just that, mobile-friendly virtual administration software tools are available which makes receiving donations from a larger crowd convenient. Tasks such as payment processing, email campaigns, landing pages for the fundraising associations online can be in-built using the management software.
4. Communication Tools
A company's growth and increase in revenue depend upon the active committee engagement. Organizations need solid communication tools to interact with the members, and strengthen their relationships virtually.
AMS has an in-built feature to facilitate smooth committee interactions with the members quickly and seamlessly.
There are many services and opportunities available to activate the potential in the association, where members willingly participate in its activities. Along with that, they also feel encouraged to take up certification courses. Email marketing is the classic way to stay in touch within the administration by providing valuable information and support.
5. Website Management
It is crucial for associations to establish a strong web presence. With the AMS, you can upgrade the look and feel of a website for member directories.
You can create a blog within a website for non-members to get access to articles and whitepapers. With e-commerce integration in the system, you can also generate more revenue online.
As data is stored in the cloud, its processing will be fast and the website will function better. With a web-based self-service portal, members can search for content easily, update their demographics, renew membership, view transaction history, etc. They can also grant or restrict access to content for members only.
Ways to Select the Right Association Management Software for Your Organization
Selecting the right AMS will determine the overall health and growth of the organization in the long run.
Build a Team – before you do your research on AMS, determine the size of the organization and its stakeholders. The roles of the committee members should include financial, content, communication, administrative, and events management.
Team Leader– it is best to appoint someone who can carry forward the duties and responsibilities in an organized manner. A single point of contact will result in fairer and better committee engagement.
Association Needs – determine what everyone needs from the organization and simplify the tasks. You can then choose a system that aligns with your goals.
Know the Language – if you are stuck with excel spreadsheets, you need an upgrade. Using the right AMS, you must be able to handle membership management efficiently.
Vendors – make a list of your potential vendors, their features, pricing structure, and rule out software systems that are superfluous.
Systems – there are different options for procuring AMS such as custom, open-source, integrated, or pre-built. Measure the usage of each system that better fits your organizational needs and budget.
Pricing – measure the number of admins and members involved to opt for a cost-efficient system. If you fail to do so, you may end up spending more money than needed.
Unleash Hidden Bonuses – the main purpose of using an AMS is to simplify tasks and make working manageable for which you are charged. Learn about SEO and Analytics to earn more from sponsorships and advertisements. Online presence certainly ups your marketing game.
Reports – how easy is it to gather data in and out of the system? Does it have new features to make the system better at a later point? Are you meeting the needs of the members? Can you scale the growth and revenue of the association? Ask these questions before selecting the right AMS for your business.
Key Takeaway
Taking care of its members is the basis of any business goal. The key to choosing the right association management software solution lies in putting initial efforts to generate better results in the future. Therefore, opt for an AMS that enables options to customize your organizational needs when and wherever needed.
The needs must also include protecting the data of the association, user-friendliness, and capabilities of integration. Overall, it is a great software tool for any business to grow and flourish.
You might also like