Fun moments are no longer limited to mainstream media. With the growth in digital media, it's now easier to come across funny content all over social media. This has not only become a lucrative business venture but has grown to a multibillion sector. Many comedians are now leveraging the huge number of social media users to market their comedy.
Whether you are traveling, out for a family outing, or feeling bored, you can easily access various skits straight from your mobile device. As such, the number of funny Instagram accounts has surged at an alarming rate. In that case, you do not need to subscribe to crack your ribs. All you need is to log into your Instagram account and search the funniest profiles.
Indeed, it's not easy to make people laugh by throwing funny videos online here and there. As many comedians both established and upcoming are yet to break the internet through comic videos, many are already commanding considerable following on Instagram. Just for great laughs, that's what these funny Instagram accounts are all about.
If you're looking to increase the reach of your own funny Instagram account, consider purchasing views for your reels. You can visit a website to buy Instagram reels views and give your content the boost it needs to reach a wider audience and make more people laugh. Ranging from viral selfie captions to some funny usernames, most of these Instagram accounts are ideal rib crackers for anyone longing to afford a smile. The bottom line is that nothing is as important as affording a smile.
Here are some of the funniest Instagram accounts that guarantee great laughter.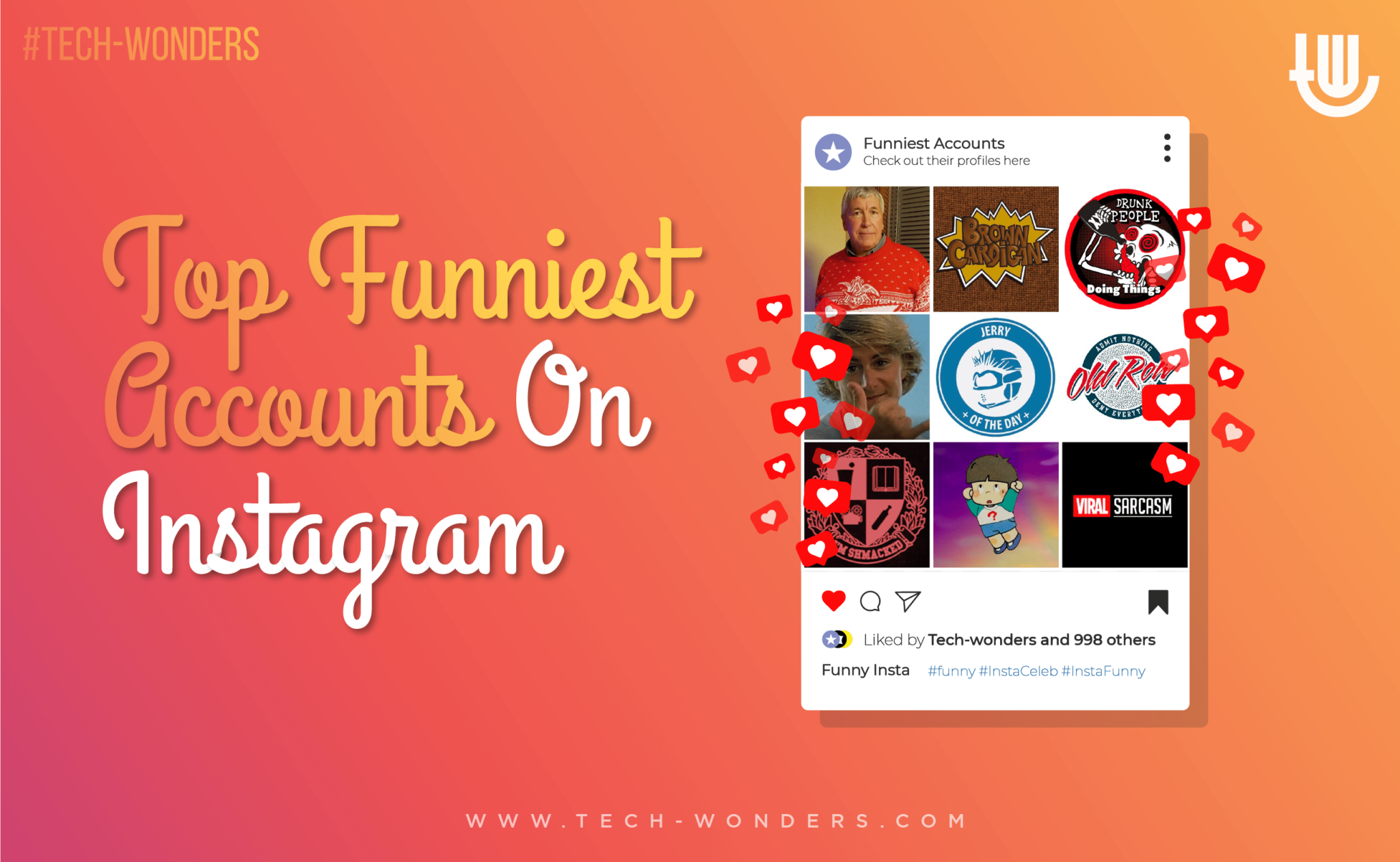 #1. Fashion Dads (@fashiondads_)
Fashion dads are listed among the funniest Instagram account handles in the UK. The account features lines of mugs and shirts which portray some playful catchphrases. If you think your friends are embarrassing then this Instagram will help you hold that thought for a while.
Run by Ashley Hesseltine, the profile has over 167k followers.
#2. Brown Cardigan (@browncardigan)
I am sure you have ever heard about Cardi B, but have you ever heard about B cardi (Aka Brown Cardigan). The account is known to share funny videos that can make you break your rib while laughing. The account mostly features Australia's most colorful characters. Run by Brown Cardigan, the Instagram account has over 1 million followers which shows how popular the skits have attracted many views.
#3. Drunk People Doing Things (@drunkpeopledoingthings)
The name clearly explains what the Instagram account is all about doesn't it? The comic nature of the skits will make you laugh like never before. The popularity of the platform is portrayed through a massive following that has crossed the 9 million mark.
Run by doing things media, the account holder features crazy videos that you can't afford to miss. With the massive following, the account is undoubtedly one of the funniest Instagram accounts in the internet space.
#4. Kookslams (@kookslams)
If you are a fan of watching dogs doing funny things, then @kookslams is an ideal Instagram handle that you should check out. You can't get enough of funny surf dogs that are part of fun moments in the skits. These wannabe dogs featured on the videos are either taken away by the nearest wave or fall off their boards along with other fun stuff that can crack your ribs.
Run by kookslams, the Instagram account commands slightly over 1.6 million followers. I am sure if you are a pet lover, then the account is ideal for you.
#5. Jerry of the Day (@jerryoftheday)
If you are a fan of sports looking for spicy videos, then @jerryoftheday is an ideal Instagram account that you should check out. The account has attracted several followers due to a series of bungles, extreme bloopers, boo-boos and gaffs shared on the platform. This has attracted over 1.8 million followers and counting.
#6. Old Row (@oldrowofficial)
Crazy college kids are always eager to explore different fun moments. In that case, @oldrowofficial is a great Instagram account that effectively caters to the interest of college students. Ranging from killer bikini captions, shots of booze, and several other entertaining captions that target college students. With the number of followers on the Old Row crossing the 2 million mark, it's no doubt that the Instagram account is growing in popularity at an alarming rate.
#7. I'm Shmacked (@imshmacked)
If you are a fan of alcohol then @imshmacked is an ideal Instagram account that you can check out to enjoy alcohol-oriented skits. Hopefully, you may easily catch a buzz by simply watching the skits.
The platform aims to pull curtains on an array of issues that happen among campus students. Just like a parent's worst nightmare, the platform unmasked the campus lifestyle that will leave you shocked. The approach has attracted several followers hoping to have a picture of what happens behind curtains on the campus.
The account has over 18k followers and counting.
#8. Harry Chronic Jr. (@harrychronicjunior)
Harry chronic junior is an established digital wizard working on modifying videos to make them appealing for viewers. Ranging from comic texts, trippy montages, and video game graphics, the Instagram account comes with an array of fun that you can't avoid. Besides a funny name, Harry chronic junior adds spice to the comic world by bending text, graphics, and videos to make people laugh.
Do you want to crack your ribs? Here are some of the craziest Instagram accounts in the United Kingdom. On that note, the account has attracted slightly over 74k followers and counting.
Conclusion
Digital technology has greatly revolutionized the world of entertainment. While it can be expensive to produce high-quality videos and get airtime in the mainstream media, all you need is a smartphone to record and share your skits across online platforms.
In that regard, Instagram comes with great features that have made it possible for anyone to come up with creative content and share it with friends. This has not only tapped into talents but widened the entertainment space to accommodate more people.
As digital technology grows over time, several fun-oriented Instagram accounts are likely to come up and double the existing number over time. Are you an upcoming comedian complaining about being denied a podium to make people laugh in a corporate event? If yes, why not try Instagram now?
You might also like