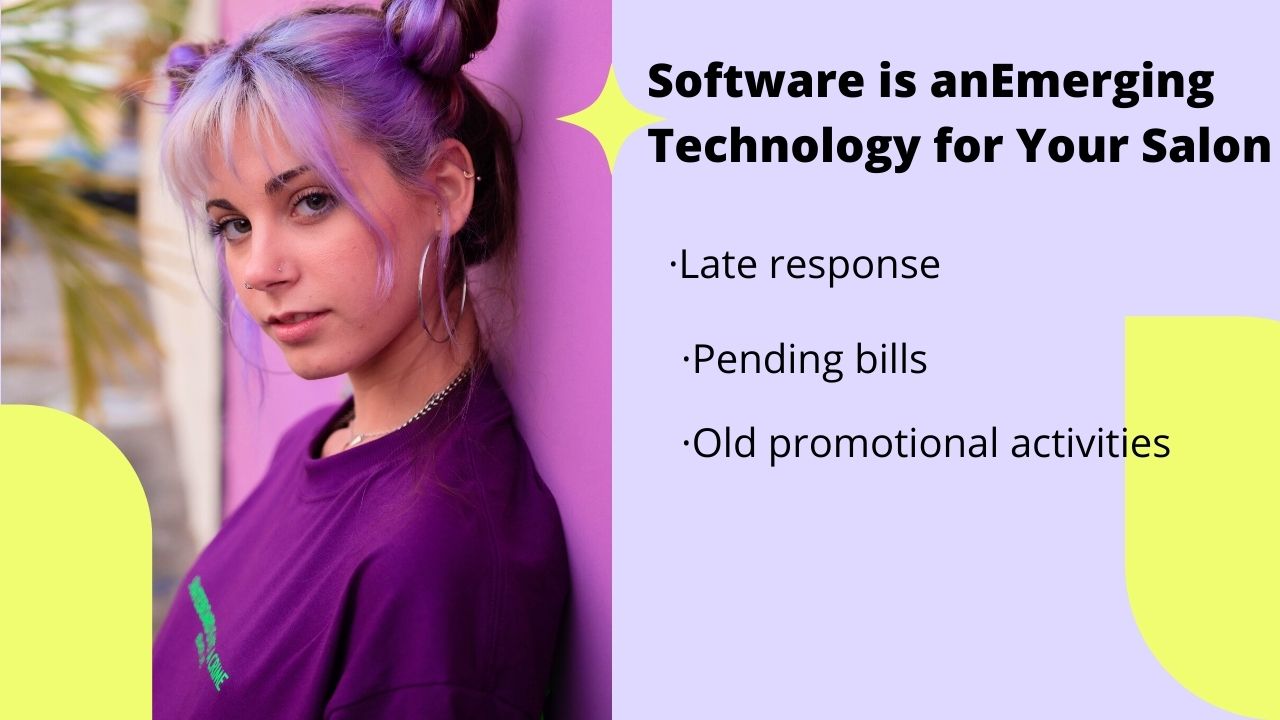 Maintaining a salon is not an easy job. Especially managing everything alone is very tough. Ill management of your salon will make you frustrated. If you are a new owner, it is obvious to face lack of staff. Because you may not afford a big team. At this time, you have to take support of technology. The software can be the right support for you.
It is better to use Salon Software to smartly manage everything. There will be no more stress to manage tasks manually. And there will be no pending work at the end of the day. Just put some effort to find high-quality software for your salon. And you will see its incredible impact on your salon. It will do work on your behalf. And there will be no need to invest in technical staff. This can solve every problem of your salon. Such as:
Late response
Pending bills
Old promotional activities
Missing appointments
And most importantly, administrative responsibilities. It is a revolutionary tool that automates your Salon operations effectively. The software helps to regulate your Salon business.
Moreover, you can manage the Salon easily without any stress. Now you can focus on other important stuff. You can pay close attention to products, inventory, and accounts. Also, you can track everything. That means you can keep an eye on Salon anytime and from anywhere.
Well if you are still confused, you should take a look at the incredible benefits you can experience after switching to this amazing invention.
Appointment Booking and Easy Access
It is the best thing about Salon software. That it enables the customers to book appointments. It eliminates all the problems such as waiting for the customers to schedule an appointment with you. Now, they can book with your Salon according to their convenience. In their comfort zone.
From this feature, the customers can check the available time slot. So, they can book an appointment according to their suitable time. This process does not let them wait for their turn. And there is no need to visit your salon to manually book a slot. It really makes them satisfied.
Moreover, they can reschedule or cancel their appointments. It also eliminates the factor of no-shows. An automated reminder can remind them about their appointment. So, you will never miss any booking.
Hustle Free Inventory Record Management
You can get full control of your Salon stock. Also, you can find out the number of items your Salon inventory has. Inventory management is crucial for business accountability. It is the primary goal of an administrative manner to check the use of resources that is given by the Salon to staff members.
The accountant tracks the Salon revenue and business flow. It is for a specific month that determines the total stock to assure that the Salon is running on the right track with all the given rules and regulations.
It also indicates the problem. The inventory review feature eliminates the manual time-consuming and annoying process. In that time, you need to create a report and verify the availability of the Salon product.
This software keeps you updated with the product. Not just the numbers but their expiry dates. Moreover, it highlights what is required to be refilled. From reporting, you can ensure product availability. To easily manage the Salon stock.
Point of Sale (POS)
The point of sale (POS) offers an opportunity to sell spa and salon products to customers. It provides various payment gateways. So, the customers can simply pay for the services and products, they purchase.
When certain transactions occur your software will automatically calculate the changes made by the bank. The POS makes the transactions in batches. And you can get more earning opportunities. By offering the electronic receipt, Salon Software has shown a contribution towards environmental protection. Because it saves papers to a certain amount.
Efficient Client Management
The Salon software allows you to quickly and seamlessly track your customer specifications like history, and communications. Simply in a few clicks, you can access customer data. Thus, you can ensure 100% satisfaction.
Billing Invoices
Now you can make the payment process convenient with the amazing and appealing payment feature. It simply enables the advance payment rule. That means your customers will pay at the time of booking. And you can improve your Salon cash flow system.
Moreover, the software allows you to add reliable payment gateways. So, the customers find it easy to pay. Although, you can also help them to pay according to the payment methods they own. Additionally, it is a seamless process of easy billing. It is not complicated at all. The Software will remind both parties about the left payments. So, you can never face any kind of loss.
Furthermore, it sends the SMS and the email to the concerned customer and reminds them to pay. This prompt notification system is essential to convey the:
promotions
appointments
daily deals
Seasonal discounts etc.
Feedback Portal
The feedback system can give satisfactory benefits to your Salon. As you know clients are smarter than you. Because they like to research before purchasing anything. Moreover, here they give importance to ratings and reviews. After this, they finalize their decision. Hence, it means a lot. Simply, ratings decide the revenue. So, encourage your happy clients to give feedback.
The feedback works as an idea regarding the promoted services and the products. Of course, the positive reviews appeal to more customers. But the negative ones will tell you about your drawbacks.
Concluding Remarks:
Now, you have a clear picture. You know the benefits of Salon Software. If you are now looking to use high-quality software, you can find it on wellyx.com.
It's the moment to get rid of from the old manual and boring Salon management process and get ready to perform your Salon operations quickly and conveniently. By now you understand that your salon needs a little automation. Start using the software and lead the market. Stand out from your competitors. Be flawless to become successful.
You might also like