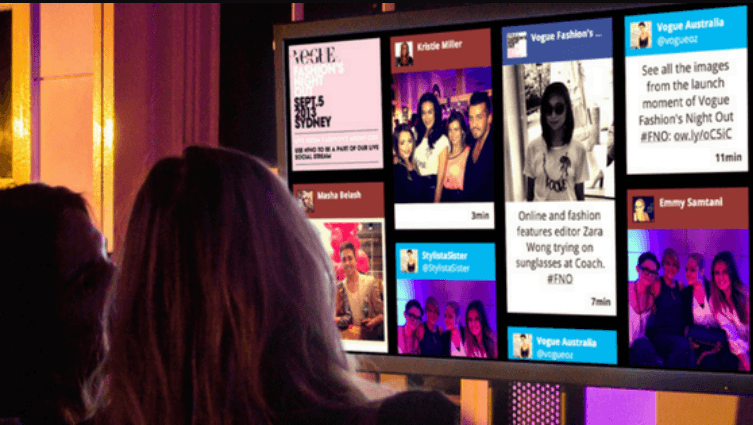 A social wall is the feed of social media platforms aggregated from different social media platforms. It is one of the best tools to showcase your user-generated content.
Social walls include posts from multiple sources, helps to connect you with the customers faster, and enhance the engagement level with the audience.
You know that a social media wall is a helpful tool. But you must be wondering how to create one? So, many social media aggregators are available in the market that can help you out. This blog includes some suggested tools to create a social wall in 2022. Let us read further to get more information!
Tools To Create A Social Wall
1. Taggbox
It is a social media aggregator. It allows you to create a beautiful social wall. You can collect posts from multiple social media platforms and display these together on a social wall. Taggbox helps you to collect, curate, and moderate social media posts. The tool also allows you to display user-generated content flawlessly. You can take a free trial of this tool and experiment to build your social wall.
It is a popular social media aggregator to design a social wall. It allows you to remove irrelevant posts from the social wall through a curation feature. The best part of this tool is that it provides you with a feature to upload private posts. With it, you can approach even those who upload their posts privately.
Social walls give a chance to your audience to get involved with you, to make their posts get high exposure. It enhances the engagement between the brand and the audience and makes the virtual events interesting.
2. Flockler
Leverage the power of UGC with the help of Flockler that is another social media aggregator. It allows you to create and display an engaging social wall. Flockler helps you to automatically aggregate feeds from various social media channels through hashtags, user account names, and more.
It helps you to build a mobile-friendly social wall. Also, it gives you excellent moderation features with which you can customize the wall as you wish. It allows you to create unlimited Social Walls. Just like Taggbox, this tool also provides you with a free trial of this tool.
3. Everwall
It is a social media wall tool that helps you build your social wall by providing customization and moderation options. It gives you multiple theme options from that you choose the suitable one. You can design the social wall as you wish and enhance the engagement level with the audience through this.
The best feature of Everwall is that it provides you with real-time updates. The tool does not help you only with creating a social wall. But it also allows improving return on investment by providing a space to your sponsors on the wall. The tool gives you logo removal and other moderation features for facilitating the display of sponsor's posts on your social wall. This tool allows you to add MMS and SMS on the social wall.
4. SocialWall Pro
It is one of the simplest social wall platforms. With this tool, you can aggregate all social media images, videos, and messages together and design the feed. It allows you to gather user-generated content from platforms like Instagram, Twitter, and more.
It gives you multiple template options from which you can choose the desired one and work on it for creating your social wall. Along with templates, this tool provides varied color and background options too. These you can use for customization of the Social wall.
It also offers you a gamification option to make your social wall more engaging. The features of this social media wall tool include gamification, moderation, customization, and data analytics. It gives you significant data insights relevant to your social wall.
5. The Wallrus
It is a social media tool that helps you with aggregating user-generated content and helps you build a social wall. It allows to fetch posts from platforms through handles, hashtags, and more and display them in virtual events.
The tool is quite expensive to use compared to the other social media aggregators listed above. But it provides you features worth the cost you pay for it. The Wallrus helps you build your social wall unique and attractive with beautiful themes.
The tool offers you flexible plans which you can change as per your needs. It gives you updates fast and provides unlimited hashtags to aggregate the content.
Sum Up!
The blog provides you the knowledge about the best-suggested tools to build a social wall in 2022 for your brand. The listed tools include Taggbox, Flockler, Everwall, SocialWall Pro, and The Wallrus. All come with pros and cons. Now, it is your choice to go with the one you find the best and build up your social wall.
Even after reading the blog, if you are confused about which one to go with, research more about these. If still, you would be in doubt, do not hesitate to try these tools for free!
You might also like