Managing student health with precision and convenience, despite technological advancements, is a demanding task. High-tech firms are always evolving with the most cutting-edge technology platforms, systems, and solutions to better manage student health and make life simpler for students, instructors, and medical personnel.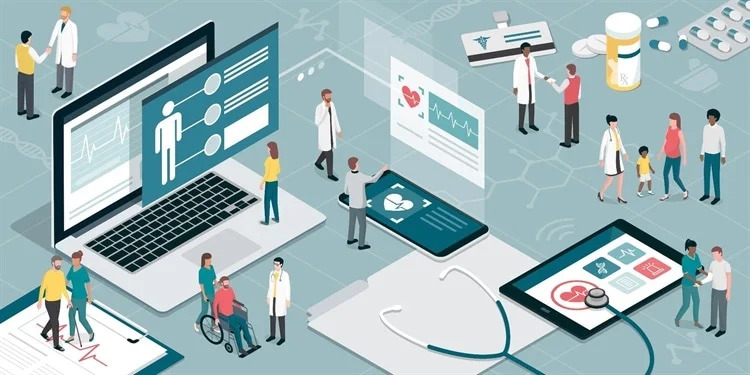 Digital transformation is being pursued by several student health record software providers. Officials are always working to improve the present software. The major responsibility of software producers is to keep their products up to date with new releases. It's possible that neglecting to install the latest versions has a substantial impact on student health.
Paper health records continue to grow in hospitals and schools, but in this fast-paced electronic era, they are no longer helpful in monitoring student health. SHR programme digitizes paper data and properly consolidates the whole student health history. This includes, among other things, immunization records, allergy information, permission documents, and emergency contact information. SHR provides a comprehensive image in terms of interactive reports and dashboards.
Through any connected device, Eduhealth SHR provides authorized practitioners with access to critical health information. It is more critical than ever to make SHR mandatory in schools, according to HIPAA and FERPA rules. Schools can achieve excellent compliance rates using this strategy.
Features of Student Medical Records (SMR)
Alerts in the Event of a Medical Emergency
To provide high-quality student health care, the school nurse's ability to acquire information, respond quickly, and cooperate with parents and staff members is crucial. SNAP Health Center keeps medical alert and health condition information available and recognizable across the programs for better care delivery.
Notifications (Visual & Auditory)
Notification Options That Can Be Changed
Reporting to Identify At-Risk Students
Condition Pick Lists that Can Be Customized
Security and Confidential Settings
Inform the district staff of the situation.
Health Monitoring
It is a phrase that describes the process of keeping track of one's health. We are currently in the midst of a major health crisis. Our children are growing increasingly prone to diseases like diabetes, heart disease, and asthma as a result of rising sickness and huge pollution in our environment. More than ever, these situations must be closely examined and monitored for any changes or trends.
Immunizations
Vaccination has been administered to 99 percent of American children at some time in their lives. This achievement includes all of the school's immunization responsibilities, which are generally handled by the school nurse. It's a necessary task, but it takes a long time.
Vaccines are kept and organized in the student health record, allowing you to easily check compliance and follow up with parents as needed.
Download state compliance guidelines and let the software determine whether or not you are in compliance.
If a student does not obey the regulations, he or she is immediately reported, and you can see why. Exemptions, such as a manual override, as well as future or conditional compliance, can be used. Take it a step further by directly importing immunization records from your state's registry. Electronic Medical Record Software is mandatory for monitoring student health.
Screenings
Many common, pre-formatted screening forms, such as vision, dental, hearing, height and weight, and sports physical examinations, are provided in SNAP Health Center, and you can also create a limitless number of bespoke screening forms to fit your state's criteria.
A one-click recording of screenings that meet the "pass" criteria for individual students or groups of students speeds up the documentation process. Screenings might include follow-up or recheck dates, as well as one-click appointment reminders. There are graphical height/weight charts as well as automatic BMI calculations in the application. A narrative note section allows each student to have extensive documentation. Screening referral form letters can be printed or emailed directly from the Student Health Record.
Advanced services such as efficient data management, scanning and collecting data from physical forms and medical papers, and evaluating student health data are all available with SHR systems like EduHealth. It can aid in the evaluation of health trends such as communicable illnesses.
Vaccine compliance, environmental and chronic health conditions, and successful preventative strategies may all be tracked using school population health data provided via EduHealth EHR. EduHealth also makes it easier for school nurses to obtain, evaluate, update, and remove data as required by various legislation, streamlining and simplifying their documentation chores.
It is impossible to overstate the importance of digitizing information in terms of secrecy, security, privacy, and regulatory compliance. Converting your kids' health records to digital format is a necessary improvement in today's environment for tracking, organizing, and transferring medical information.
Why is EduHealth one of the most effective student health record software programmes?
EduHealth stands apart from other EHR software because of its unique features and functions. Their staff makes every attempt to improve the programme from time to time.
They're interested in how effectively the programme works for school nurses, and they've been eager to include their solid ideas for improving things. This is one of the reasons why EduHealth customers enjoy a better EHR experience than other software users.
When it comes to the COVID-19 tracker, EduHealth has worked hard to keep the system's functionality simple while maintaining it effective at its task.
You might also like