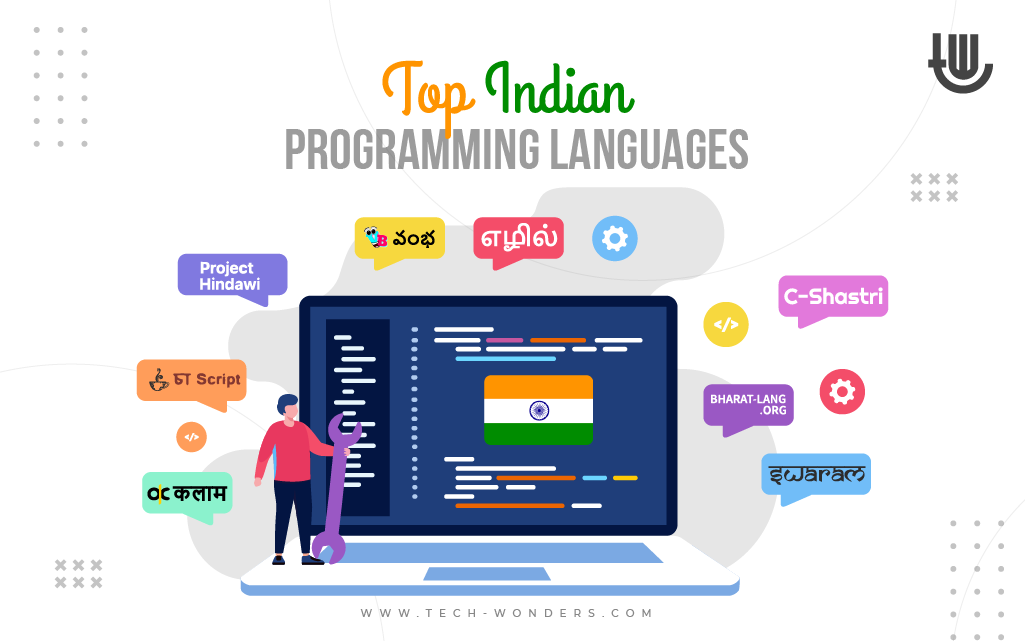 Various programming languages aid us in developing solutions and automating the existing mundane tasks. It has been a boon to the computer science revolution by introducing various languages that have added peculiar features to every aspect of the software. But did you know about the programming languages developed in Indian languages? This article talks about the top Indian programming languages we don't know about. Read on to know more.
ChaScript- Written in Bengali
ChaScript was written for Bengalis to understand programming in their language, invented in 2020. The developers have provided the learners with comprehensive documentation and tutorials. This language is easy to learn without any hassle of installation.
Cha uses ECMAScript grammar and JISON javascript parser to operate. For a beginner starting to code, ChaScript provides a comfortable environment as the syntaxes are taken care of.
A learner needs to get the Avro Keyboard for easy Bangla typing and script without the constraints of declaration or semicolons.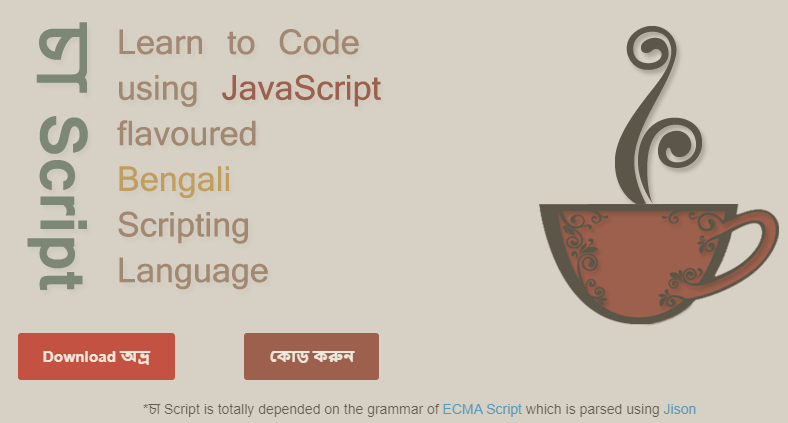 How to access it?
The homepage of ChaScript provides tutorials and examples, and there is a GitHub repository.
Bharat Programming Language
Launched on an auspicious occasion of Ekadashi, Bharat Programming Language has already set a goal to have five languages that will use the Bharat script. This programming language intends to help learners with the freedom to code in their regional language.
Following will be the features in this language: auto-completion, the introduction of new words, libraries to support modern machine learning problems, APIs, and libraries that support almost every Bharat language.
How to access it?
The main website provides a video tutorial of how the language will operate. One can also reach out through the contacts provided on the website to learn more about the plans.
Kalaam.io
Kalaam is a Hindi based programming language started in 2020. The conditions and loops operate in Kalaam just as in modern-day programming languages. An open-source program still in the improvement stage offers coding opportunities to people who dread English coding.
You can practice, learn the functions, and understand Kalaam from examples given on their main website.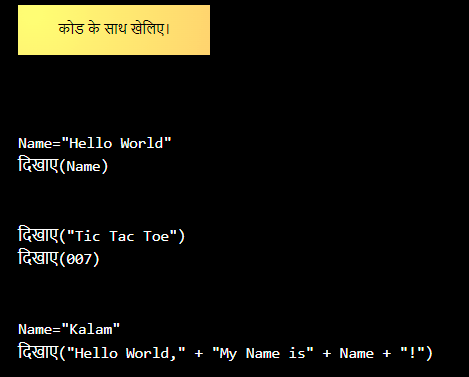 How to access it?
The homepage of Kalaam provides tutorials and examples, and there is a GitHub repository.
Hindawi Programming System
The Hindawi Programming system offers Shaili on the primary and higher ends. Shaili Guru, Shaili Shraeni, Shaili Yantrik, Shaily Shabda, Shaili Vyaakaran, and Shaili Kritrim are on the higher end. At the same time, there is Shaili Prathmik for the beginners. These are names supported with Indic programming languages that use Java virtual machines.
To add the cherry on the top, Hindawi is now officially recognized by the Indian government and has received various awards.
How to access it?
You can try out coding with their online platform. There is a learning tutorial on Hindawi here.
Swaram
Swaram, a general-purpose programming language in Tamil font, was developed in 2003 for Tamil natives. Like C, C++, and Java it is a static one operating on a lexical analyzer only. Swaram intended to have software building capabilities in Tamil.
However, to gradually become better in other languages, one can merge English and Tamil fonts in Swaram. Swaram also includes 'Panditham' coding and Swaram Virtual Machine environment. Currently, it appears to be still in progress.
Ezhil
Talking about Tamil programming interpreted languages, we now have the Ezhil script, which first appeared in 2007. Ezhil features over 350 in build libraries, most available in Python. It is noted to be a complete compiler front end that can quickly provide complete control over building code blocks to a native Tamil person. People have developed games successfully using the loop, operators, and conditions in Ezhil.
How to access it?
This language can be found on Github as of now. Access this Github repository here.
VamBha
VamBha, as they say, is the first Telugu programming language in the world. There is an online environment to type the code; else, a person can upload his sample with a .vambha extension to get it compiled and executed. Developed by Vamsi Bhavani, it will soon launch overall renowned operating systems. With syntactic meaning and procedural programming, any native Telugu speaker can quickly learn concrete logic coding skills with VamBha.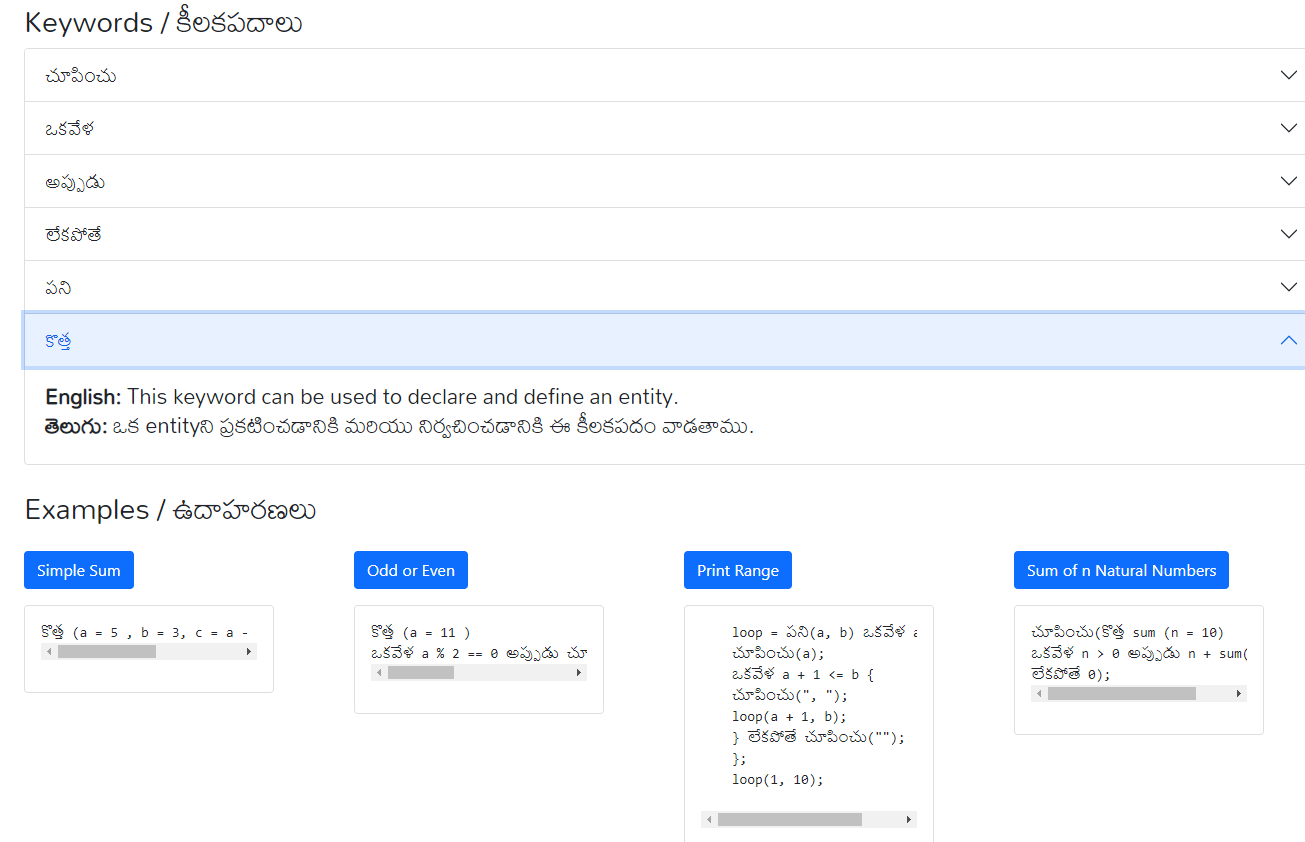 How to access it?
You can access the website to try out their online environment and learn more about VamBha. Besides, you can also start learning with the tutorial provided.
C-Shastri
C-Shastri is a language developed by a college teen that heavily uses cricket slang in coding. This approach, he says, can change the way of mundane work and bring in some entertainment. As per news bytes, Infosys has appreciated C-Shastri language, and it is soon to be an open-source project. Currently, it is still in progress.
Summarizing the article
As we conclude on the topic of the top Indian programming languages we don't know about; we hope that now they get ultimate exposure by reaching the masses. The real intention of having a non-English or Indian programming language was to preserve the culture or make coding easier for everyone.
We believe that having languages like these can surpass the barriers such as age and English proficiency. Thus, any coding enthusiast will be able to develop his passion for coding and undoubtedly build concrete programming skills.
We hope you liked the article, do let us know your views in the comments.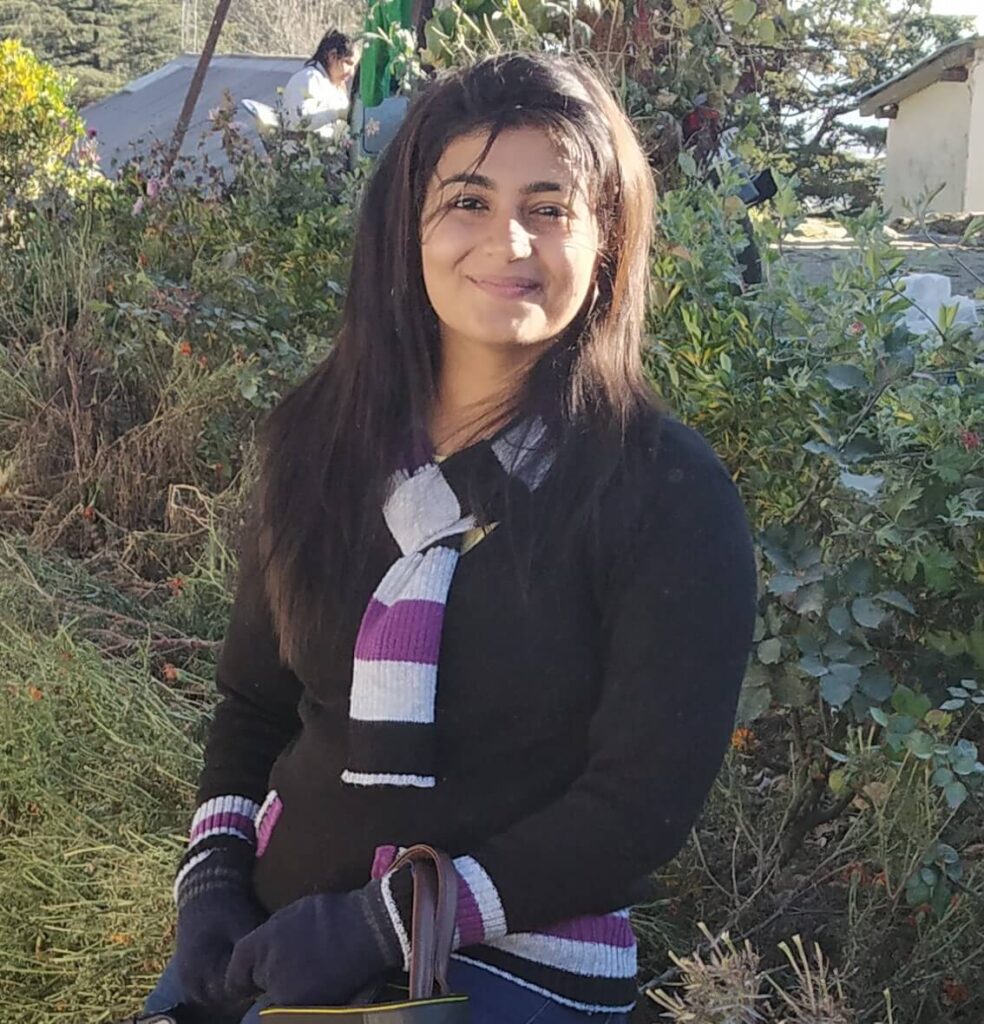 Author Bio: This article has been written by Rishika Desai, B.Tech Computer Engineering graduate with 9.57 CGPA from Vishwakarma Institute of Information Technology (VIIT), Pune. Currently works as Threat Intelligence Researcher in CloudSEK. She is a good dancer, poet and a writer. Animal love engulfs her heart and content writing comprises her present. You can follow Rishika on Twitter at @ich_rish99.
---
You might also like