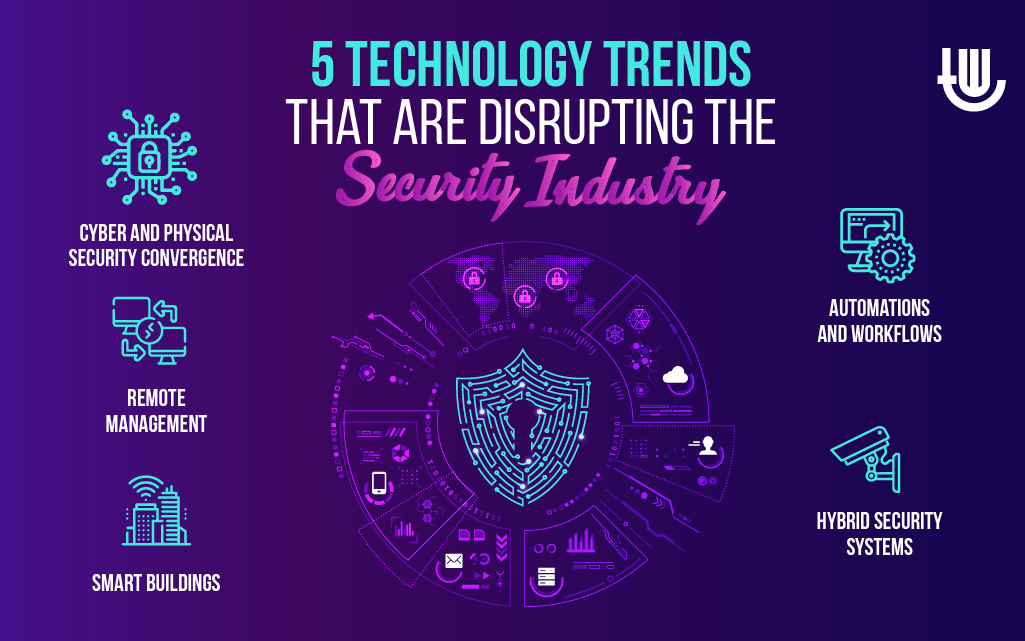 The changes in technology are constant, helping to push society into the future. The security industry is not ignorant of these changes. In fact, it is brimming with technological advancements that strengthen protections against intruders and virtual attackers.
You may not know which technologies to invest in, but luckily, we are here to help you. We have found the top five technology trends that can completely alter how your security system operates for the better. You will discover five new ways to update your system and protect you against the ever-growing number of threats to your business.
1. Cyber And Physical Security Convergence
Cyber and physical security convergence is an essential security measure for any business. It brings both security teams together to formulate a unified response against any security threat. A unified response will prevent intruders from slipping through any gaps in the building security, like accessing files by breaking into the building. It can dramatically improve the safety of your business.
Video and access control convergence is a strong example of why security convergence is essential. Access control validates authorized users to access buildings and virtual files based on their credentials. With security convergence, access control can inform video security that someone is entering the building.
Video footage can then doubly visually authenticate the user's identity and ensure that they have authorization. The cameras can compare the user's photograph to the footage and ensure that the right person is entering the facility. If not, the system will alert security and stop the intruder. Converged video and access control enhance the protection of your building.
For example, entry intercom systems are a great example of security technologies that combine access control and video security. Building entrants will undergo double verification to protect the building and any on-premise database technology. By combining these technologies, you can strengthen your physical and cyber security protection.
2. Remote Management
For many years, traditional, onsite security systems were the favorite. Partly because they were the only security system available but also because they are easy to access, efficient, and don't incur future costs. However, as many security technologies begin to move to the cloud and adopt more capabilities, on-premises systems are becoming a thing of the past.
Everyone wants to manage their security tools remotely now. By selecting cloud-based security technologies, you give yourself the flexibility to manage your security from anywhere. Cloud-based security tools essentially mean that your business has the potential to shift as it needs to.
One of the main ways to achieve this is through remote management. Your security team can remain offsite, monitoring the building and only taking action when necessary. This can hugely reduce costs and space needed for security which has numerous benefits. Remote management can make security management easier without compromising quality.
3. Smart Buildings
No matter what type of building you run, you want it to run smoothly. With IoT devices, you can mold your building into a smart building that operates efficiently and easily. The devices are easy to connect, so they work in unison to keep the building tenants happy and safe.
IoT devices can include any security technology, including access control, smart locks, video cameras, etc. Their capabilities are endless, from remote management to mobile technology enablement to device integration. It can streamline processes and allow devices to work cohesively to protect your building better.
As well, many modern building management tools are now available with IoT capabilities. Devices such as HVAC, lighting, and motion sensors can alter how commercial and residential spaces operate. They can make life easier, reduce energy bills, and save money. IoT technology has many capabilities that can change how your building functions for the better.
4. Automations And Workflows
Automation and workflows are the best way to protect against cyber security threats. The cloud has many advantages. However, it does provide new gaps for hackers to enter and attack your system.
Without the proper protection, this can prove dangerous to your business and any data that it holds. Using integrated building and cyber security data, you can automate responses and system updates to prevent current attacks. They can preempt and catch a variety of cyber-attacks and alert your security to them.
You can even set up workflows to initiate responses to attacks and reduce the workload of your security team. Data ensures that your system is ready to protect itself and contact you as a last resort, so it has complete protection no matter what.
5. Hybrid Security Systems
Many businesses will have security technologies in position already. Some may be working effectively, some may be outdated, and in some areas, you may lack any protection. You don't want to buy an entirely new security system because that is inefficient and unnecessarily costly.
If you select hybrid security systems, you can enable your previous security technologies and new technologies to work together. This includes cloud and on-premises systems. You want to know that all your systems can work together effectively, so you waste no resources.
Hybrid security systems take advantage of the strengths of cloud and on-premise security technologies and bring them together. They work together to provide the best protection possible and fill gaps that other systems ignore. If you notice any cracks from previous attacks, you can customize your hybrid security system to meet them and meet all your needs.
You might also like