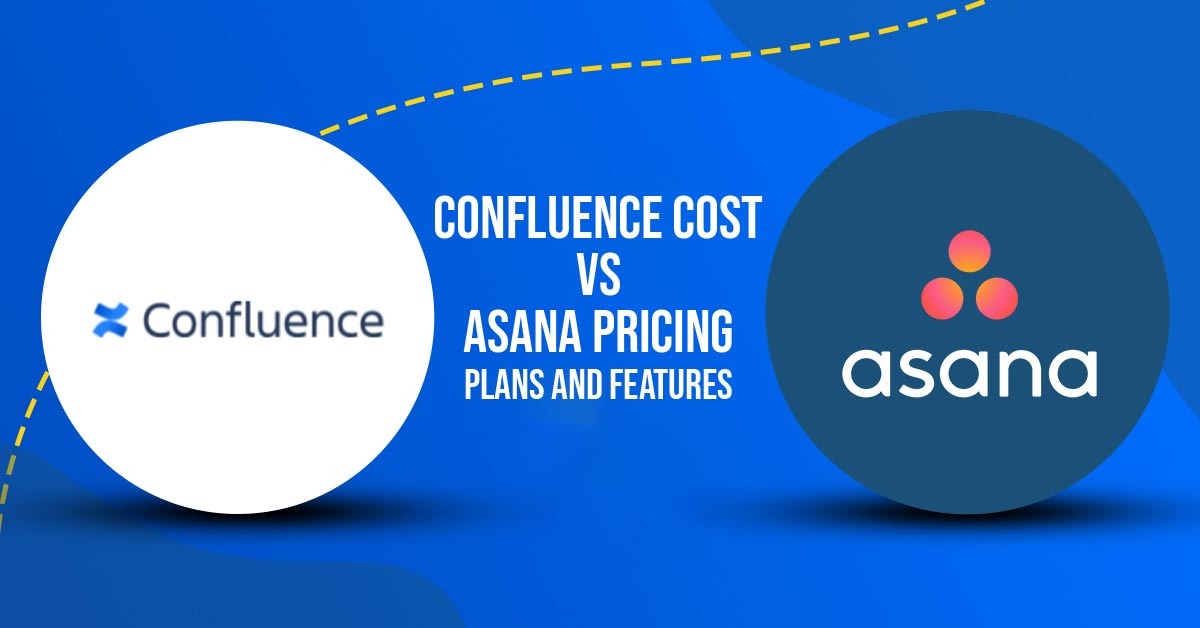 Confluence is a web-based software fashioned for project management and collaborative work. Asana is a platform that combines tools to organize team collaboration and enhance productivity.
Confluence software is where teams meet organized remote workspace. Confluence started in 2004 and it is able to create a dynamic atmosphere for teams so they can document, decide, and execute plans. Meanwhile, Asana also aims to resolve the overall clutter that starts piling up when you are utilizing the remote workspace.
Let's discuss the differences between the Confluence cost vs Asana pricing plans in detail.
Confluence Cost
There are four carefully designed pricing options for people who want to work with Confluence. Let's take a look at what makes each different from the other:
Free

Confluence provides a free plan that has various tools to support startups and beginners. For instance, you can make unlimited spaces and pages to satisfy the requirements of your work. You will also have access to Macros. The Macros tool is designed to improve connectivity between team members. First of all, it can be used to generate live updates about Jira issues, and secondly, the Status macro can help you post updates for the team to see.

When you are working on different platforms, it is easy to lose important information. This is where Confluence comes to your rescue. The structure page tree lets you organize data in a hierarchical tree where everything can be sorted based on its relevance.

Furthermore, page versioning lets you stay on top of all the changes made to pages as well as access a previous version if required.

Some of the other benefits packed into this pricing option include:

• Template library
• App integrations
• Password policies
• Mobile device management



Standard

The cost of the standard pricing plan is around $5 per user. Moreover, it retains the ability to support up to 20,000 users. Its unique features include the control over permissions for spaces and pages. Therefore, only the people with access will be able to view or make any changes to the documents.

Additionally, if you want to keep up with engagement and check how your campaigns are performing, the standard plan's page insights will come in quite handy. Furthermore, to reduce the document noise you can archive and unarchive pages at any time.

When it comes to security and compliance, the standard plan covers:

• Anonymous access
• Audit logs
• Data residency



Premium

This third option is billed for $10 and possesses many important tools that are not listed in either Free or Standard subscription plans. For instance, you can access critical analytics to check user engagement, follow up with the trend, and shape your plan accordingly. To help managers, the inspect permissions tool can be quite helpful. They can check every user's permission and see what they have been granted access to.

If you have grown out of the need for some of the pages, you can opt for a bulk archive so that all of the outdated pages can be hidden. Team Calendars further make collaboration simpler as team members can check who is available and how to schedule tasks around that information. Some other benefits listed are as follows:

• External collaboration
• Automation
• Sandbox integration
• Release Tracks



Enterprise

The enterprise pricing option includes the complete list of functions that Confluence possesses. It increases the efficiency of data and insights with Atlassian Analytics, Atlassian Data Lake, and Data Connectors.

If you are interested in Confluence for organization-wide control and security, the enterprise option could resolve that. The pricing for this option is not provided by the website but you can get in touch with the sales team to guide you through cost, features, and other queries.

Asana Cost
The Asana software is also able to accommodate four asana pricing plans options to ensure that teams of all sizes are able to access useful features. You can access the Asana demo to learn about the features through the website but here are your options if you are interested in Asana:
Basic

The Asana software supports individuals and small teams by offering this basic subscription option that is free of cost. It can be helpful in creating unlimited tasks which means that you can break down assignments into as many tasks as are necessary. Likewise, you can create unlimited projects too. By keeping an unlimited activity log, you can also contextualize the ongoing processes.

If you want to manage relevant files, you can easily do that as Asana provides unlimited data storage space. Meanwhile, collaboration is also supported and you can do so with up to 15 users. Other features worth consideration is:

• Calendar view
• Ability to assign tasks
• Option to set dates



Premium

The cost of the premium starts from $10 and it supports important features required for task management. For example, users will have access to Timeline as well as a Workflow Builder. In fact, you can create unlimited dashboards, advanced search, and maintain custom fields. When it comes to improving the way that teams collaborate, the forms feature can be accessed. Forms let you request tasks and specify details as well.

If you want to set specific rules, the premium plan supports the option as well. Here are a few other unique features you may want to consider:

• Task templates
• Milestones
• Admin Console



Business

The pricing plan of the business option starts at $24 and it is a wonderful choice for people who want solutions for collaborative tasks at an enterprise level. What makes this plan special is that it integrates features to help you cope with details. Such as, the portfolios tool can be used to monitor projects whereas you can balance the workload of your team by checking how much each member is tasked with.

If you want the team to be on the same page, the goals feature will help you achieve that. A few other benefits of the business plan include:

• Approvals
• Custom rules builder
• Proofing
• Forms branching



Enterprise

The enterprise pricing option is made to include all of the features that are available otherwise. The price can be generated by contacting the team through the website.

You might also like