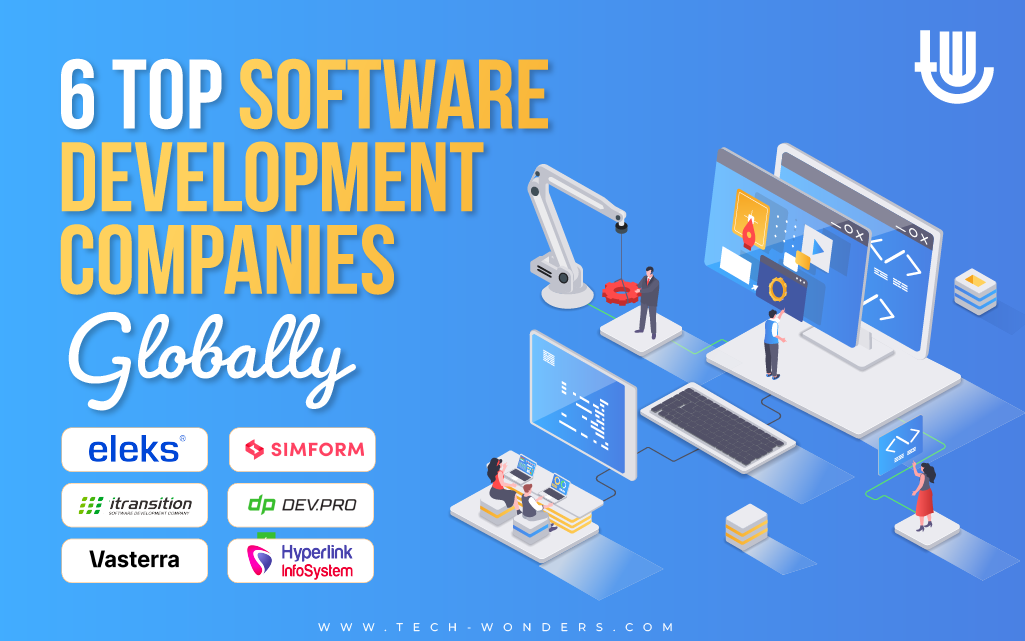 Our life is indispensable without software these days. Though you can't see them physically, they are part of all the digital devices that you interact with daily. On your smartphone, every activity you perform, like booking a cab, transferring money to someone, watching YouTube, or simply surfing social media platforms, the software is used in all of them. As a user you might not be concerned about who makes such software, but if you are looking for a job in the software development field or a business owner looking to develop a software, then you should about the top companies that create custom software.
Simply put, a software development company is an organization that designs and builds tailored software products, frameworks, and tools to help businesses solve a problem or achieve a desired result. Businesses must continue to operate and innovate in order to survive. Software development firms are capable of providing this crucial resource. Though a software can be created in house, not every company has the right resources and expertise to do so. Therefore they hire a reliable software development company that not has access to vast skills and experience in the field but also help to make an excellent first impression for their customers.
Wondering what are the top software development companies? Well, this article makes you familiar with the top software development firms across the world.
Top Software Development Companies to Keep an Eye on
Here goes the list!
Hyperlink InfoSystem
Founded in the year 2011 by Harnil Oza, HyperLink InfoSystem is an Ahmedabad based software development company with presence in countries like Dubai, Canada, the US, France, and the UK. The expert organization is tightly integrated to provide more readily usable outcomes and solutions for use in a variety of business verticals, facing issues in the IT sector. The company is also looking forward to offer solutions related to emerging technologies like artificial intelligence, salesforce, the Internet of Things, business intelligence, augmented reality, and data science.
Dev.Pro
This quality-obsessed and result-driven company enables cutting-edge technology firms to accelerate time-to-market and amplify their growth aspirations. Any skill set, complexity, or scale may be met by Dev.Pro's teams; working together with the client as a single unit with a common goal to achieve. It is a trusted software development company for Fortune 500 Enterprises as well as emerging startups like Heartland, Coinsquare, Securrency, Xenial, and Salesloft. The firm has expertise in technologies like DevOps, cloud development, system integration, application security, UX/UI design, among others.
Simform
Simform believes that effective software can help businesses become more competitive and agile. With its inception 2010, the companies has come a long way to become a reliable software provider for WHO features NGOs, Fortune 500 companies, as well as ambitious small companies. With the organization's completely managed software development solutions, the clients receive tried and true procedures and knowledge that guarantee remote engagement produces fruitful outcomes. Simform assumes responsibility for the client's project and provide delivery and quality assurance.
Eleks
Many of the largest businesses, SMEs, and technology competitors across the world rely on ELEKS as their partner of choice. Through their custom software development, product design, quality assurance, and consulting services, the company assists businesses in increasing their value. Some of the problems that ELEKS can solve for its clients include – building their perfect development team, adopting digital transformation, and unifying their enterprise's digital ecosystem. You have access to a talent pool of more than 2000 multi-skilled specialists to fill any skill shortages in your own team when you work with the ELEKS nearshore software development team.
Itransition
Itransition is an company that offers engineering and consulting services to promote innovation and competitiveness and help businesses identify and meet the demand for digital transformation. Founded in 1998, Itransition has served over 800 clients that span across industrial sectors. The company offers software development solutions on a genuinely global scale. Its projects are spread across 40 countries and counting, and employs over 3000 people to help clients generate business value through technology out of their European and US offices. Itransition was recognized by Gartner among the 10 best Pure-Play testing service providers.
Vasterra
Vasterra works to provide successful software solutions that aid clients in corporate expansion and market dominance. Some of the popular solutions offered by the company are – web development, app development, custom software development, ERP development, and LMS development. Whatever technology you ask for, Vasterra has expertise for the same, be it Bootstrap, PHP, Laravel, JavaScript, Angular, PostCSS, iOS, Node.js, Swift, Kotlin, or MongoDB. With Vasterra's full-stack software solutions specifically adapted to the clients' demands and market, an organization can connect with its target audience and accomplish strategic goals.
Over to You
The world of software development is growing with every passing day. Given the ongoing digital transformation, the importance of software development is only poised to become more relevant. If you are just starting your career, then you can apply for any of the above companies. Chances are you will have a bright career ahead and the ability to command higher salary after gaining some experience.
You May Also Like