Technological advancements have taken across several industries and with that software development and computer programming is becoming increasingly popular. Given the growing demands of developing creative and interactive software for businesses, one could say that software developers have become valuable assets for any industry or company.
As a business owner, you need a great talented team to produce innovative and over-the-counter results.
A survey by Indeed that included over a thousand tech recruiters discovered that 9 in 10 respondents found hiring technical talent challenging and over a third of recruiters found it very difficult.
With companies desperate to achieve their desired software development goals, they often settle for subpar candidates that do not meet the job description requirements as in-house employees. Organizations especially the non-IT ones are finding it tough to hire software developers on time which further affects their business remarkably.
Challenges faced when hiring software developers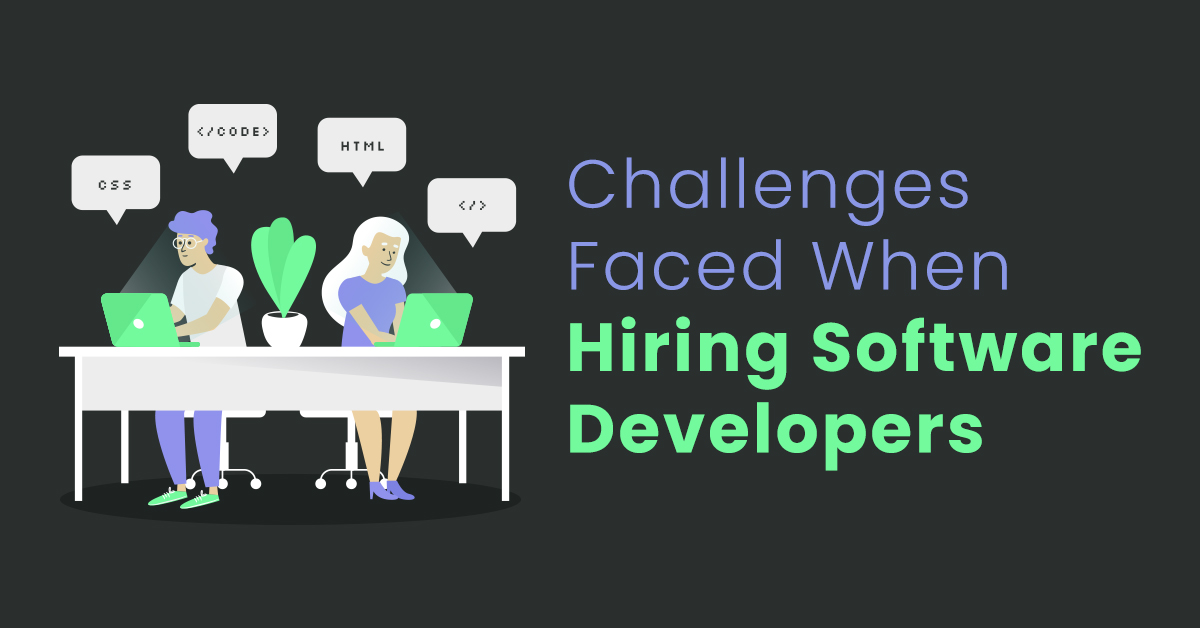 Hiring skilled software developers in this day and age is a challenge, indeed. It's getting more so with slender teams and slender budgets but with the same anticipated results. Let us walk you through the most common recruitment challenges that you may face in the process of developing software for your business.
Limited talent pool
The software development job market is consistently brimming with highly talented software engineers and experts. Thus, hiring the right candidate for the technology or the exact business skills you require is exigent. As the demand for software developers rises, the pool of talented and experienced candidates is decreasing.
One of the leading causes of the software development workforce shortage in the IT industry is not the lack of graduates. Rather, it is the lack of professionals with the right set of skills required for software development. Even though the number of tech graduates increases every year, Job vite's job seeker nation report shows that 67% of recruiters struggle to find the right candidate with the right skill set for their organization.
Along with that, it is easier to find candidates to fill positions related to web development, iOS or app development. However, the most common roles recruiters find difficult to recruit are big data and analytics, security and legacy solutions. However, this common challenge can be resolved with the help of AI analytics-based recruitment strategies and a renowned software development company.
Fierce market competition
If you are looking for software developers for a startup or a smaller business, the most common challenge you might come across is fierce market competition. Large organizations that are resourced to offer compensation packages and benefits to programmers may be able to lure potential software development experts away from other firms.
Since talented and skill-full software developers are in such high demand, they are in the position to demand ambitious compensation packages and are willing to take roles that offer a competitive edge over other roles. Building an effective software development team requires a lot of patience and research keeping in mind all your business as well as consumer needs.
Most talented IT professionals are now looking for more than just competitive salaries and compensation benefits. They also take into account certain factors such as work culture, opportunities, benefits and perks for personal career growth. This will help them be motivated to work hard and stay true to the company for a longer period of time.
Lack of IT education
Nowadays the majority of software programmers have completed a certification program, but in order to land a job they generally showcase the necessary skills and knowledge that is relevant to a particular industry.
In such scenarios, many job-seeking candidates may enter the IT job market without the necessary IT education or knowledge that is relevant to the industry. Thus, the lack of formal IT education is one of the top challenges in hiring skilled software developers.
Even though there is typically a positive view on hiring Bootcamp graduates or online certification developers, companies are still a bit skeptical about hiring online graduates. However, as a business owner, it will be your call whether you would consider the educational background as a vital factor in hiring software developers for your software development.
Higher recruitment expenses
The process of hiring software developers is not only time-consuming but also expensive process. According to a study by the society of human resource management, it takes an average cost of $4129 and 42 days to fill a new position. Along with that, skilled software development candidates are known to demand high salaries and compensation packages when joining a fresh new organization.
The shortage of skilled and experienced developers leaves businessmen with no choice but to risk hiring software developers that may not be a good fit for the short term. For startups, additional recruitment expenses like advertising, bonuses, compensation packages and much more can become an obstacle to its overall success.
Long hiring process
As the demand for software developers increases, the speed of recruitment is vital. Businessmen need to get software development candidates in front of them quickly before another company hires them. A study by CareerBuilder says that 66% of candidates don't even wait two weeks to hear back from an employer before moving on to another opportunity or offer.
If it was up to employers, firms coils take months to look through each one of the candidates and find the perfect fit for their business needs. However, software developers resent long hiring processes, which forces businessmen to speed up their hiring processes. When hiring remote developers, it is crucial to ensure that you are hiring from a reputed software development firm to tap into highly experienced software development talent.
To avoid such long hiring processes, you must define the exact role you are looking for before posting a job role. Moreover, you must keep in mind that software developers dislike long, irrelevant interview questions, so you must adapt to that accordingly.
How to overcome the challenges?
In the fast pacing world and the ever-evolving IT industry, keeping up to date with the trends and shaping your work culture and recruitment structure accordingly is a challenge. However, keeping in mind the aforementioned common challenges and overcoming them one at a time can make your hiring process straightforward and well-ordered.
One of the most efficient ways to reach out to talented software developers is by leveraging the power of social media. It is the most effective modern-day recruitment tool. Not only do candidates use social media to research the companies they are interested in but they also look for their next job roles by surfing the internet.
By choosing a software development company, you can save a lot of your precious time as well as money. An experienced software development company can help you build a highly interactive and robust solution that caters to all your business needs.
By considering these factors, you can easily determine the best course of action to search, approach, recruit and retain talented software developers.
You may also like to read: