Online banking is integral to everyone's life, bringing the entire bank to the fingertips. According to a study, RBI statistics highlight that around 35% of the Indian population uses E-Banking for daily transactions, which implies nearly 50 crore users are using digital banking experience daily!
However, with extreme convenience comes an equal amount of risks and fraud associated with digital banking. Another RBI report says that banks reported 9,102 frauds involving an underlying amount of Rs 60,389 crore in 2022. To stay safe from banking frauds, this article talks about security tips for a safe digital banking experience. Read on to know more.
Security Tips for a Safe Digital Banking Experience
People can set up their accounts in minutes, execute transactions with a PIN, have access to the account round the clock, and send the money anywhere merely with an identifier such as UPI- without knowing the complete bank details. However, it is also essential to practice and experience a safe digital banking experience.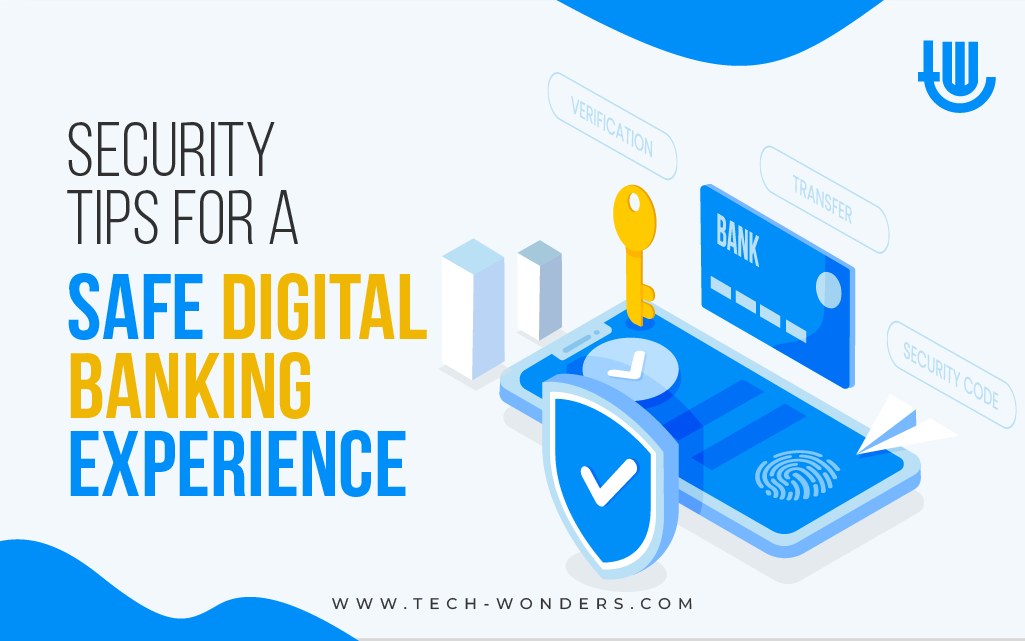 Ensure that the website is running on HTTPS.
All the digital banking experience must be carried over websites with an 'HTTPS' header. HTTPS ensures that the data is sent in an encrypted format over the internet. Thus hackers sniffing data packets within a network will receive encrypted bits which are difficult to decode.
Also, most entities, especially banks and payment platforms, run on HTTPS. It is now considered as a sign of legitimacy and trust.
Do not use digital banking on public or shared computers.
Digital banking on shared computers can lead to sessions remaining invalidated or being misused when logged in. Public devices have a higher chance of being infected with malware or virus, leading to credentials being captured by criminals. It is advised not to use digital banking on public or shared computers; we recommend cleaning your browsing history or cookies before leaving.
Using digital banking applications should be avoided while connected to public WiFi.
Public WiFi spots are alluring for cybercriminals to harvest credentials, especially for banking to committing other financial frauds. As discussed in previous articles, adversaries leverage public WiFi for attacks such as man-in-the-middle, sniffing, or evil twin attacks.
Transactions via UPI can now be done offline rather than connecting to a free public internet source. Various UPI providers in India enable paying without requiring an internet connection. Else, users can carry their own internet connection so that no one can connect to without authentication.
Revise your passwords and PIN and store them safely.
Regularly changing passwords and storing them in secure applications can protect your accounts. Practicing password changing and implementing a solid password policy after every three months reduces the risk of unauthorized access.
Avoid sharing or repeating the passwords too frequently; we advise using password management software such as LastPass, KeePass, 1Password, and Dashlane to store credentials securely.
Stay aware of the ongoing scam campaigns.
Users must keep an active eye on the ongoing scam campaigns regarding digital banking and transactions. Phishing, smishing, and vishing are some common ways adversaries try to get users' banking details. This is done on a large scale before it gets detected.
Open web resources such as Twitter, reddit and news channels can be used to track the latest criminal activities.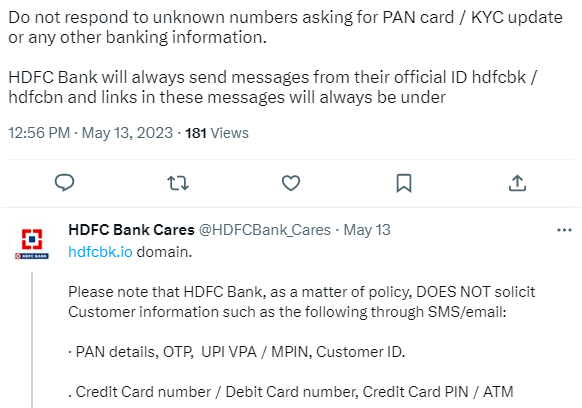 Beware of fraudulent messages and calls trying to phish details from users.
According to a statistics report, approximately 3.4 billion phishing emails are sent daily. It is more likely that if a user's email or phone is present over the internet, they will receive a bunch of malicious URLs.
In case of phishing, it is advised to never click on attachments sent from unofficial domains or numbers. Verify the sender before taking any actions and look for red flags in the message that can be distinguished from real.
Enabling multi-factor authentication.
All digital banking activities must be mandated to enable multi-factor authentication methods to verify that only a legitimate user is accessing the account. This includes security questions, biometric fingerprints, face scans, PINs, or OTP (One-Time Password).
This ensures that even if the password is compromised, access to the account can be restricted with another layer of authentication.
Report security incidents immediately.
Users must always take incidents seriously. The incidents can occur personally, such as regularly checking last login dates, last login location, transaction details, and taking messages related to transactions very seriously. Consumers of a bank should report phishing links to the bank to protect others from being a victim.
On a higher level, if a bank faces a security incident, make sure to change passwords and check for anomalies and suspicious activities in the account.
Be alert while scanning for QR codes or assessing payment requests.
QR codes are unreadable to humans but can be processed by machines. Fraudsters can conduct phishing or transaction modulations that can 'request' to receive money under the disguise of sending it. Unawareness of digital transactions, especially for people in rural areas, can fall victim to these types of 'easy to execute' activities.
QR codes can also be replaced by a fraudster's data instead of a legitimate receiver or can be used to redirect to a malicious link that hosts malware.
Avoid saving sessions and enable session logout.
A digital banking session should always have a set period of inactivity tracker, after which it logs out the user immediately. Also, a lack of invalidating the sessions can lead to session hijacking attacks where an attacker can maintain persistence in the account, even with a single session token ID.
By invalidating the session after every use or a defined period of inactivity, sensitive data such as account details and personally identifiable information can be protected.
Towards the Conclusion
As we conclude in this article about security tips for a safe digital banking experience, ensuring that data is protected at all costs is essential. With banks coming to the users at their fingertips, staying alert and minimizing the risks associated with online financial transactions can be achieved with proper security practices and awareness. Hope you liked the article; let us know what you think in the comments.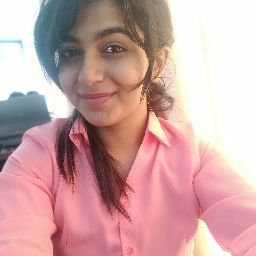 Author Bio: This article has been written by Rishika Desai, B.Tech Computer Engineering graduate with 9.57 CGPA from Vishwakarma Institute of Information Technology (VIIT), Pune. Currently works as Cyber Threat Researcher at CloudSEK. She is a good dancer, poet and a writer. Animal love engulfs her heart and content writing comprises her present. You can follow Rishika on Twitter at @ich_rish99.
---
You may also like to read: