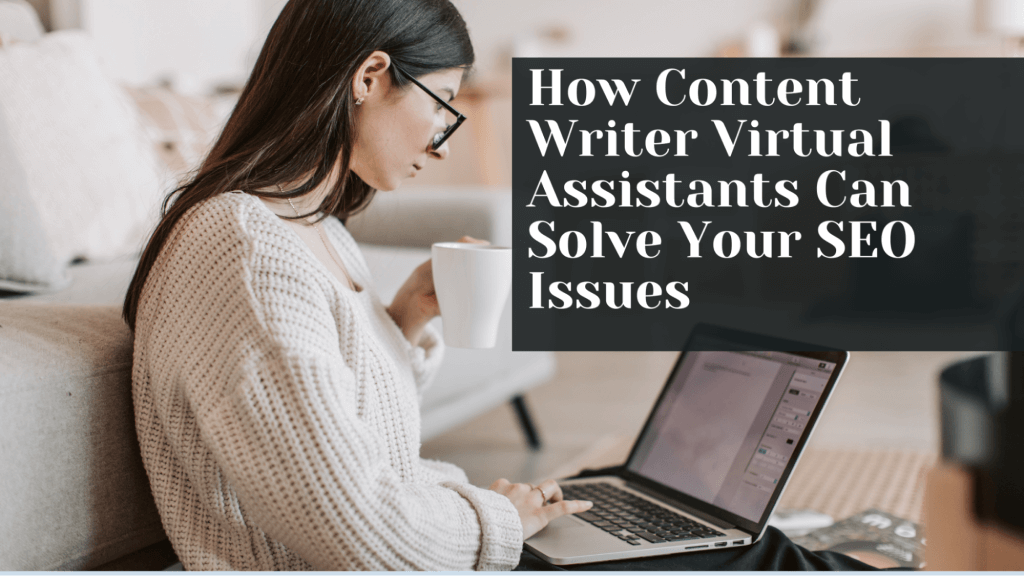 In the age of the internet, content is king. Statistics show that content marketing is what's moving businesses in the right direction, with 44% of business owners and marketers stating that improving their content's quality and value proposition has contributed to their success. Thus, it is more important than ever that you push your business's SEO efforts to get as much ROI as you can from organic marketing and outdo your competition.
One of the biggest steps you can take toward improving your organic marketing impact is getting yourself a quality content writer as they will be proficient in the particulars of writing-related SEO. They can help create the kind of content your organization needs to bolster its online presence and raise the organic search rankings in Search Engine Results Pages (SERP). If you don't have one in-house, you can go ahead and hire a content writer virtual assistant who can provide you with all the results you need while also adding some extra advantages.
How a Content Writer Virtual Assistant Boosts Your SEO
Search engine optimization is technically demanding and tedious, with frequently changing algorithms affecting how it's to be performed. Following that are the changes in SEO trends that can alter the way one approaches the optimization process. Changes in the target group's preferences and other variables also play a major role in how SEO gets done, along with regulatory changes and other unforeseen occurrences.
A virtual assistant copywriter will be aware of these changes surrounding SEO. This makes hiring them vital for you to stay ahead of such volatility in the SEO space and possibly get ahead of that volatility. The VA copywriter can improve your SEO efforts in the following ways.
Awareness of the Latest Search Algorithm Updates

The search algorithm is what runs in the background of search engines like Google that helps them give the desired results whenever a query is performed. These algorithms determine the right kind of results to deliver for a particular set of keywords/keyphrases entered in the query based on how closely a given content matches the keyword/keyphrases. The algorithm is constantly updated to help make the search faster and the delivered results more valuable to the user.

The more in line with these rules your content is, the more chance it has to be placed at the top of search results in SERPs by the algorithm. A virtual assistant for content writing will be aware of these changes as otherwise, they won't be competitive themselves. This means when you get your content written by one, you can rest assured knowing that your content will be in line with the latest algorithmic rules that'll give it the best chance of high SERP ranking.



Better Tailoring of Content for the Target Audience

Search engine algorithmic rules certainly contribute to increasing the visibility of your content, and by extension, your brand. But that cannot be the end all and be all of your SEO efforts. A piece of writing that's written with only search algorithm rules will not make it very far because it won't have a crucial component to it: audience-oriented content. When this happens, the writing won't capture the interest of the target audience, eventually falling out of favor with them and search algorithms. Your brand value will also follow.

Writing for the target audience means knowing their expectations of your brand and their pain points thoroughly. It also entails being aware of the prevalent trends in the content marketing space and predicting upcoming ones as well. A content writing VA will have the expertise to tackle these content knowledge gaps accurately and produce write-ups that meet audience expectations.

They can study the results of market research surveys and align their writing to address the missing elements in present content with revisions. They will also craft new content with this knowledge so that it is replete with information that helps position your brand as the one providing the solution to their problems. This brand positioning helps engage the audience more, increasing traffic to your websites, which in turn informs search algorithms that those websites are of high value and should be ranked high in SERPs.



Content Versatility for Multichannel Marketing

Search engines aren't the only entities with search algorithms. If you have an eCommerce store on a marketplace like Amazon, then your product page content should be tailored to get the attention of search algorithms of the marketplaces and platforms you're conducting business on. You could also be looking to boost your social media presence with greater engagement, for which you'll need content that's tuned to work according to the social media site's search algorithm. You may also be looking to create content for PPC ads on eCommerce and social media sites to promote your brand.

A content writer virtual assistant can note down pointers about your intentions regarding how you want your brand to be placed on eCommerce and social media sites. They can then create content around those points by tailoring the content for each site's optimization requirement. They can take any blog written about your offering and reorganize its salient points to fill product pages and titles with the appropriate keywords.

This will push your eCommerce platform's algorithm toward your product pages when those keywords are searched for by users. The same kind of content optimization will be done for ad content to be placed on the site for a good organic search ranking of the ad.

They can do the same for social media marketing, and also respond to visitor comments on the sites you use if needed. They will work with your social media management team to devise and implement a robust strategy by providing the appropriate keyword-laden posts and ad material. This content will be modified according to the platform it is being used on so that you can maximize your account's potential there.

This versatility in content production and reproduction helps to get the word of your brand out quickly while maintaining its voice consistency across different marketing channels.



Outdoing AI-generated Content

The emergence of generative AI like ChatGPT is leading to a glut of content produced by technology. Businesses are opting for generative AI as they believe it helps produce cost-effective content in record time. However, such content does not add value to its reader since generative AI is only capable of recreating content instead of creating new, value-rich material. It is also often plagued with inaccuracy. And without brand-specific content, your target audience will not be attracted to your brand.

Your hired virtual assistant for content writing, on the other hand, can continuously produce quality content that is in line with a content strategy that suits your business. They can add things like links to other leading sites that help improve your content's SEO. The VA will also infuse creativity into the content in ways AI cannot.

They will proofread the content before publishing so that your brand value won't suffer due to grammatical and factual inaccuracies. They are likely to make use of generative AI applications to assist them in their writing, thus giving you the benefits of that technology as well to the extent applicable.

Thus, by using a content writer VA, you'll be avoiding the content suppression mechanism of search engines for AI-generated content and have unique, creative content that will capture and keep your audience's attention.
The Benefits of Opting for a Content Writer Virtual Assistant
Content writers are inevitable in today's world as their writings add value to a brand. Hence, it may seem prudent to hire as many as you need for your business so that you can direct them as you deem fit. However, this in-house hiring strategy comes with problems like high costs, internal operations rearrangement, possible lack of skills, etc. You may end up losing money instead of getting rewarded for your SEO efforts.
A virtual assistant copywriter can prevent poor ROI problems from occurring because they offer a plethora of advantages.
They work remotely so you don't have to spend on office equipment.
They are usually tied to an agency with lots of similar professionals. This helps reduce costs through economies of scale.
A large number of professionals at the agency also ensures that you get one in an instant instead of experiencing delays and losses without finding one to hire yourself.
The easy availability of VAs coupled with their experience leads to work getting completed on time.
They can also guide your overall marketing strategy by offering their input whenever applicable.
They keep up to date with the latest search algorithm demands.
Conclusion
SEO is an ever-evolving phenomenon that determines how well a business does in the modern age. With content produced by incorporating a well-thought-out SEO strategy, your business can reap the rewards of this phenomenon, improving your brand value and reach. By hiring a content writer virtual assistant who has bountiful skills and experience in SEO, you will have the content you need to make your business objectives a reality with great ROI added in.