Availability of different email applications is helpful in sharing or exchange of the crucial information. At times users wish to migrate from one to another platform. However, it is hard to find a trustworthy method to perform this migration. Similarly, to convert EML to PST is one such migration process, which is not as easy as it is seems to be. There are manual methods available to import EML files to Outlook, but they have some or the other limitations. To overcome all these limitations, EML to PST Converter tool is the recommended solution. Let us move ahead and understand what is so unique about this software.
EML to PST Converter – Solution to Import EML Files into Outlook
This software makes the importing process of EML to Outlook PST very easy and smooth. It can export the data in bulk manner. Users can convert the selective data or even the entire folder. It also maintains the structure of the data and provide it without any modification. With this tool, users can save the resultant PST files in any of the desired location. Moreover, it generates Unicode type of PST, which is supported by Outlook version 2003 or above. The user interactive interface makes it more popular. It can convert EML file of any of the application. The DataHelp EML to PST Converter Software is supported by the all the available versions of Windows including Windows 10 and it also guarantees the safety and security of the data.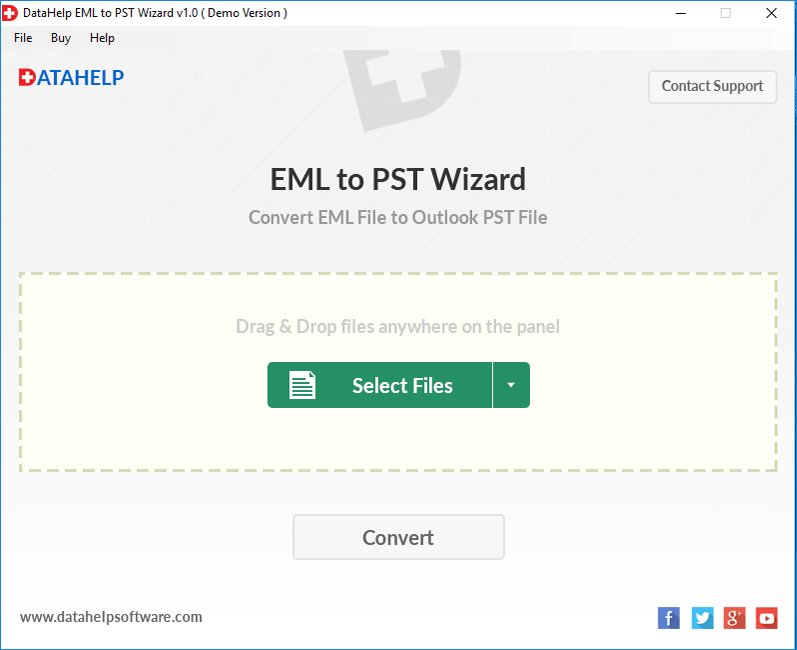 Editions of The EML to PST Converter Tool
It comes up with two different versions. One is Trial/Free Version and the other one is Licensed/Full Version. It is up to users that, which version they want to choose.
Trial/Free Version

Free Version of EML to PST Converter is available on official website (http://datahelpsoftware.com/eml/pst/). This version is free of cost, but has one limitation. With the help of this, users can only migrate first 10 emails to PST format.

Licensed/Full Version

On the other hand, this full version of the tool has no such limitation. Using this version, users can easily Convert EML to PST regardless of the number of files. Users can purchase it by spending a very less amount.
Some Wonderful Features of EML to PST Converter:
So many features make this tool unique and popular. Some of the main features of the tool are mentioned below:
Export EML Files to PST in Bulk

The EML to PST converter is an efficient tool to import EML files or folders into Outlook PST format. With the add option, users can select the files or whole folder of EML files. After selecting files, the software loads all the EML files & convert into PST format.

Import All EML Data into Outlook

It is very easy to import EML files into Outlook with the help of the software. It permits the user to save the resultant PST file in any preferred location. Apart from this, it can also create a new folder and store the resultant file in that new folder. Users can even see the status of the EML files that are migrated. It maintains the integrity of the data throughout the entire process.

Dual Options While Selecting Files

The tool provides two options 1: Drag & Drop, 2: Select Files. Drag & Drop option available to import EML file into Software panel, with the help of this option you can easily import EML files. Select File(s) option also provides two more options 1: Select File: For this option, users have to choose EML file individually for the file conversion, 2: Select Folder: For saving time, users must create a specific folder in which multiple .eml files are stored and then, choose this folder to convert EML files to PST format.

Create UNICODE PST File

Once the process of conversion is completed by EML to PST converter, it produces a Unicode PST file. Microsoft Outlook 2007 and all the above versions support the Unicode Outlook PST file. In addition, it is possible for users to store data up to 20 GB in Outlook supporting Unicode PST format. This helps in avoiding problems that are associated with large size of Outlook PST file.
Pros and Cons of the EML to PST Converter Tool:
Pros
Convert EML File to Microsoft Outlook PST in batch
Maintain the Folder Hierarchy with all the attributes
Compatible with all the versions of Windows Operating system
Designed with advances algorithms yet simple interface
Cons
Users can perform conversion process only in Windows Operating system
With trial version of software, users can convert only first 10 items
Conclusion:
EML to PST Converter is an effective utility to perform conversion of EML files to Outlook PST format. It has a user-friendly interface therefore; any kind of user can perform the EML to PST conversion. After considering all the major features of the tool, we can rate the software 9/10. The only limitation that is associated with the software is that with the free version we can only export first 10 emails. Otherwise importing EML files to Outlook is an effortless process with this tool.