It is really hard for you to resize your partition space or redistribute disk space without losing any data when your PC C/system partition/volume is out of space or hard disk drives are improperly partitioned in Windows 7/8/10? Also really want to extend boot volume or merge partitions/volumes without any data loss there? No Worry! The free giveaway of a TOP Windows partition resizer and manager software called IM-Magic Partition Resizer Pro here from 10 to 12 of this August will help you out easily.


So, go download and apply this free IM-Magic Partition Resizer Pro software during the giveaway period to resize or manage your Windows partitions well.
IM-Magic Partition Resizer Pro – A Top Windows Partition Resizer and Manager
As a all-in-one and easy-to-use
partition resizing
and managing program for Windows, the IM-Magic Partition Resizer Pro is often able to help you easily extend boot volume, shrink or extend partition, redistribute drive space, merge and manage computer partitions as well as you think. Here are the key features for you:
1). Resize partition/volume space easily
With an easy-to-grasp and user-friendly interface, you can easily drag the highlighted partition to extend/shrink hard disk partition space when your PC C/system partition is running out of space, in low disk space or computer partitions are allocated with improper space.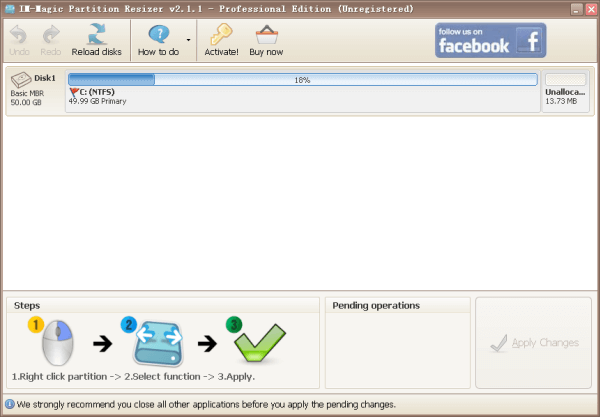 2). Manage computer partitions/volumes perfectly
As a top partition manager tool, this IM-Magic Partition Resizer Pro also allow people to copy, delete, format, move, merge and manage hard disk drive partitions/volumes as you wish. It also allows users to defragment partition, change drive letters, convert partition to FAT32/primary partition and hide/wipe partition, etc. Overall, it offers many efficient features for you to resize or manage all partitions perfectly.
3). New Bootable media function
After being updated recently, this software is also able to increase the boot volume or partition space. And, in addition, in some cases, when your PC cannot boot smoothly, it also can help you resize or manage your computer partition from an external bootable drive, flash drive, CD or DVD and more.
Free IM-Magic Partition Resizer Pro Giveaway from 10 to 12 of This August
Really want to try this free partition resizer and manager program? OK! Go download this IM-Magic Partition Resizer Pro here from 10 to 12 of this August:



Step 1. Free download IM-Magic Partition Resizer Pro here: https://www.resize-c.com/pro/
Step 2. Install and run it well on your Windows PC.
Step 3. Use the below free code to activate this giveaway version:
BE7EA0A9CE89A0BF938DB08D9494B868FE41F03BA49DABB78EAC
This code is valid soon after the giveaway, so please use the code immediately, and the activated software would stay valid lifetime.
Step 4. Shrink, extend or manage your partitions as you wish.
Tips and Notes:
☛ This giveaway will only last to the 12 of this August. Go download and use this free giveaway version and free code during the giveaway period in case of any invalid code issues.
👍 Also share this giveaway news with your friends and families.
Go visit the official site here to read more details: https://www.resize-c.com/