SJCAM is a well-known manufacturer of 4K-enabled action camera. SJ7 Star is its newly released 4K action camera with plenty of features at a budget price tag. GoPro is also one of the world's most popular company dealing with action camera. The recently announced GoPro Hero6 has included many advanced features and improvements when compared with the previous model GoPro Hero5. In this article, I compare the features and specifications of both SJCAM SJ7 Star and GoPro HERO6 action cameras with suggestions.
SJCAM SJ7 Star Native 4K Action Camera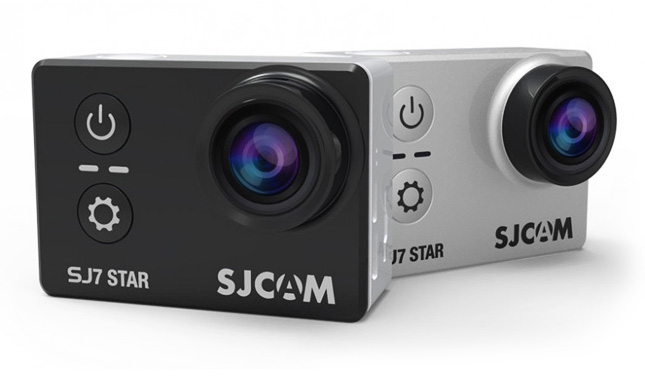 The SJ7 Star Native 4K is SJCAM's flagship action camera model. SJCAM SJ7 STAR is equipped with a 2-inch LCD touchscreen display, Ambarella A12S75 Chipset, Sony IMX117 12MP sensor with support for 166-degree super wide-angle field of view. The camera is powered by a 1000 mAh battery and provides support for motion detection and WiFi. Battery life is 70 minutes of 4K at 30fps and 65 minutes of 1080p at 60fps. The camera offers support for up to 64 GB storage. With SJCAM SJ7 Star, it is possible to capture images up to 16 MP starting from 3 MP. The camera enables you to shoot videos at various frame rates.
The front side of the SJ7 Star action camera has a F/2.5 aperture lens with a 166° FOV (Field of View), microphone, power button, settings/WiFi button, WiFi indicator and power indicator. The back side has just the 2-inch LCD Touchscreen. Top of the camera has only got one button to record/capture and a speaker. Right side of the SJ7 Star camera has the microSD card slot, mini USB port and a micro HDMI port. And finally on the bottom, SJ7 Star has a compartment for the battery. Another very useful feature of SJ7 Star is that it also supports attaching an external microphone and remote to the action camera via a Mini USB Adapter.

SJCAM SJ7 Star comes in an aluminium body that makes the action camera feel super expensive and strong. The aluminium body also comes in three different colors: black, silver and golden rose. I really like this unique material choice of SJ7 Star and this also makes me consider adding it to my list of the best action cameras you should buy.
GoPro HERO6 Black 4K Ultra HD Action Camera



The GoPro HERO6 features a 2-inch touchscreen display with touch zoom functionality that lets you control the camera and easily zoom in on the images. With the GoPro Hero6 action camera you can shoot in 4K image quality at 60fps and Full HD (1080p) at 240fps. And with its all-new integrated GP1 chip, HERO6 provides the capability to delivers 2x the performance when compared with HERO5 and the best image quality yet.



Moreover, the HERO6 camera is water-resistant up to 33ft (10m) without any need for a special case with support for GPS, voice control, and HDR. The GoPro Hero6 camera is integrated with 5GHz Wi-Fi to enable you to copy the content easily to your smartphone.
SJCAM SJ7 STAR Vs GoPro HERO6: Which Action Camera Should You Buy?
Even though the GoPro Hero6 comes with many advanced features compared to SJ7 Star, the ability to capture images only up to 12MP is a bit con when compared to SJ7 Star which enables you to shoot images up to 16 MP. The SJCAM SJ7 Star is available at a budget price of $179.99. The price will be further reduced if you apply SJCAM SJ7 Star coupon. As part of the Halloween Party sale, the SJ7 Star is available for a limited time at $179.99. Priced at $499, the GoPro Hero 6 is near $320 more than SJCAM SJ7 Star. Do you really want to spend that much more for an action camera when the almost same features are available in the SJ7 Star camera?
SJCAM SJ7 Star is definitely the best action camera available under the $200 range. SJ7 Star is truly a wonder with the ability to record Native 4K video and a aluminium body and 2″ LCD Touchscreen which is highly responsive with the touch and taps and also very easy to use. It also has the option to record video in Full HD 1080p at up to 120fps. SJ7 Star is really the best action camera everyone has been waiting for.
If you want a HD budget action camera that still has a video quality comparable with the GoPro Hero action camera, then you should buy SJCAM SJ7 Star.