Proper management of purchase and sale transactions is essential in monitoring the sustainability of any business entity. Administering to sale or purchase cycles is an involving task with significant chances for human error even when conducted by the most experienced professional. Holded is a premium online invoicing software for all kinds of businesses that offers concise management of invoices in a timely manner.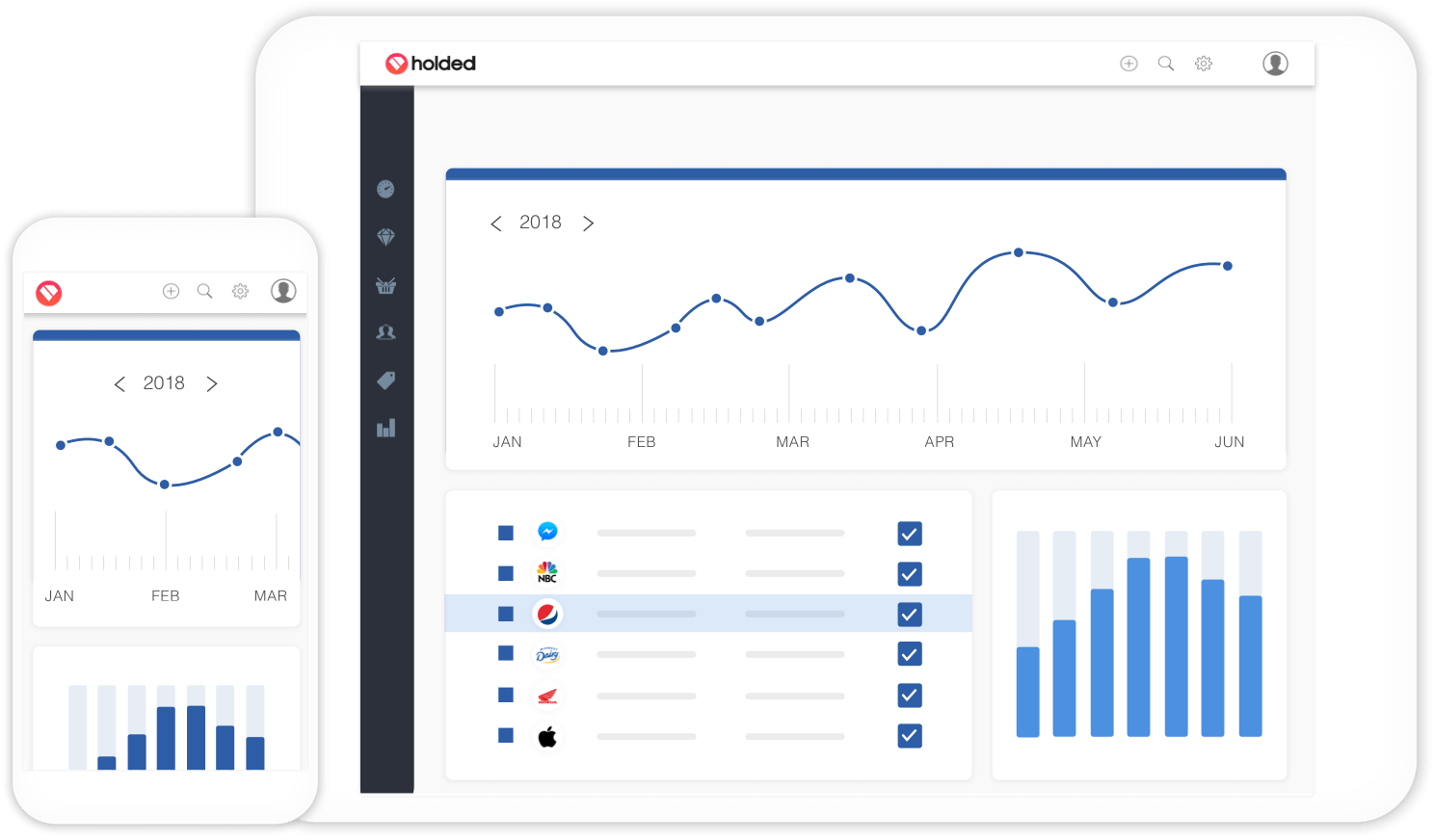 Holded monitors transaction cycles from their inception right to the end sending out and receiving invoices from suppliers as well as service receipts. The platform offers hundreds of invoice templates that are easy to customize to your business specifications. This includes adding the company's logo and integrating corporate colors in the design in a bid to sustain a formal identity. For modern companies, the elegance of an invoice accentuates the standard quality of their professional brand to customers. The efficiency of a company in managing invoices on the other hand endears the brand to suppliers as it does not cause undesirable delays in processing payments. The biggest advantage to companies using Holded is the significant cutback on administrative expense previously incurred in managing invoices.
Holded lets you offer your customers convenience when it comes to settling their dues using multiple payment methods. Such include all types of credit cards, bank transfers, and even PayPal. You can also clear and send all your business bills online which is relatively fast and secure. Every other transaction is recorded and availed to you in summarized reports for your review. Making financial decisions based on all the data presented from the business management software is greatly simplified and takes up less time.
Online Bills Collection
Classify your Business Accounts with Holded
Holded is highly customizable based on your preferences hence offers a more personalized invoice management experience. The classification process is automated for easier management of business expenses and purchases. You can group purchase orders in a category of their own, classify assets based on their nature and generate company's receipts and invoices all from a single platform. Holded is compatible with all smart devices thus letting you access your account anywhere you are in the world. Other important classifications feature transactions that are time bound. The software lets you set specific timelines for collections, liquidity or any other payment. You can also stipulate deadlines for sales based on your current targets as well as categories that monitor the overall cash flow for your business. All the information in your account is presented to you in an appealing statistical manner featuring tables and graphs that are easy to interpret.
Holded lets you have a clear understanding of all invoice information pertaining to your business even for persons without a professional background in financial matters. The intuitive software systematically guides you through the different functions in the platform and the technical support team is always online in case of any queries. Many user companies from diverse industries have already mastered Holded and are taking advantage of the organized system to boost their profitability. Have all your recurring invoices, simple invoices, and specific invoices in order with the aid of business management software you can wholesomely trust to do an exemplary job.