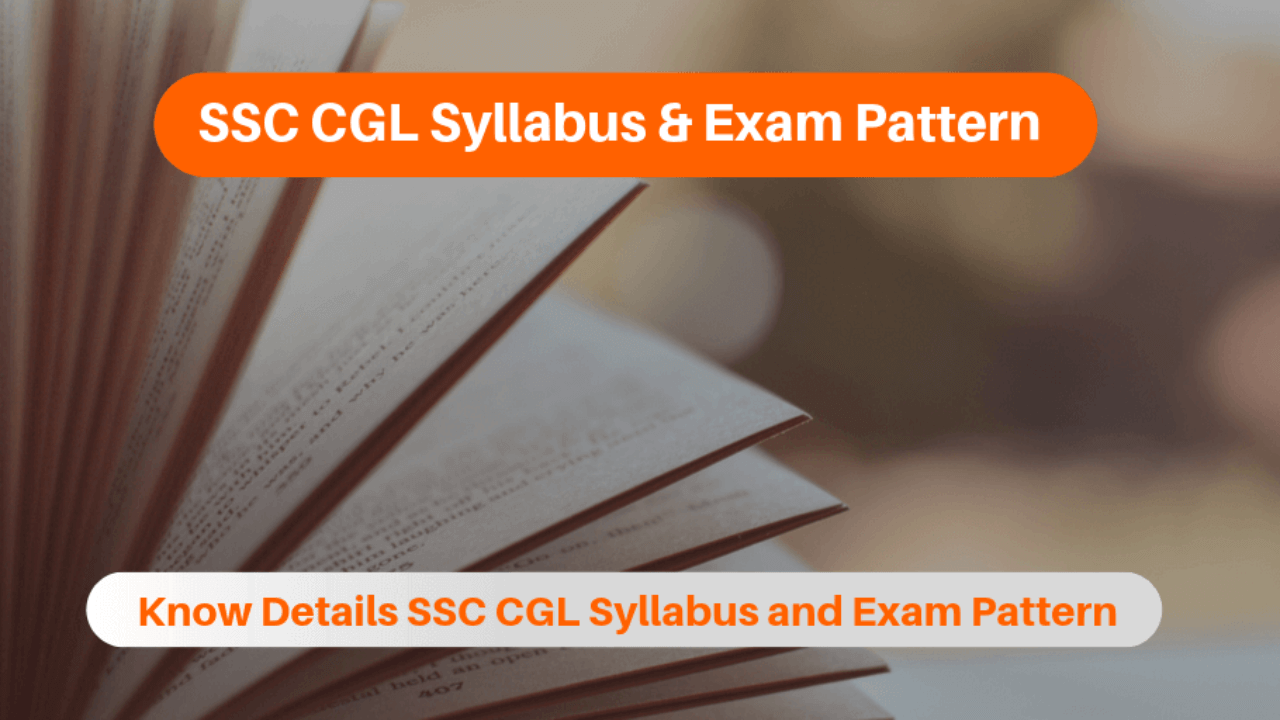 The SSC conducts SSC CGL, staff selection commission-combined graduate level examination for recruiting the staff for various designations of ministries and departments of the government of India. Candidates who want to see themselves in a good position in the future, this exam will be a good start for them.
SSC CGL syllabus would be helpful for the applicants who want to clear the examination, which is divided into four levels known as Tier I, II, III, and IV. The syllabus for the same is as follows:
SSC CGL: Exam Pattern
SSC CGL exam consists of four tiers:
| Tiers | Sections | Examination Mode |
| --- | --- | --- |
| Tier-I | Quantitative Aptitude, English Comprehension, General Intelligence & Reasoning, and General Awareness. | MCQ, Online |
| Tier-II | General Studies- Statistics, Quantitative Aptitude, Finance & Economics, English Language, & Comprehension. | MCQ, Online |
| Tier-III | Data Analysis and Statistics. | Descriptive type, Offline |
| Tier-IV | Computer Proficiency Test, Document Verification, Data Entry Speed Test. | Decided centre |
SSC CGL Exam Pattern: Important Features
In the SSC CGL exam, there is a negative marking of 0.5 marks for every wrong answer.
After clearing the Tier-I exam, candidates will get selected for the Tier-II exam.
Two papers that are Quantitative Aptitude and English Language & Comprehension are standard papers that should be given by all the candidates.
Tier-II exam papers- paper 3 (Statistics) is for the candidates who want to appear for Junior Statistical Officer post (JSO), and paper 4 (Finance & Economics) is for Assistant Auditor & Assistant Accounts Officer (AAO) designation.
SSC CGL Syllabus: For Tier-1
The Tier-1 exam is the first level examination. After clearing this exam cutoff candidate will be selected for the next exam. The Tier-1 exam consists of 100 questions for 200 marks. The total time allotted for this exam is 1 hour and 80 minutes for physically disabled candidates.
Subjects come under each section of Tier-I exam is as follows:
Quantitative Aptitude:

Rectangular Parallelepiped, Right Circular Cone, Basic algebraic identities of School Algebra & Elementary Surds, Heights and Distances, Ratio & Proportion, Time and Distance, Number System Problems, Triangle and its various kinds of centres, Regular Right Pyramid with triangular or square base, Data analysis, Averages, Congruence and similarity of triangles.
General Intelligence & Reasoning:

Roll numbers/Classification of centre codes, Social Intelligence, Drawing inferences, Coding & decoding, Figural Series, Number Classification/Symbolic, Number Analogy/Symbolic, Critical thinking, Indexing, Space Visualization, Problem Solving, Figural Classification, Semantic Classification, Symbolic/Number Classification, Semantic Series, Word Building, Address matching, Date & city matching, Emotional Intelligence.
General Awareness

Economy-

Important persons involved in Economy of the Country and monetary institutions, Budget related information, and terminologies.

Biology-

Interesting facts about human body parts, Nutrition in Animals and Plants, Important discoveries, Diseases, and their causes.

History-

India's freedom movement and their leaders, Harappa Civilization, Medieval India and their important systems; Vedic culture.

Chemistry-

Characteristics of gases, atoms, molecules.

Polity-

Important constitution bodies like CAG, Election, Administrative, Symbols of political parties, Legislative and judiciary of our Country, Duties & responsibilities of the major persons in the Parliament, Current affairs, General Knowledge.

Physics-

Inventions and Discoveries, Laws.

Geography-

Famous Seaport and Airport and their location, countries, and their geographical details.
SSC CGL Syllabus: For Tier-II
In the Tier-II exam, there is a negative marking of 0.25 for every wrong answer. The Tier-ll exam consists of four papers, and the related details are as follows:
| Subjects | Total marks allotted | Total number of questions |
| --- | --- | --- |
| General Studies (Finance and Economics) | 200 | 100 |
| English Language and Comprehension | 200 | 200 |
| Statistics | 200 | 100 |
| Quantitative Ability | 200 | 100 |
SSC CGL Syllabus for Tier-II: Subjects
Quantitative Ability:

Data Interpretation, Ratio and Proportion, Trigonometry, Time, Speed and Distance, Algebra, Data Sufficiency, Simplification, Geometry, Simple interest and Compound interest, Number system.
Statistics:

Moments, Skewness and Kurtosis, Analysis and Variance, Random Variables, Sampling Theory, Collection and Representation of Data, Measure of Central Tendency, Correlation and Regression, Time Series Analysis, Measure of Dispersion, Index Number.
English Language:

Active-Passive Voice, Phrases and Idioms, Cloze Test, Reading Comprehension, Sentence Correction, Para Jumbles, Synonyms-Antonyms, One Word Substitution, Fill in the Blanks.
General Studies:

Economics & Finance: Role of Technology in reforming the Economic domain, Market analysis- Economic reforms, demand, Indian Economy, supply, Money and banking, Economics- Growth & Development, Micro Economics & Macro.
SSC CGL Syllabus for Tier-III Exam
The Tier-III exam is a subjective paper that will be conducted offline, and students required to write letters, essays, applications, etc. This exam is conducted to test the writing skills of the applicant in Hindi and English language. This descriptive paper carries 100 marks and time allotted for this examination is 60 minutes, and for PWD, 80 minutes is allotted. Candidates who want the designation of "Statistical Investigator Grade-II" appear for Tier-III exam.
SSC CGL Syllabus for Tier-IV Exam
SSC CGL Tier-IV exam constitutes of two exams to test the required skill for specific government designations. Candidates after qualifying the minimum cutoff of Tier-I, II, and III will appear for this final exam.
DEST (Data Entry Speed Test):

This test is conducted for the appointment of Tax Assistant (Central Excise and Income Tax), an English article is given to type eight thousand words per hour and passage of two thousand words for fifteen minutes.
CPT (Computer Proficiency Test):

This test is conducted for the designation of Inspector (Examiner), MEA, Inspector (Preventive Officer), CSS, Inspector (Central Excise). Topics covered under this test are Generation of Slides, Word Processing, Spread Sheets.
After getting to know the important topics, the candidates need to start their preparations as there is hardly any time left. It is time they use the allotted time strategically and make study plans from SSC CGL syllabus to ace the examination in the first attempt.
You May Also Like: