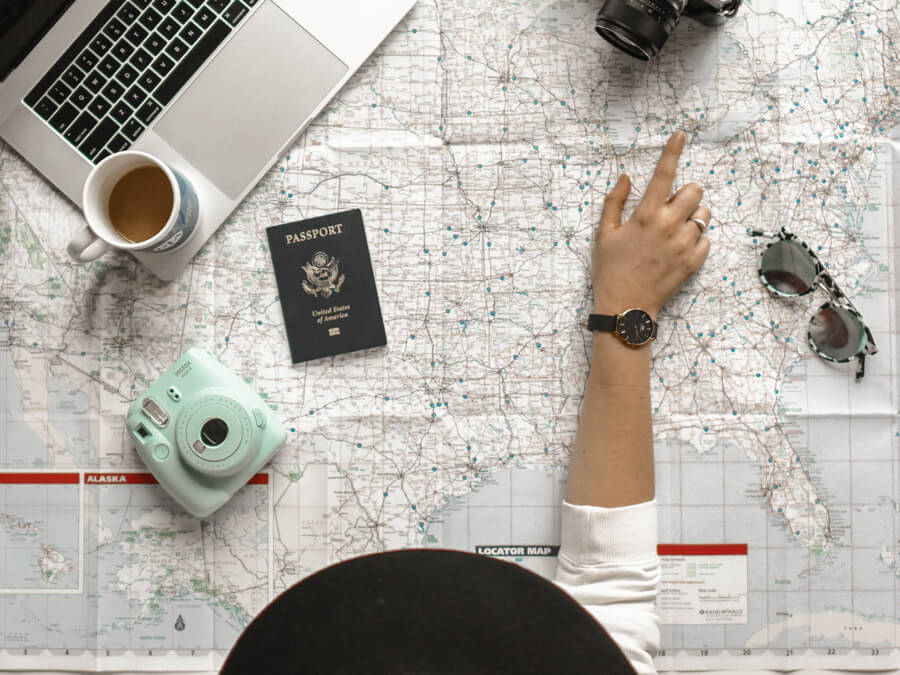 Consummate wanderers are among the best people to buy gifts for because there's a ton of things that can serve as the perfect gift for traveler friends. From headphones to travel pillows, you'll never run out of ideas especially if you want to give a gift that's useful in any part of the world.
We've compiled a list of 7 practical but fun gift options that any restless globetrotter will love.
If your friend is leaving to see the world or just wants something that will make travel easier or safer to do, read on.
Travel Water Bottles With Filter
Filter water bottles are great for making sure that your friend has access to clean, safe water wherever he or she goes. These water bottles come with streamlined ergonomic designs so they can easily slip into backpack slots or are easy to carry. A water bottle with a filter is also the perfect gift for a friend who doesn't want to splurge on expensive airport water bottles. Filtered water bottles remove bacteria, alter the taste and the smell and remove impurities so water from any source becomes safe to drink. The Brita Sport Water Bottle, LARQ or Kiddo water bottles offer great options for water bottles with filters that will make great gifts for your traveler friends. Visit US Imprints if you may want to consider promotional water bottles as a gift.
Scratch Map
Sometimes, even your most free-spirited friend can run out of travel ideas. A scratch map is a great way to help him or her decide on the next travel destination. This is also a great gift for keeping tabs on places that he or she has visited in the past. Scratch Off Map is the original scratch map and features a scratchable surface, tracking and recording, and even offers tips for the ultimate adventure. Visit scratchmap.org to know more.
Travel Pillow
The travel neck pillow is the ultimate travel staple. You can choose from memory foam pillows or inflatable ones for your globetrotting friend who prefers to travel ultra-light. Opt for microbead or down pillows for a different kind of comfort when he's nodding off on the road. You can also go with the best selling Nemo Fillo Travel Pillow, which is designed to keep the head upright while sleeping, giving full neck support to prevent neck pain. It wraps easily around bag or luggage straps for easy portability. Check out Trtltravel.com to know more about this versatile travel must-have.
International Travel Adapter
Having to deal with different sockets when abroad is one pet peeve that anyone is familiar with. Portable travel adapters solve that problem because they are designed to fit into any type of socket. They also come with different charging points for the simultaneous charging of devices, from smartphones to laptop computers. Opt for a travel adapter that is small and streamlined, so it doesn't take up too much space when charging at the busy airport waiting for areas or cafes.
Portable Charger
A portable charger is a lifesaver especially during long trips on the road. They become even more crucial during flight delays or when stranded in an unfamiliar place. Power banks have come a long way from being heavy and bulky. Now, they are slim, lightweight, and are good for multiple charges. Popular options that are great for traveling friends include the Anker PowerCore+ mini and the super sleek NIFTY Mobile Charger. For just $10 or $20, you can give your friend some much-needed security on the road with a reliable portable power bank.
Custom Phone Cases
No other device is perhaps more indispensable to a modern traveler than their phone. It's a compass, communicator, a photo album, and an entertainer all in one. Losing one's phone on a trip is bound to give any wanderer a load of anxiety, especially if they're abroad. For this reason, a custom phone case serves not only an aesthetic purpose but also a practical one.
Imagine having to charge your phone at the airport while you're all a little jetlagged. It won't be the first time that somebody mistakenly runs off with the wrong phone simply because it looked exactly the same. Giving your phone a custom look so it stands out among a sea of familiar-looking phones is the simple travel hack you didn't know you needed. Share the tip as a cool gift!
Noise Cancelling Headphones
Noisy seatmates on the plane can make even the shortest flight unbearable. Fortunately, noise-canceling headphones, especially wireless ones, are portable and are so effective at keeping noise at bay. High-quality headphones not only cancel out noise, but they also give you optimum sound quality for a delightful trip. If your friend is the type who likes to zone out when on the road, a noise-cancelling headphone is an ultimate gift for gamer and traveler. Currently, the Sony WH-1000XM3 is still the top choice when it comes to noise-cancelling headphones for travelers but there are so many others that are affordable and offer high-quality music and noise-cancelling features.
Are you running out of ideas on what to give traveler buddies? These items are designed for those who love to explore the world or even those who just want to travel in comfort. If you want to give a gift that's useful, practical, fun and portable, give these ideas a try.
Author Bio: Since the age of 16, Tim, a writer at SMK Blog, has enjoyed traveling and enjoy the world. He enjoys reading and exploring new things. If he is not traveling, Tim loves to spend his time with his friend in the backcountry.
You May Also Like