Are you worried about how to recover your lost data, or stuck at the logo screen? Are you eagerly finding the best iOS system recovery software to fix out your problem? Is it so? Alright, you are in the right place. There is much software available in the online market but here you will get the best two that might help you.
What is an iOS System Recovery Software helps for?
An iOS system recovery software is a tool that fixes your device problems. Either your device having a black screen or it is stuck at the logo screen, an iOS system recovery tool helps you to fix it out. You are free to restore your device without any data loss such as messages, photos, contacts, and other data. There is no need to be a worry at all as there is two best iOS system recovery software. Now, recover your iOS system more easily. Two fully compatible software to sort out your problem area in the detail below.
Top 2 Best iOS System Recovery Software
There are different software available that you can utilize, but, here are the two best ones that are fully compatible with an iOS system. Let's dig in!
No.1: Tenorshare ReiBoot
Tenorshare ReiBoot is an iPhone repair software that fixes out your black screen problems or even there phone is looping on the logo screen.
This tool is useful in the following cases:
The phone is stuck at iOS updates
Apple logo screen is stuck
There is a black screen or a white screen, and nothing being shown off
It seems a frozen screen in your iOS device
iPhone stuck in recovery mode, you won't restore your device or won't back up
Headphone mode is stuck, or any iTunes error
It is the best iOS system recovery tool and it comes with great features.
Key features
Only a single click is required to enter into the recovery mode or to exit.
Recovers your iOS device without deleting your crucial files, rescues your devices, and turns it new.
It is compatible with the newest iOS devices.
Fixes the software related bugs in Apple TV.
Downgrades your iOS system firmware without deleting the personal files.
Reviews
Tenorshare ReiBoot is the best tool to fix out iOS system problems. This tool comes with support for 50 plus iOS problems. It is easier to use. Just a single installation is required and it automatically rescues the device in a few clicks. The best thing is that it allows downgrading iOS. It is safe and does not lead to any system failure.
How to use this tool?
There are a few concise steps that you may follow to enter into the recovery mode options.
Step A: Download, install and utilize
First of all, you need to download this software from the original website. Install it on your PC or MacBook. After a successful installation, you need to open the tool.
Step B: Connect your iOS device
In this step, you need to connect your iPhone to your computer with the help of a USB cable. When you plug in the cable into your computer, you might need to allow the connection from your iPhone.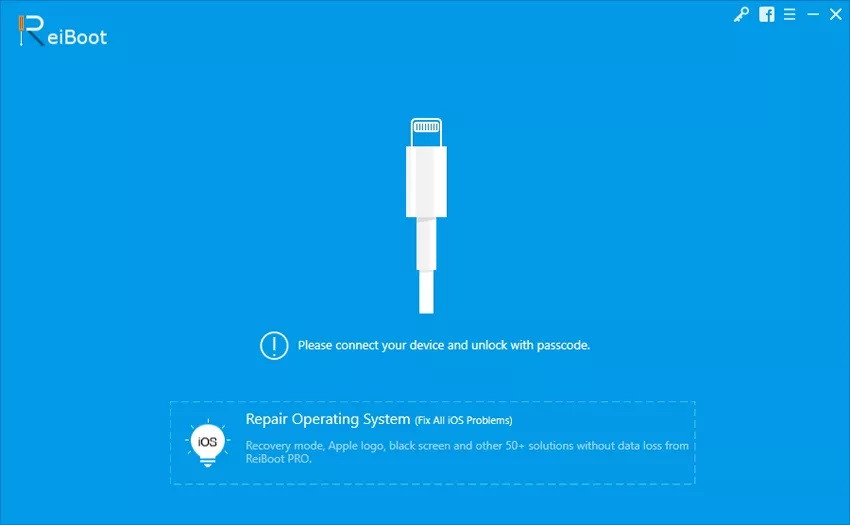 Step C: Repair Operating System
The Repair Operating System option allows you to fix your iOS devices regardless of the problem type. It perfectly works either your iOS system is unable to respond or crashed or stuck into a loop or displaying a black screen on your iOS system. You will be taken to a repair screen as soon as you click on the "Repair Operating System" Option. Simply press the "Start Repair" button.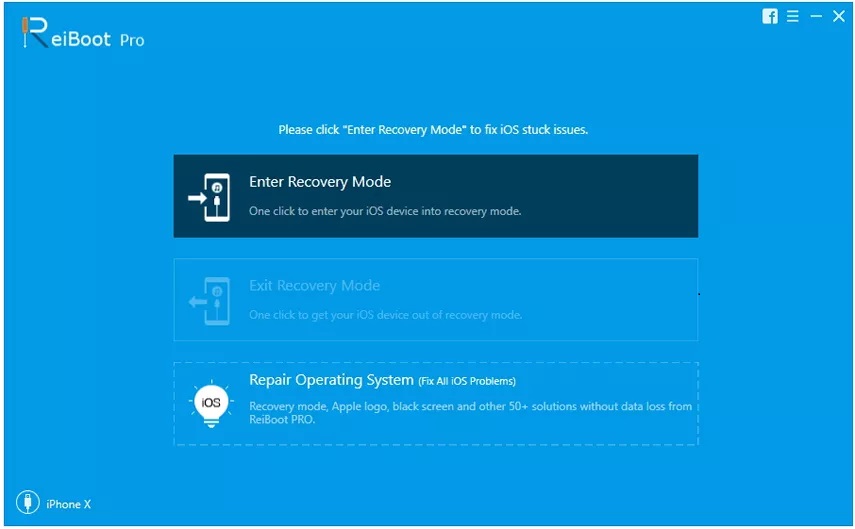 Moreover, ReiBoot iOS system recovery software allows you to repair locked iOS devices as well. You can use the below "Advanced Mode" option to unlock a locked iOS device without any problem.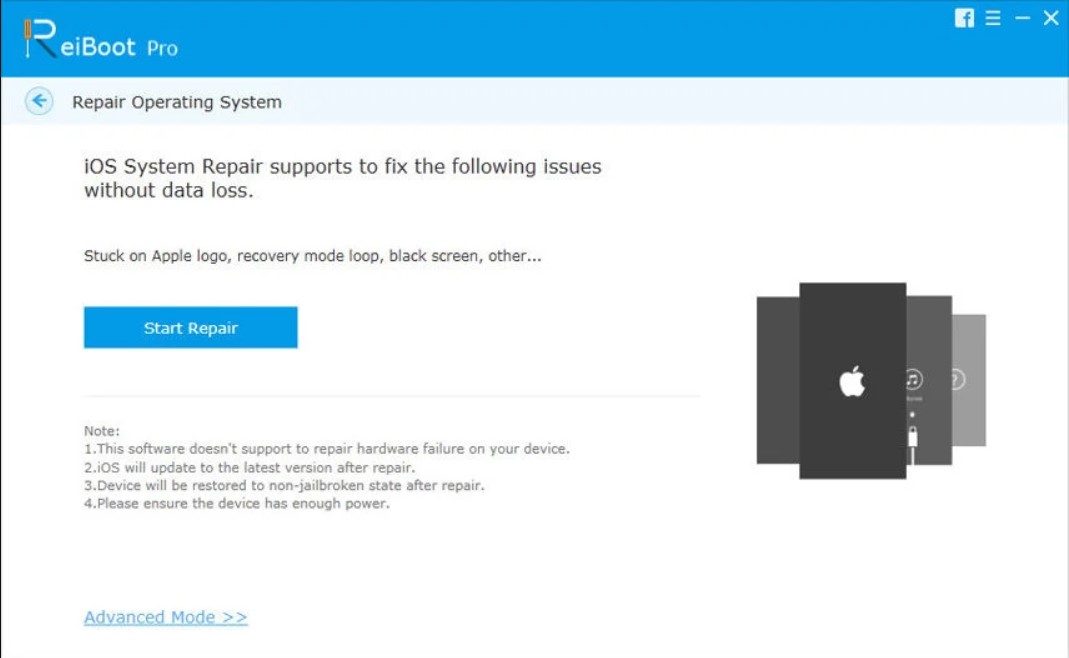 ReiBoot iOS system recovery software will ask you to press the "Browse" button in order to choose a location for the latest yet compatible firmware package for your iOS system. After that, it will automatically trace the best suitable firmware for your device and let you know when the download is finished.
Else, you can select it from your operating system if already have downloaded the firmware.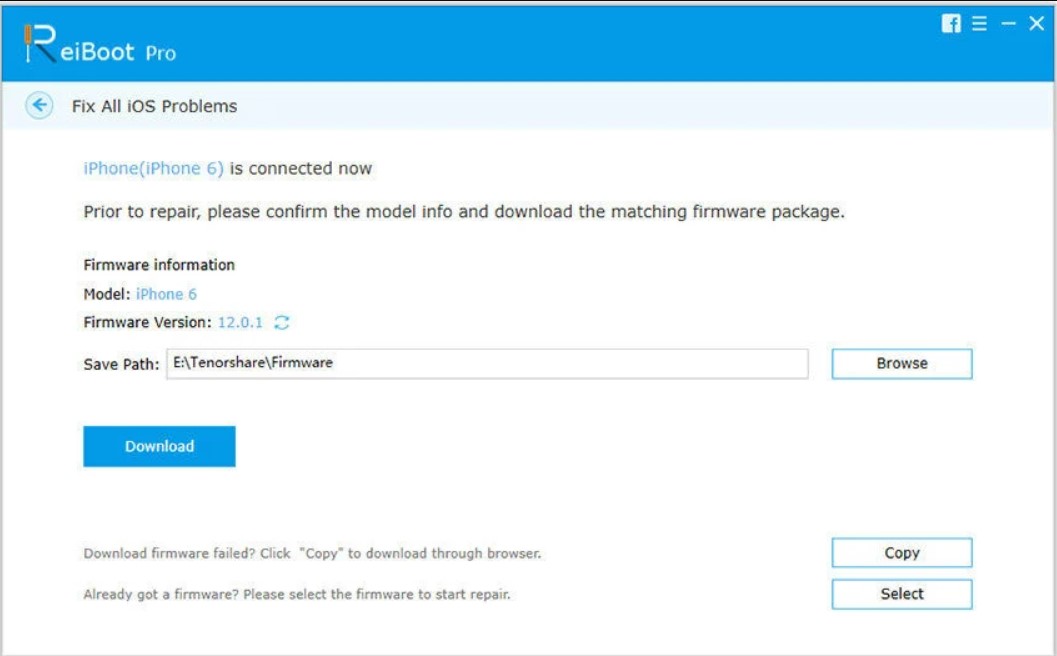 Press the "Repair now" button when the firmware has been successfully downloaded. Keep patience and wait for the Reiboot iOS system recovery software to repair your iOS device. You can use your device after the repair is finished.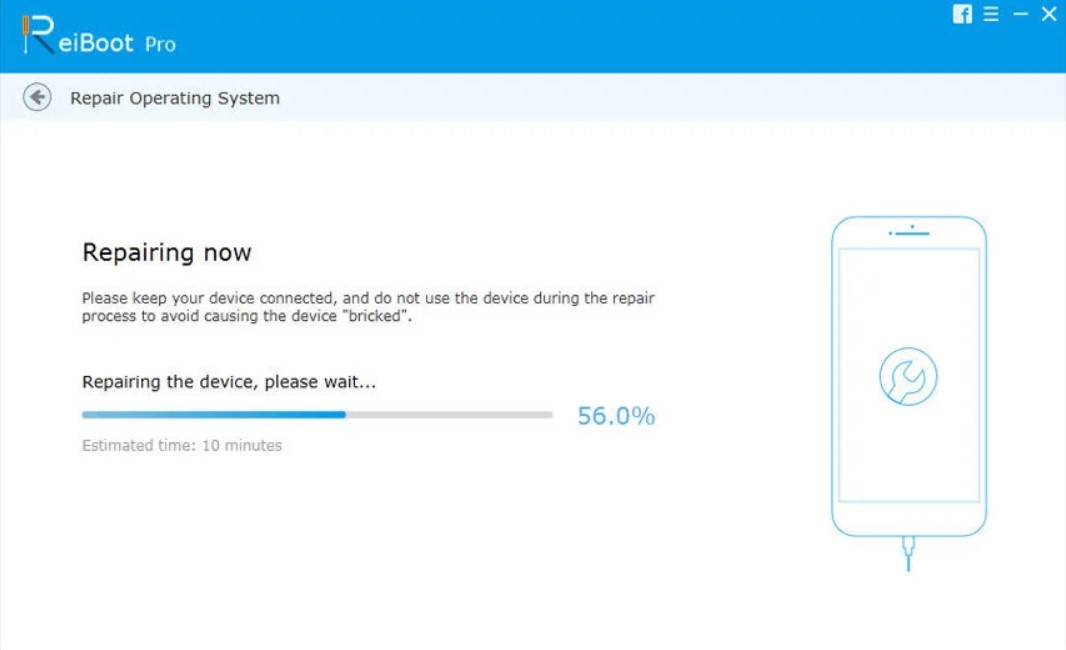 No. 2: Dr.Fone – System Repair (iOS System Recovery)
Dr.fone is the most popular tool that is used to repair iPhones. It does not matter either there is a screen freezing issue or any lag in the phone, this tool helps to fix the problem.
Key features
Fixes black screen problems or logo screen loop
Repairs the iOS system without any risk of data loss
Compatible with most of the Apple devices
Very simple and easier to use
No computer knowledge is required to utilize the tool
Reviews
Dr.fone is one of the most popular tools. It fixes all of the bugs and gives a fresh look to the iOS device. The tool is fully compatible with the latest variants of the Apple devices. It is safe and does not lead to any system failure. Dr.fone offers two different options according to user desire. The first is named "Standard Mode" and the second is "Advanced Mode". The standard mode allows repairing the iOS system without any data loss. On the other hand, advanced mode renews the iOS firmware and deletes all of the user data.
Conclusion
In final thoughts, electronics are subject to problems. So, if you have an Apple device you may face any of the problems in the future e.g., iPhone is stuck at the logo screen, the phone is freezing, or any other firmware issue. Hence, the above tools (Tenorshare ReiBoot and Dr.Fone) are the best ones to consider to sort out these problems. Either you go for Tenorshare ReiBoot or the Dr.Fone, both are fully compatible and are considered as the best iOS system recovery software.