Every year, new trends emerge aimed at helping businesses grow and outdoing competition in the same field. 2021 is no different and online payments have not been left behind. With the massive transformation that the financial services industry is undergoing, there has been increased growth in online payment systems.
Unlike in the past when people carried cash everywhere, now the whole world has gone cashless, and people also don't need to carry or swipe their debit/credit cards when buying goods or services online. Not when they can use other means, including e-Wallets and cryptocurrencies, among other options. Here are some of the technological wonders you can expect with online payments in 2021.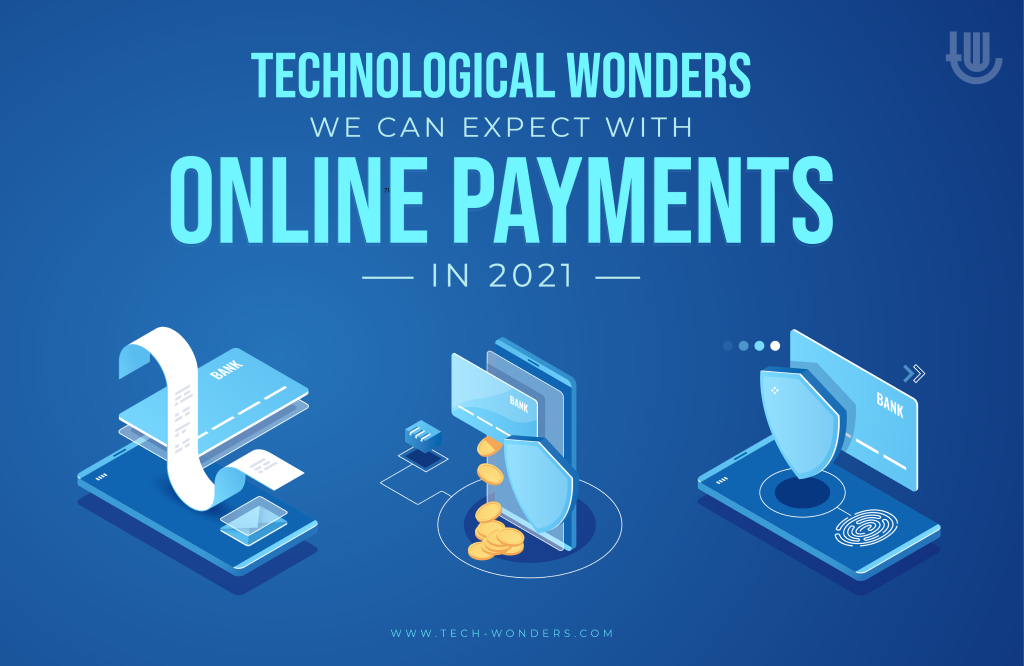 Network Tokens Will Make Payments Seamless
Network tokens replace sensitive data, including card or account numbers during the payment process. A token replaces your sensitive financial data in real-time, and you can use it online in predefined payment environments. It means that merchants will never use your sensitive data in their transactions. There is also a minimal possibility that they can use this token for fraudulent activity.
Using tokens will also help consumers securely share and save their payment details on their devices or with merchants. It is a technological innovation you can expect to gain momentum in 2021 as people are demanding more secure ways to make payments online.
Instant Banking Will Gain Traction
Another innovation you can expect is instant banking. The method allows consumers to use their internet bank to pay directly for goods and services, without downloading any software or registering. You transfer cash to your instant banking account, and this transaction will appear immediately in your bank account.
Instant banking is most popular with online casino players as it offers them a safe and secure option of funding their betting accounts without sharing their account numbers. It means that they don't share any data that could fall into the wrong hands later.
Besides using encryption, instant banking also saves you the high risks of using your credit card online. You can transact securely and freely without sharing your bank account, which helps keep your sensitive information private and safe with no chance of harm or misuse.
Cloud Migration Will Be the Next Big Thing
Cloud migration is everywhere, and every industry is striving to reap its benefits. Such industries include financial firms and banks, which have reliable legacy systems. They are moving towards adopting cloud services, which will help payment processors to access, store, and process data online, without physical devices.
Cloud technology innovation is likely to become popular in 2021 due to its scalability, security, agility, and lower operational costs. When customers process payments through cloud systems, they can do so on their mobile devices.
There is also the flexibility of combining cloud systems with EFTPOS systems that accept services such as Apple Pay, Google Pay, and other similar payment methods. Most financial institutions are adopting cloud services to increase security. It is a trend that will get more attention from many industries that accept online payments in 2021.
Crypto Payments Will Go Mainstream
Fintechs are constantly looking for real-world use cases for cryptocurrencies, and tech giants are doing everything to make it possible for consumers to do crypto payments. Big payment technology operators are enabling consumers to make purchases through cryptocurrency. It is an indication that this trend will grow fast this year and beyond.
More online casinos are accepting cryptocurrency as one of their payment options, and players have gladly taken up this offer. Cryptocurrency payments are safe and secure as consumers don't need to share their bank details online. They also come with high levels of encryptions, which means that no third parties can access your payment information. More industries will adopt this technology as they strive to ensure safe online payments for their customers.
What Does the Future of Online Payments Look Like?
There is going to be a massive advancement in online payments as companies are making security, ease of use, and reliability the priorities. All these innovations offer consumers more benefits, which is why they are going to take over by a storm.
As people are opting to go the cashless way and ditch the traditional shopping, industries offering online services and shopping will see more customers come in. However, they need to provide these customers with reliable and secure payment methods if they are to retain them as repeat clients. They can start by integrating the above innovations in their payment process.