Nowadays, every single minute counts in increasing productivity and efficiency. A minute lost could be a potential customer loss or a sale or transaction. Thus, if there is a way to make sure that time is maximized efficiently, then one should invest in it. One of the ways that businesses like call centers can maximize their calls and use of time is through using dialer system. A dialer system is a computer software that is designed to automate the calls that call center agents make, from screening phone numbers that are busy, disconnected, unresponsive and voicemail, to predictive dialing of numbers to achieve increased customer contact and sales. The dialer system is a sure way to improve any call center business and even in customer service, debt collection service and sales team could all benefit from using this software. Using this software will significantly decrease the amount of time that your agents spend on dialing numbers and lets them focus more on talking to customers and completing their calls successfully.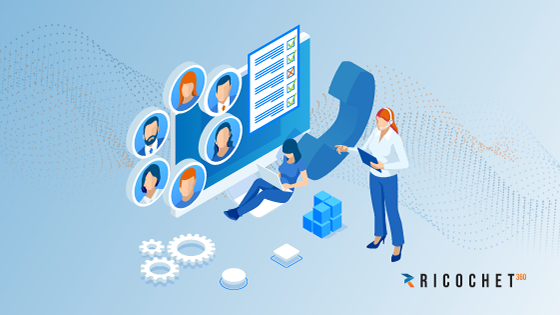 What Is a Dialer System?
A dialer system is a dedicated computer program that automates the calls that agents make whether in sales, customer service, collection, or call centers. It is designed to increase the efficiency of calls made to potential customers rather than wasted on unresponsive calls. Each agent spends a lot of time in unsuccessful calls and this is detrimental to the team as it may lower productivity and revenues at the end of the day. The dialer system uses algorithms that have been developed to predict which numbers could lead to potential customers and sales and screen the numbers that are disconnected, busy and no-answer. This would mean that agents get to reach more customers, fewer abandoned calls, and possibly more sales which is what every business would aspire to achieve on any given day. The dialer system can be integrated into the current network or system that the call center is operating on, and it will seamlessly do so without any need for additional hardware or network upgrade. Thus, if you are looking into improving your team's performance, a dialer system is a must.
How Does a Dialer System Work?
The dialer system was designed to provide a leaner and more accurate way of calling potential customers and making successful calls that would result in improved efficiency and productivity. It is a computer software that was built on predictive algorithms which enables the program to screen the numbers uploaded to it eliminating the ones that are disconnected, non-responsive, and busy so that when a number is dialed it has the potential to be answered and for the agents to actually do their jobs which is to talk and make a sale. It is very simple to use and will work perfectly with whatever system you already have running in your workplace. You just need to upload the phone numbers that you are currently attempting to contact and the software will dial it for you. The call center agent spends about three minutes dialing each number manually, and a lot of times the number given are dead ends, no-answer, disconnected or busy. Each failed call results in less time to be able to actually call and make a sale. You can also set-up the different configurations that you want in accordance with the kind of business that you have or the target goals for the day. After which, the dialer system will then begin making the calls for you. As soon as someone picks up the phone from the other end, the call will be directed to the available agent and the agent can focus more on speaking with the customer and successfully completing the call. Moreover, each call will be recorded in terms of duration and quality, and a daily or weekly report will then be provided so you can manage the calls and the agents more effectively.
What Are the Benefits of a Dialer System?
A dialer system would ultimately increase your team's productivity and efficiency, you will get contact more customers, even twice as much compared to when you did not have the program. By increasing the number of calls your team can make at a given period, the more it could result in a paying customer or sales. Thereby increasing sales and revenues in the long run. Also, with the dialer system, you are guaranteed to lower the number of abandoned calls since the phone numbers have already been screened, there is a high possibility that each call will result in a successful transaction. Moreover, the program will automate the calling and your agent will just have to wait until someone picks up the phone, which means less in-between call time span. Lastly, the program provides statistical information regarding the number of calls each agent has to make to keep them busy and reach as many customers as they can. You can also make use of data analytics to strategize your call center agents' activities and workload.
Where to Get a Dialer System?
You can get a dialer system from a software vendor on the internet. There are a number of vendors and developers out there and sometimes it is difficult to make the right choice. However, there are ways to assess which would be a good fit for you. The first thing to consider is doing they have a free trial period which you can use to try out the software and will they provide technical assistance. These are important things to ascertain as you need to try using the software with your existing hardware and network, and it should be simple to use, it does not have to take so much time to train your agents to use it. Moreover, make sure that the vendor offers competitive prices and packages, remember that there are several vendors you can choose from and while at it, also check their customer's feedback or you can make a quick survey from other teams and ask what dialer system they are using. More often than not, those who have used the software are in a better position to evaluate it, and asking for recommendations would not hurt.
Featured image source: Twitter / @speedtocontact
You May Also Like: