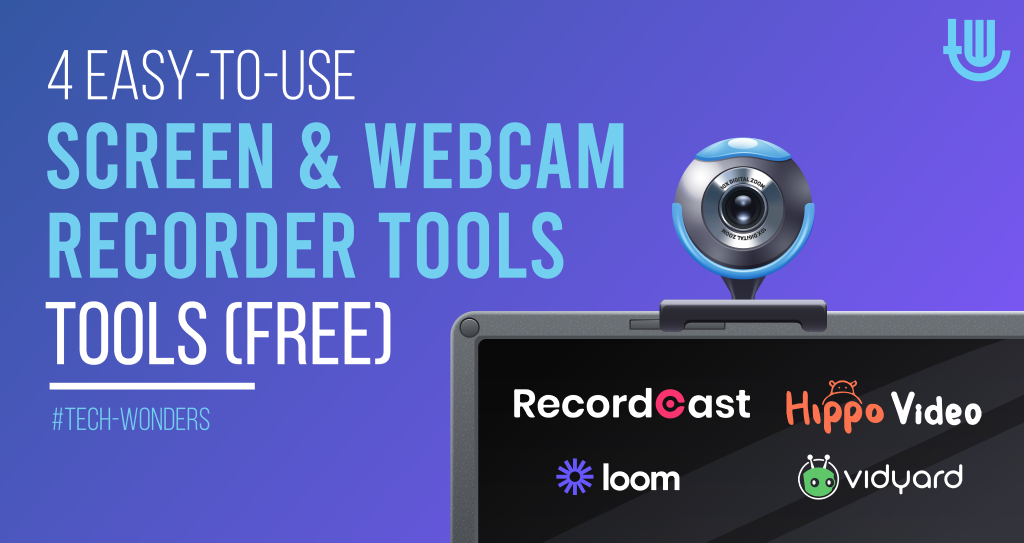 Are you in need of a screen recording or webcam program to support training and learning, making a practice tutorial video or capturing images of yourself while using your computer? This article will share with you 4 utilities to support screen recording and webcam on Chrome browser.
You can use the extensions introduced in this article to create animated lesson videos, step-by-step tutorials or specific explanations for students, colleagues, partners.
Each application may differ in features, partially or fully free, but generally, it is compact, easy to install and use on your computer. To make a video look more vivid and attract viewers, you need to choose a video recording service and webcam, built-in recording tool, supports inserting voice into video, has annotation tools, add effects.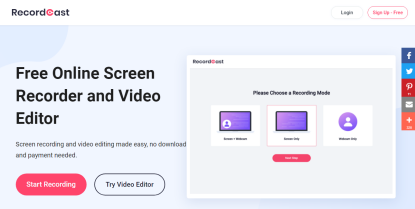 RecordCast is a 100% free tool we value most. It is a great screen video recorder that helps you record the screen video on the whole computer, in each browser tab or record directly from the webcam. In addition, this utility also supports recording with a number of features such as rename, add text annotations, cut or merge videos. At last, you can download it to your computer in a WebM or MP3 format.
As it is a web utility, it works directly from the browser, so we will not need to download or install any program.
Some key features of RecordCast screen recorder:
Record the screen without the need for registration or providing personal data.
In addition to offering the capture of the computer's audio, you can also establish a second sound source.
It is possible to simultaneously record both your screen content and yourself through your built-in webcam.
Capture screen recordings for up to 30 minutes for free without a watermark.
You can download recordings as videos in WebM format.
You can also do basic edits to your screencast using a built-in video editor that runs in Chrome, including adding titles, annotations, eye-catching effects, and more.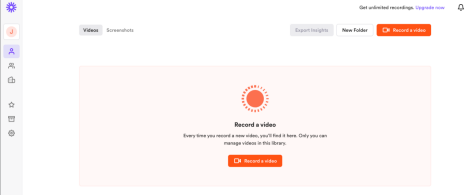 This is a free, simple and easy-to-use tool with many advanced features to assist instructors in designing online lessons. Loom allows you to record your screen, record voice or record your face directly over the webcam so you can create videos and share them instantly.
Some outstanding features of Loom screen recorder include:
Supports fast computer screen recording, even outside of Chrome browser.
You can trim parts to make the video more vivid and add CTA (Call to Action) – an interactive button to engage viewers and know who has watched your video.
Loom can be added to apps like Slack, Gmail, Notion, Coda, Intercom and Headway.
The free basic utility pack has nearly all the features you need for fast video recording and sharing.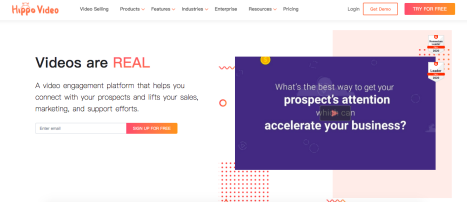 This is an extension tool on Chrome, which supports screen recording with many features such as:
Use the webcam or the front camera to record videos.
Optionally record your screen on each Chrome tab, window, or the entire screen.
Record screen video and webcam at the same time.
Edit, crop, add emojis and tag.
Dim or partially obscure the screen to hide confidential information.
Clips can be stitched or merged with Hippo Video Editor for a more seamless video.
Optionally add effects tags at the beginning and end of the video for a more vivid presentation.
You can invite colleagues to watch Hippo videos and collaborate as a team to create simple visual presentations.
Roles and permissions can be easily assigned to team members.
This screen recorder and webcam tool offer the following features:
Create and upload unlimited videos for free.
See who watched your video (if shared via Gmail).
Share videos directly to YouTube without downloading or re-downloading.
Insert videos directly into your website (and no ad processing required).
You can create your own video sharing page.
Maximum time per video up to 1 hour.
Continue recording even if you lose connection.
HD quality recordings for free.
Create GIF images.
Simple editing functions.
You May Also Like