Over the years, with the emergence of easy-to-use online gaming platforms such as Twitch, many people have started game streaming. Nowadays, clicker games are acquiring widespread acknowledgement for their easy accessibility and incredible themes. Without investing much effort or time, you can easily win these idle games — but make sure to click continuously.
Most of these clicker games contain a few common elements like cash, points, coins, diamonds and goods. And, for successfully proceeding to the next level, you have to collect these clickers game items. For that, all you just need to do is select and click on these objects repeatedly; that's it.
So, if you want to get more subscribers or viewers on your gaming channel, you should have a high-functioning mouse. Improve the clicking ability and accuracy to achieve the highest scores in this online game.
Best Free and Single-Player Online Incremental Games — Win by Clicking
Before introducing high-power graphic PC games such as Valorant or Dota, most gamers used to play clicking games. You may find hefty multiplayer games over the internet, but nothing can beat the mouse idle clicking games. Though these sorts of online games don't have excellent graphics, they still have gained a significant place in the gaming world.
Moreover, one of the prime advantages of idle games is that everyone can complete the gaming tasks irrespective of their age. But, make sure you go through the website's SSL security information to prevent the intervention of online hackers. Do you want to play a few simple yet challenging online games? Here, we are compiling the best mouse clicker games that are gaining popularity in 2021: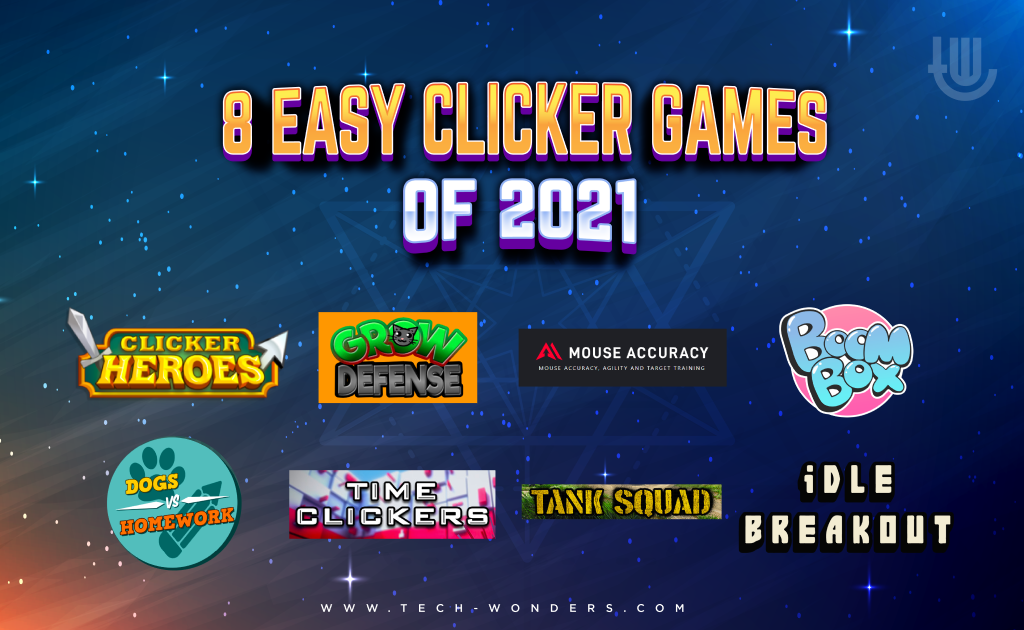 1. Grow Defense
If you are into game streaming or follow the popular streamers on social media platforms, then you already know about this game. Grow Defense is one of the top-rated clicker games that is largely known for offering a 3D gaming experience. Moreover, the virtual interface of this game is incredible and worth praising.
Are you thinking about how you can get a rank in Grow Defense? Simply consider protecting the castle tower from the raiding creatures by instantly clicking on them. Over time, the number of intruders will increase — earn gold to boost the defending power.
2. Clicker Heroes
Within a few years, Clicker Heroes have become one of the most streamed and accessed games. Do you know that every day almost 3000+ players take part in this game for its outstanding storyline? After making an account, consider choosing a character to defeat the enemies at a fast clicking speed.
In this never-ending game journey, you've to fight against the boxing ladybugs and other mythical creatures. Every time you click on these invaders, you can get gold which can further help you to unlock a new game character.
Clicker Heroes' massive popularity has encouraged game developers to introduce this game to Android devices. So, go to the Play Store, search for this game and download it now!
3. Mouse Accuracy
Unable to improve the mouse-clicking speed or click accuracy? Consider playing this game to brush up on the gaming skills and techniques. And, like the other online clicker games, Mouse Accuracy has different levels and comes with an easy user interface. You can also change the game difficulty level to reach the next level.
While playing this game, make sure to choose a specific cursor style, target colour and size. If you miss out on any target, you will lose the game; so be attentive and careful. Send the game request to your friends and start playing with them now!
4. BoomBox
Do you have excessive work pressure and thinking about how to reduce the stress level? Simply open a web browser, start looking for this game, and become stress-free by virtually throwing bombs at boxes. Further, the players have to destroy all the boxes that are placed in the play area.
To score more in this idle game, you have to find and target the comparative boxes. Purchase more explosive items to enter the next level easily. You can purchase more bombs by spending a few bucks.
5. Dogs vs Homework
Undeniably, Dogs vs Homework is considered to be one of the most motivational clicker games out there. If you have a kid, who doesn't complete his/her homework on time, let them play this game. Moreover, this game comes with an interesting storyline, where you have to instruct a dog to complete the provided tasks (homework). From each level, you have to collect ample amounts of gold to unlock more dog breeds.
6. Time Clickers
Time Clickers has become one of the most recognised games in 2021 to offer gamers excellent graphics. Moreover, in this incremental game, the user clicks are displayed as the crosshairs of a laser pistol. You just need to repeatedly tap on the multi-coloured cubes to obtain high damage scores. Also, levelling up the gaming weapons is relatively easy in Time Clickers.
7. Tanks Squad
Are you familiar with this mouse-clicking online game? Tanks Squad is another exciting incremental game where you have to get a score by clicking on the enemy tanks. Get gold by increasing the clicking speed and upgrade the tanks with ease.
8. Idle Breakout
If you like arcade games like Pac-Man or Space Invaders, then this game is absolutely ideal for you. After accessing the game, the gamers just need to continuously click on the bricks in order to completely break them. You can also upgrade the balls by collecting more gold points.
Destinations for Click Gaming
CrazyGames.com
Perhaps one of the largest libraries of games online, Crazygames.com has something for any gamer. With a responsive user-interface, gamers can browse hundreds of games and preview them by holding their mouse over the thumbnail. Ranging from puzzles to first-person-shooters, to fighting games and racing, there is something for gamers of all skills, and perfect for click gaming.
SolitaireBliss.com
Gamers can access a large array of card games at the click of their mouse. SolitaireBliss offers variations of traditional Solitaire, Hearts, Spades, and Golf with the ability to save your progress and create an account, all absolutely free.
Change the Mouse Settings and Enhance the Chance of Winning!
Sometimes, due to an improper mouse configuration, you can face issues while clicking on the game objects. In certain instances, the gamers need to make the necessary changes for a hassle-free gaming experience. Do you know you can also change the mouse's speed by changing the pointer? Yes! But before that, make sure to consult with an expert gamer, or else you might end up getting difficulties while clicking.
You May Also Like