Technology is everywhere. Sometimes we see a new invention, and we just don't understand how it can be used, but time passes, and this object becomes a necessary part of our life.
There are gadgets that are designed specifically for students. The engineers see what aspects of student's life can be improved, and they give the solution.
Gadgets for Students
Technology can facilitate a student's life in all ways. If you are a student, and you search for gadgets that can facilitate your life, this article is for you. In this article, we give you the list of gadgets to make your life as a student easier. Here is the list of the best gadgets you need.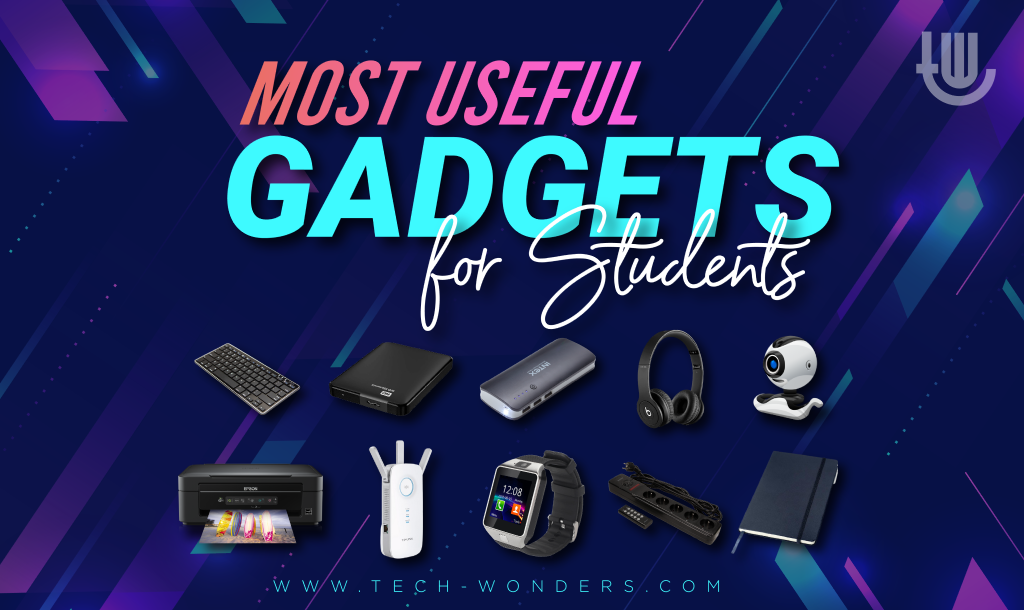 1. Webcam
We start with this gadget because it is a must in the reality of lockdown and distance learning. It is important to have a good quality camera on your computer. You can use a built-in camera on your laptop, but a portable camera is more convenient.
There are a lot of webcams you can buy, but we suggest you choose a wireless one or the one you can connect to your phone. You will be able to use it anywhere you are without the need to have your laptop with you.
2. Keyboard
Of course, you can always carry your laptop with you all the time, but it is more comfortable to buy a portable keyboard you can connect to your phone or tablet. Don't worry; the modern keyboards are not necessarily big and heavy. There are even folding Bluetooth keyboards that will not take a lot of space in your bag.
3. Portable Charger
It may not be new technology, but a portable phone charger is definitely the most important gadget for a student. You have to stay in touch all the time, and for that, your phone, tablet, and laptop have to be charged.
When you choose a portable charger, make sure you buy a universal one: to be able to charge all devices. Most chargers are for phones only, so pay attention.
4. Headphones
This gadget is probably one of the most important for students, especially those who live in a dormitory. There are two types of headphones, and we think a student needs both.
Noise-Cancelling On-Ear Headphones
These headphones are for home studying. They need to have a microphone and be comfortable to wear for a long time. On-ear noise-cancelling headphones will block all noises your family or fellow students will make around you during a lesson, so you will be comfortable during your classes.
You also need such headphones for doing your home assignments. According to PaperCheap.co.uk, a website where you can order your essays done, classical music in your headphones will make it easier to deliver.
Wireless Earbuds or In-Ear Headphones
If you need to be on the move all the time, wireless earbuds are indispensable. Since AirPods were launched, similar headphones have become very popular. You should try on some types to make sure it will sit in your ear. Make sure you have a portable charger to be able to charge them on the move as well.
5. Smartwatch
When you attend a distance class over your phone, you are not able to check other notifications you get. If you want to stay in touch and see all notifications, you should buy a smartwatch. It is better to buy a model that is compatible with your phone (Samsung smartwatch for Samsung phones, Mi Band for Xiaomi phones, etc.), but it is not a requirement.
Make sure your smartwatch has these options: Bluetooth connection, notifications, heart rate checker, and steps counter. It would be great to have a microphone on your smartwatch to be able to answer your calls.
6. External Hard Drive
This gadget becomes very popular in the midst of the pandemic. When we attended classes, we had access to the library, but now we have to keep all books on our laptops or phones. It has a huge negative influence on your gadgets' performance.
In order to clean up the storage, you can buy an external hard drive. It is safer than uploading your files to the cloud services, and it is easier to access with or without an internet connection. Usually, it connects to your phone and laptop via USB.
7. Printer
Many people like reading books on the phone, but some books, such as school or college manuals, are easier to use in paper versions. Having a printer at your place gives you freedom in what you print and when.
Besides, if you are a creative student, you will be able to print all images you need. For example, you want to decorate a wall with your photos so you can print everything yourself.
8. Power Surge Protector
We all have many gadgets connected to the power supply. Not all electricity networks are designed for such load, especially in the old houses. If you want to keep your devices safe, you should have a power surge protector at home.
A life hack: if you live in a dormitory, you can buy a power surge protector with your roommate and use it together.
9. Wi-Fi Range Extender
This gadget is also on demand during the pandemic. We are stuck at home, and more people are connected to the Wi-Fi network. It slows the internet speed. Wi-Fi range extender not just makes the range of Wi-Fi wider, but also improves the quality of the connection. It is a great gadget to have.
10. Reusable Notebook
To crown the whole, there is a notebook that you can use more than once. It is called the Rocketbook Everlast Reusable Notebook. You write with a specific pen, then you scan your text with your phone, save it as a doc. or .pdf, and you clean the pages with a napkin you get with a notebook. Then you can use your notes as text on your phone and computer. However, you will have to write in a way that your phone can pick up the words.
These gadgets may not be unique, but they are really important for every student. Try using them, and you'll see that they make your life easier.
You May Also Like