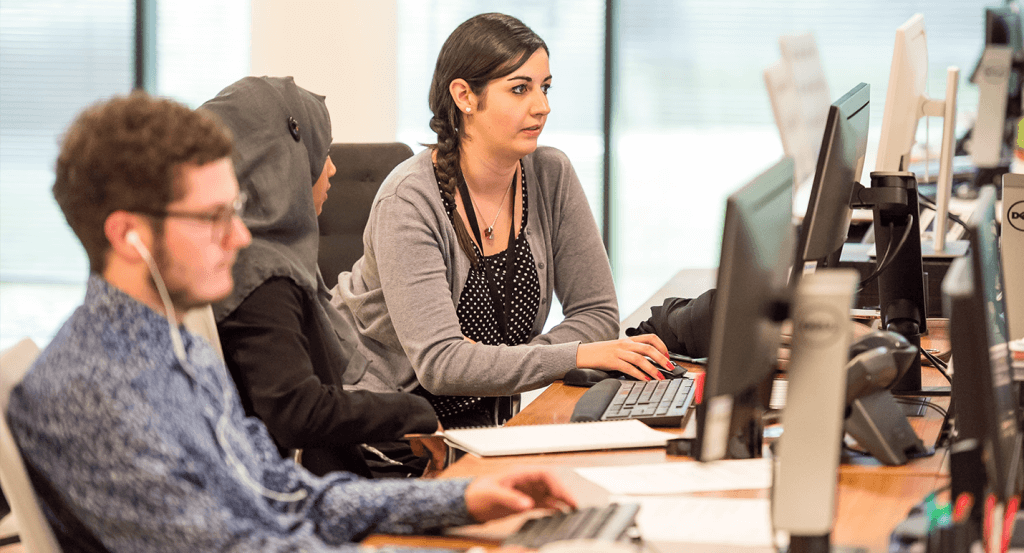 "DevOps" is becoming one of the hottest trends in IT, with many companies moving to a fully managed service approach. Proofid.com DevOps approach moves your business in a new direction of managing software development, application deployment, and IT services. DevOps is a process that constantly evolves to allow IT organizations to move faster while maintaining control of the service they provide. It describes the way software and IT services are developed, tested, deployed, and monitored.
DevOps is a software development methodology, which primarily focuses on how to set up and manage teams of software developers and quality assurance professionals who can collaborate effectively. For instance, software developers and IT operations professionals often work together to create teams that share responsibilities for both the development and operations of a project. This sharing of responsibilities between software development and IT operations has made it possible for DevOps to offer higher quality software, faster delivery time, and improved customer satisfaction. In the article below, learn about how it's revolutionizing IT services and how you might be able to take advantage of this process too.
What is DevOps?
DevOps is a software development methodology that enables teams to collaborate on the creation of applications and services. DevOps has also been referred to as "IT Operations" or "Continuous Delivery." It is a major force in enterprise IT that strives to make development and operations process more efficient by streamlining them, integrating them, automating them, and improving the speed of delivery. IT services are undergoing a radical change due to DevOps.
Benefits of DevOps
DevOps is a way to bring together development and operations into an agile team.
DevOps has helped production engineers to move away from manual work to integrated work that combines tools, automation, and infrastructure.
It has also allowed for significant improvements in application deployment speed and efficiency.
The main goal of DevOps is to improve the speed and quality of software releases, thus increasing the productivity of IT services.
Working in DevOps allows IT services to be changed quickly and effectively.
It prevents time-consuming audits because the system is self-auditing.
The data collected in DevOps helps the company stay up to date with modern business practices and technologies.
This allows companies to bring up new features faster for their customers, which helps them stay competitive in the market.
DevOps offer: faster time-to-market, more efficient project management, and better resource utilization. It has many other benefits, such as reduced risk, improved quality, increased business agility, and increased productivity.
Why consider adopting DevOps practices?
There are many benefits to adopting DevOps practices, including improved delivery of projects, shorter test cycles, and increased time for innovation. The goal of DevOps is to improve the speed of software development and deployment by integrating development with operations. Ideally, DevOps will bring about many benefits like increased teamwork between the development team and operations team, reduced costs due to increased automation, and improved quality because of faster feedback loops. IT teams are looking to improve their efficiency and productivity by adopting DevOps practices.
Best practices to improve productivity in IT Services
DevOps is transforming IT services by making them efficient and effective. Automating software deployments is what companies across the globe have done to improve productivity. It was introduced in an attempt to improve the software development process. The principle involves cross-functional collaboration between developers, testers, operations teams, and other stakeholders. Giving everyone a shared responsibility for all stages of the software development process makes communication between these groups easier. This also leads to more accurate predictions on timelines and budgets because there are fewer unknowns. In order to implement DevOps, companies must change their culture. One way to improve productivity within IT Services is to create a shared build and release process. This will make it easier to bring updates and new software updates to the company without disrupting current operations.
Conclusion
IT services are transforming in a big way and all thanks to the DevOps movement. DevOps is transforming IT services because it allows for the continuous flow of ideas and feedback to create a more efficient service. It also helps companies to improve their services by allowing them to make changes quickly. A DevOps transformation is an IT services company's best chance at changing its business model. DevOps allows for quick-paced changes in technology as well as staff and organizational changes that are needed. ProofID offers a successful DevOps transformation that brings about a culture of collaboration, and improvement, which can help IT services companies stay competitive and survive in the digital age.
You might also like