The tide has begun to change. There is more to marketing in the realm of social media than just tweeting and posting status updates on Facebook every few hours. Building a brand, luring in new consumers, and increasing sales require time and work. You not only have to compete with a multitude of other firms but also with influential people, celebrities, and other well-known individuals. A brilliant strategy for using React Native App Development Services for social media is essential. If you want to communicate with the people you're trying to reach via social media, you'll need to go beyond the conventional routes available to you to succeed. This is true of any creative kind of advertising. Consider including the following steps in your social media strategy:
1. Determine the Goals and Objectives of Your Company.
Your overall social media strategy pulls everything together to help you accomplish your goals. It is hard to make any headway or go forward when no obvious destination is in sight. Consider the larger picture for your company and how the various social media platforms may be able to assist you in getting there.
You'll probably come up with various goals for your company. Still, it's essential to keep in mind that increasing brand awareness, maintaining existing customers, and reducing marketing expenditures are all essential for any company. You have the freedom to choose four goals, of which you should consider two to be your top priority. When you try to do too many things at once, you almost certainly won't be successful at any of them.
2. Develop a Strategy That Makes Use of Several Different Channels.
A short while ago, Twitter was widely considered the most effective platform for social media marketing. Following that event, Facebook quickly established itself as the social media platform of choice for advertising purposes. It seems that Instagram has been the platform of choice for the majority of advertising. It is hard to forecast which social media platform will emerge as the dominant one in the next years and become the norm in the business.
Marketers must avoid pouring all of their efforts into a single channel or strategy when it comes to social media. Instead, firms should focus on expanding their knowledge about the target audience for their products and services. A significant number of people often hop between several networks to satisfy the requirements of their various activities. Similar to conventional marketing, social media promotion requires the use of several channels in order to effectively communicate with target consumers using React Native App Development Services. Be sure to make use of each platform in a way that is specific to it in order to encourage customers to continue following your brand from service to service.
3. Utilize Social Media Tools to Help Market Your Business.
Have you ever thought about how you can stay current with the newsfeeds of the people who make up your target demographic? The vast majority of marketers depend significantly on tools for social media marketing to stake out their territory on the internet. With the help of a social media marketing platform, you can schedule posts, monitor performance, collect lead opportunities, engage consumers, and more.
One of the most effective tools for social media marketing is called SocialPilot, and thousands of business owners depend on it to automate their posting schedule across more than 8 different networks. When it comes to advertising via social media, coordinating efforts across the many platforms is simpler than ever. Any areas of marketing operations, such as the scheduling and curation of content, as well as the administration of campaigns and any modifications that need to be made at the last minute, can be managed centrally, which will result in more efficient operations.
4. Find Out Who You Are Going Up Against.
There is a good chance that your competitors are already utilizing social media, which means you can monitor and imitate their methods. Your competitors' offers and advantages and disadvantages might be uncovered via a competitive analysis (and not so well). You will be better positioned to determine your own social media objectives if you are first aware of the prevailing standards in your industry.
As a direct consequence, the opportunity will be simpler to recognize. A competitor could have a huge Facebook following, but it can be hard to find on Twitter and Instagram. You shouldn't spend your time trying to entice people away from the company that is now dominating the industry. Instead, you should focus on developing networks where your audience already exists and use their potential.
5. Share Currently Trendy Content.
Under no circumstances should you use your social media sites to brag about yourself or your achievements. Excessive self-promotion that is time-consuming is not allowed at any point on these sites. It is vital to strike the correct balance between marketing your company and sharing great stuff that you come across from other sources.
If you followed your preferred clothing and apparel store on Instagram, but all you saw were posts promoting the shop's products, you could feel frustrated and decide to unfollow the account. Instead, you should focus on striking a balance between marketing your content and communicating with your followers and the major thought leaders in your industry.
6. Stories
The 'story' format was initially made available on Snapchat, the first platform to do so. On the other hand, social media sites such as Facebook, Instagram, and WhatsApp moved quickly to adopt this modification. Users have many opportunities to exhibit their creativity via various mediums, and these Stories, which typically last for 24 hours and have a vertical orientation, present them with these opportunities.
The fact that they may be interacted with as well as incredibly entertaining to read has grabbed the curiosity of younger generations. Sixty percent of them see stories on Instagram, 53 percent view stories on Snapchat, and 48 percent view stories on Facebook. Because of the level of engagement shown by their customers, they have become an indispensable component in the toolkits of a great number of successful businesses. They are easy to construct, and very little modification is required. Nevertheless, the fact that they may be completed in a single sitting is most likely the most important reason for their appeal. Accessibility is significantly improved by virtue of the fact that mobile devices may be used to see them.
7. You Can Run Advertisements on Instagram.
Instagram is one of your best options when making sales using social media. There are now over a billion users using the service at this very moment. Because of its enormous and diverse user base, Instagram has developed into a major social media platform throughout the course of its short history.
Instagram's engagement rate is far higher than Twitter or Facebook's. Reels and other features that may be shopped for can significantly broaden the audience. Today is the ideal time to launch an advertising campaign on Instagram using React Native App Development Services to connect with possible clients in different parts of the world. Make sure your advertisements have a good design and are targeted at the right audience.
8. Find Out What is Working and What Isn't, as Well as Ways in Which You May Improve Going Ahead.
It should be evident at this point how your social media plan fits into the bigger vision. Nevertheless, you need the flexibility to change your strategy at different points during the year. If you don't regularly assess your performance, you won't be able to compare the results of other initiatives accurately. Getting some much-needed perspective may be gained by taking a step back and looking at one's behavior on social media from a higher vantage point. This requires analyzing the pieces that have received the most positive feedback and adjusting your marketing plan when content performance reaches a plateau.
Real-time monitoring of the factors that drive your campaigns enables you to make agile modifications promptly, which may be made to your strategy for marketing through social media. Using this information, you will be able to establish whether or not your key performance indicators (KPIs) effectively represent the greater goals of your company and whether or not revisions are required.
Conclusion
To achieve their goals, almost all businesses in today's world use the extensive user bases and toolsets offered by various social media platforms. It might be quite expensive for your company if you choose not to take advantage of this fantastic medium while your rivals aggressively pursue it.
It is time to reconsider using React Native App Development Services and how you are promoting your business on social media if you want your company to grow and be successful in the future. Increasing social selling and bolstering brand awareness may be accomplished most effectively and efficiently using the tactics that have been discussed above. Start using them to capture the attention of potential clients who are interested in the products and services your organization offers.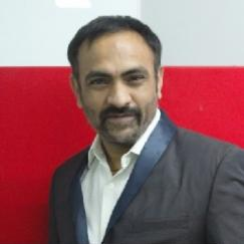 Author Bio: Prashant Pujara is the CEO of MultiQoS Technologies, a top mobile app development with experience in on demand Fintech App Development Solutions where you can hire iOS developer for your company. He oversees the company's commercial and delivery operations, as well as strategic planning and strategy.
---
You might also like