The choice of email marketing software is huge. Choosing the right email marketing tool is subsequently difficult. We will enlist several resources that are also suitable for small and medium-sized companies.
What were the criteria for selecting the tools? All of the products on this list include core email marketing features, such as workflow building, event-driven emails, A/B testing, and drip campaigns.
All tools are offered in a product version that is particularly interesting for SMEs and have an excellent rating on Capterra.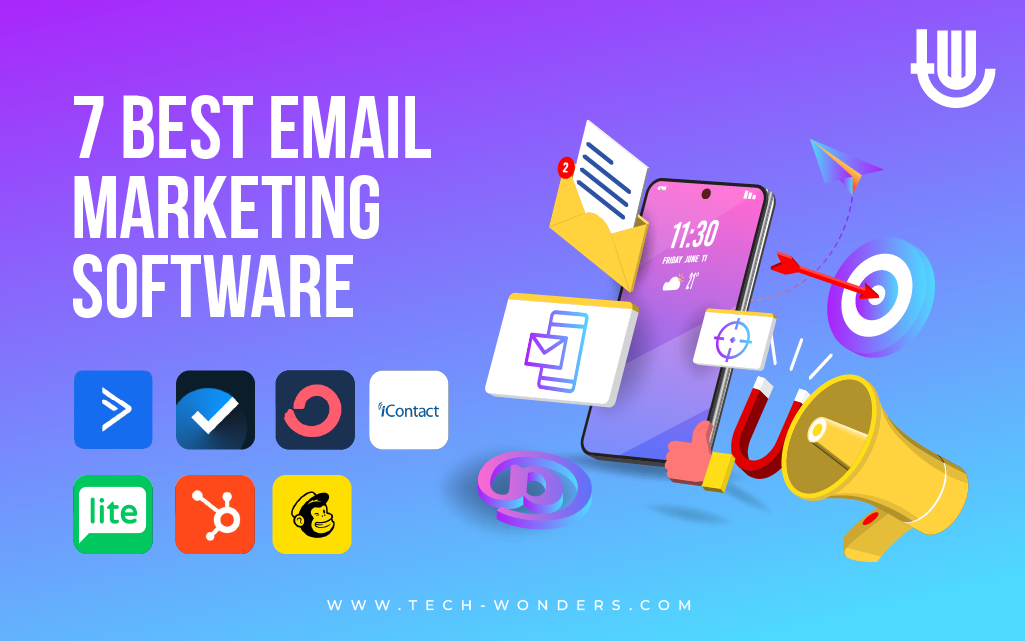 1. ActiveCampaign:
ActiveCampaign is an email marketing, marketing automation, and sales automation tool designed specifically for small to medium-sized businesses. With the email marketing version ActiveCampaign Lite, you can create segmented contact lists, set up trigger-controlled email campaigns and autoresponder campaigns (e.g., for registrations and order confirmations), and visualize leads in the sales funnel.
ActiveCampaign offers numerous options for designing email campaigns, including autoresponders, A/B split testing, RSS, and event-based campaigns, to meet both B2B and B2C business needs.
Pros:
– ActiveCampaign is an affordable tool for marketing automation, sales automation, and CRM content management.
– The tool offers numerous customization options. For example, the ActiveCampaign platform and e-mail campaigns can be designed according to your own wishes.
Cons:
– The product interface looks a bit outdated compared to other products.
– Customer support could be faster.
2. Leadar:
Leadar is also one of the best resources to improve your email marketing campaign. It has over 10 million companies and 150 million verified emails. You can easily use these email addresses to enhance your targeted marketing strategies. This tool offers an incredible sales intelligence platform.
Pros:
– An enormous data of verified email and contact list.
– Super fast customer support.
Cons:
– It's not technically email software – you can't build campaigns there. Leadar is used to build your marketing lists and segment them according to jobs, interests, etc.
3. ConvertKit
ConvertKit is an email marketing solution for companies that sell their products and services online. You can create opt-in forms, design email workflows, and analyze the pool of recipients in a dashboard. ConvertKit is specially tailored to the needs of e-commerce businesses and online content creation.
Pros:
– Helpful website building and subscriber-based marketing automation feature to market products and services online.
– The campaign design tool is user-friendly and intuitive in use.
Cons:
– Given the variety of features and visuals, it may take a while to get used to all of the features.
– The selection of email templates could be bigger.
4. iContact:
iContact is cloud-based email marketing software for small and medium-sized businesses. Marketers can use the software to create campaigns, segment customer lists, run A/B split tests, manage subscribers, and monitor campaign performance from a dashboard.
iContact focuses on user-friendliness for SME marketers. The user interface offers drag-and-drop functionality. Contact and list management is easy to learn and use.
Pros:
– The functions for list management and email automation can be operated intuitively.
Cons:
– Time difference might affect how quickly the support team reacts and solves your issues.
5. MailChimp:
MailChimp is the most widely used email marketing solution. With MailChimp, email and advertising campaigns can be created, sent, and analyzed. Users get full visibility into campaigns, and email tracking, see success and click rates, can create custom reports, and manage subscribers and non-subscribers.
Pros:
– MailChimp offers a variety of features.
– The tool can be easily adapted thanks to the numerous automation functions and templates.
Cons:
– MailChimp does not offer affiliate marketing or SMTP messaging.
6. MailerLite:
MailerLite is an email marketing solution for businesses of all sizes. With MailerLite, landing pages and newsletters can be created, customer lists can be segmented, targeted email campaigns can be sent, and campaign metrics such as opening and conversion rates can be viewed in one dashboard.
Pros:
– MailerLite's user interface is easy to learn and operate.
– Customer support is responsive and efficient in handling product-related queries.
Cons:
– MailerLite could include more templates, such as opt-in page templates.
– MailerLite users report that email deliverability is lower than the one of comparable products.
7. HubSpot:
HubSpot is one of the most popular email marketing software for managing inbound marketing actions, as it allows you to automate different processes (email, content, landing pages, SEO, etc.). The interface is easy to use. Drag-and-drop editor to create professional campaigns without the need for design or computer skills.
Pros:
– Being integrated into HubSpot's CRM, you can manage everything related to marketing, sales, services, and content from the same place.
– It has a good rating on the specialized software review portal G2 with 4.4 out of 5.
Cons:
– When the number of your contacts increases, prices increase a lot as well.
What You Should Look for When Choosing an Email Marketing Tool
The ultimate goal of these tools is to automate your company's digital marketing processes, which is known as marketing automation so that you spend less time doing repetitive tasks and can dedicate yourself to taking care of other aspects of the business. Sounds good, doesn't it?
Check out the following 5 aspects that are especially important to look for when choosing an email marketing tool:
1. Interface:
If the tool is going to become your best friend and that of your email marketing strategy, it would be better if it had an attractive, intuitive interface that is easy to use and understood at a glance.
2. Available Features:
In this aspect, different things come into play:
– Contact segmentation: It is critical when sending personalized emails to your subscribers.
– Deliverability: A good platform ensures that your emails stay in your subscribers' inboxes, not in the spam folder.
– Unsubscription management: It is important that the tool does it automatically so that you are not the one who reviews the contacts on the list of subscribers one by one.
3. Reports:
Knowing how the user behaves towards our mailings (spam, opening and bounce rates, number of clicks, etc.) is essential to know if you are on the right track or if something needs to be changed in the email marketing strategy.
4. Support:
In the digital universe, having someone to support you in a time of need is priceless. Carefully analyze the customer service support provided by each tool, through which channels it is offered, and with what frequency.
5. Price:
Yes. Unfortunately, good things always come at a price, and in this case, it would not be any different. Of course, email is an economic channel if we compare it with other digital marketing options.