In the mobiles when megapixel camera came into existence, whatever may be the occasions we click many photos. We will keep them as remembrances and also share on the web with friends and family. Before sharing our photos on the web we can add some more attractions and we can create slideshows with mobile apps. We can design the photos like cinema. The photos taken by megapixel camera can be sold and we can make money. Not only sharing by designing but also creating albums we can take a print. There are so many useful Slideshow Maker and Photo Frames Android apps on Google Play and we will know about some of the best in detail.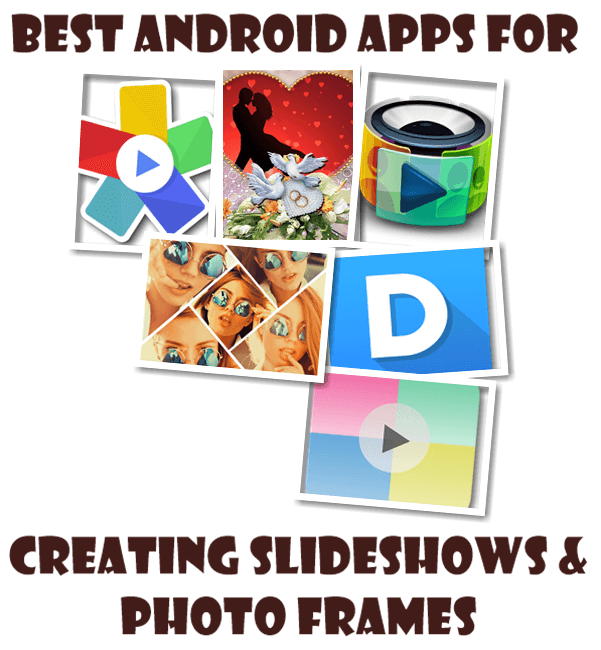 To arrange as a slideshow of the photos taken with Smartphone there is 'Slide Show Creator' app which Android users can install freely from Google Play.


Upon opening the app, photos can be selected through 'Add Image' and after completing the selection, we can change the places of the photos in the slideshow. We can also insert text and music. Thus created photo slides can be shared on YouTube and Facebook. There is also a possibility to send created slideshows through email.


Scoompa Video – Slideshow Maker and Video Editor is another useful app like the above. We can select the photos in drag-and-drop method and there is a possibility to view the slideshow in preview. To try another such slideshow app we can use 'Free Slideshow Maker' app.
To keep the photos in beautiful frames Dayframe (Photos & Slideshow) app can be used.


On running the app, it shows all the photos saved in the device automatically. It also shows the photos saved in online storage services like Facebook, DropBox, Tumblr, Twitter, Flicker, Google+, Instagram, 500px and more. Though Dayframe app is free to try, there are limited features provided in the free version and so for more features we've to upgrade to Dayframe Prime.
If we want photo frames those which expresses love, there is available Romantic Love Photo Frames app. Inserting the photos in the lovely frames, colors can be changed.
Creative types of frames if required, use the app Insta Pic Frames.