Microsoft Windows family of Operating Systems keeps flooding numerous versions which is an integral part of computers to run any program or application. All the upgradation are intended to enhance customer satisfaction for both novice and advanced users. Further, the improved version includes enhanced toolsets and cutting-edge techniques. Although built with improved technology, they do get corrupt, damaged, or formatted, which results in loss, deletion, or inaccessibility of the data. This raises the need of not just any, but a reliable professional Windows Data Recovery software that can easily recover lost or deleted data quickly, easily, and securely.
Here, Stellar Windows Data Recovery – Professional would serve the purpose. A tried and tested software, it seamlessly recovers lost/deleted data, be it a business-critical document such as emails, PDF files, etc., treasured photos, videos, or audio files, etc. Additionally, this utility also promises in-depth scanning for better recovery owing its powerful Deep Scan feature. Further, this Windows Data Recovery tool is devised with advanced features that not only aids in swift undelete program but also assists in maintaining the integrity of the data. This utility has acclaimed as a powerful and comprehensive tool to recover almost everything. Below are its salient features:
Stellar Windows Data Recovery Professional Salient Features
It allows you to undelete accidentally deleted data.
It lets you recover data from formatted partitions.
You can recover both lost/deleted files and folders.
It ensures recovery from hard disk as well as removable media such as memory cards, pen drives, etc.
It has a fast and efficient scan engine so that data loss issues can be fixed quickly. In case the quick scan does not give the desired results, then you can choose the Deep Scan option.
It provides a tabbed view of scanned Tree, including 'File Type,' 'Tree View,' and 'Deleted List.'
It guarantees full raw recovery and HD-MOV Raw Recovery.
It supports multiple DPIs, improved Unicode, and enhanced Preview.
It includes options such as advanced setting, resume recovery, turn on/off preview, simultaneous scan of multiple files, and search specific folder and specific file type.
It supports NTFS, FAT, FAT16, FAT32, and ExFat file systems.
Further, to achieve whatever this data recovery tool has been devised for, you need to fulfil the following system requirements:
This data recovery software works efficiently on Pentium Processors and not any other.
It is compatible with Windows 10, 8.1, 8, 7, Vista, and XP.
The minimum RAM requirement is 1 GB.
Lastly, the system should have at least 50 MB of the free hard drive to install the software.
Note: These are basic system requirements of almost all Windows systems.
Step-by-Step Process for Recovering Lost, Accidentally Deleted, or Inaccessible Data
Recovering lost or deleted data consists of three easy-to-understand steps – 'Select', 'Scan', and 'Recover.' Let's look at each:
► Select – Once you run the software, you will encounter a user-friendly interface. The 'Select What to Recover' interface asks you to select the desired option from the three primary data recovery options— 'Everything,' 'Multimedia Files,' and 'Documents, Folders, and Emails.'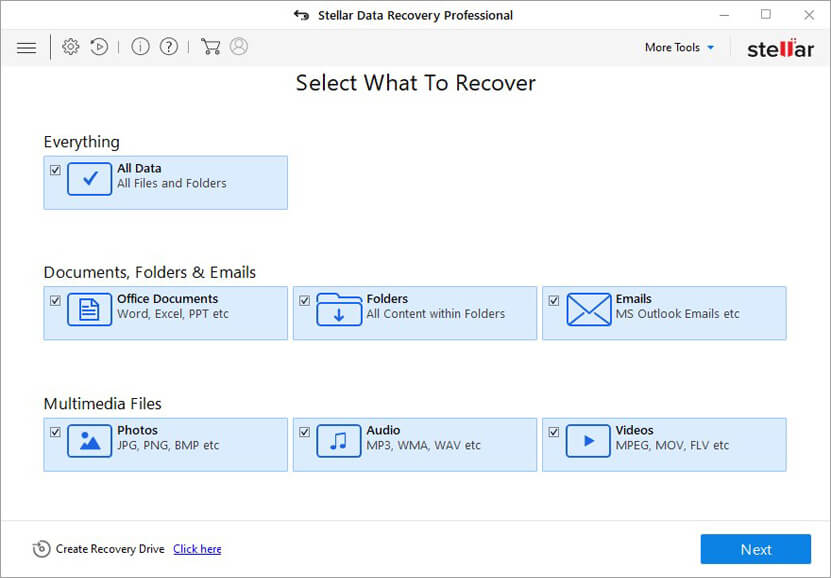 After selection, it will direct you to 'Select Location' interface to choose the location from where you wish to begin the scan. In case you want to scan any particular folder, you can even opt for it.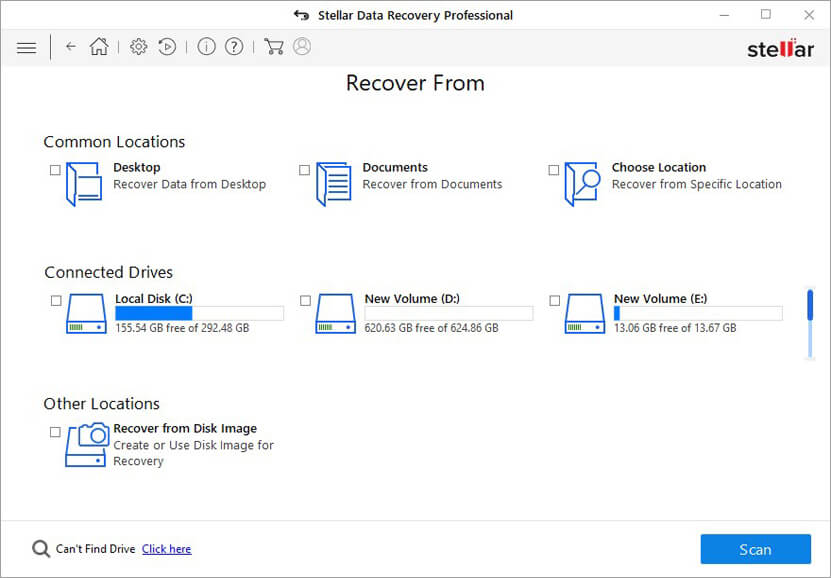 ► Scan – Once the selection is done, you will need to click on the Scan option which will take you to the 'scanning process' window. It will give you a complete view of the scan status, including the time required, the time consumed, and the time left. This window also includes turn on/off preview option. In case you wish to enhance the scanning speed, you can turn off the preview.
You can pause the scanning process in between and can recommence later with its Resume Recovery option. Further, it also has in-depth scanning option if you are not satisfied with the results of the Scan, then you can select the Deep Scan mode where you can perform a comprehensive scan. On successful completion of the scan, you can preview the found files and folders in three views: 'File Type', 'Tree View', and 'Deleted List'.
► Recover – In this last step, you can easily recover all the files/folders enlisted in the preview window by selecting them. Choose the files/folders that you wish to recover from this Preview window and to save, you can choose the destination and the process is complete. In case of advanced recovery, you can leverage the Advanced Setting option.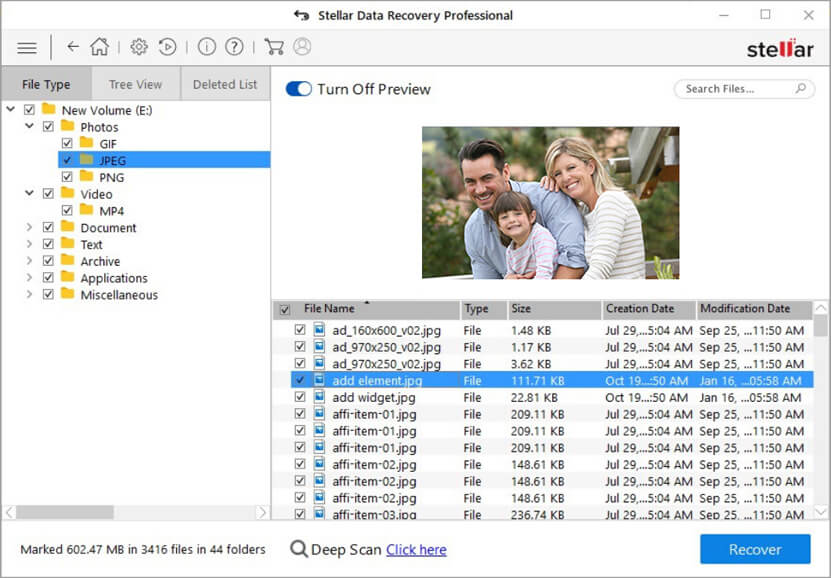 The Bottom Line with Usage Rating
Stellar Windows Data Recovery – Professional is an all-in-one software to recover all types of data lost/deleted from hard drives as well as removable media regardless of whether the data loss is due to virus attack, system malfunction, sabotage, or disk failure. Therefore, all you have to do is install it on your system and restore your lost data. Having used this software and getting a first-hand experience of its advanced features, I would give it a rating of 9 on 10.