Few years back, I was looking for a solution to backup Outlook email messages 2010 to PDF file format with attachments. But I was not able to find the best solution to come over this situation. After some time, my friend recommended me to use CubexSoft Outlook Export software that provides simple method for conversion using which users can easily understand how to backup Outlook emails with attachments in accurate manner. But before jumping the conversion process, let us discuss about what a MS Outlook is and why users want to export outlook email messages to different format.



What is a MS Outlook?
Outlook is a Microsoft's software application that can manage emails, organizing meetings, and planned schedule on Microsoft Outlook's calendar. Microsoft Outlook is made for both – business use and personal use on home computers.
Why Users Want to Backup Outlook Email Messages to Other Format?
There are number of reasons available of users, why they want to export Outlook emails and attachments to other file format:
Reason 1. Cost
MS Outlook is a part of Microsoft Office software package. Since 2010, the price of the package was some hundred dollars, although there are many free substitutes that offers the same features and functionality, such as Mozilla Thunderbird, Windows Live Mail, etc.
Reason 2. System Requirements
MS Outlook is made to install on Microsoft Operating Systems i.e. Windows Vista, Windows XP, Windows 7, Windows 8, Windows 10 etc. If you install the Mac operating systems, you can still install Microsoft Outlook virtually. However, there is very little support to install Microsoft Outlook on Linux-based systems.
Reason 3. Integration
Microsoft Outlook is a proprietary software application. So, there is very little integration with other programs, such as Google Calendar. If you are currently using a Google Calendar or other scheduling programs, you will need to download and run a 3rd party application to keep all of your current info or input it manually into Outlook again. In addition, the web-based version of Microsoft Outlook provides more features in the Internet Explorer browser and does not allow a full-featured edition other communal Internet browsers, such as Mozilla Firefox.
Reason 4. So Many Functionality
Most of the users feel that Microsoft Outlook gives so many functionality that may make it challenging to use simple functions like as email and schedule. Many generally used features may be concealed or hidden because of the number of features presented in Microsoft Outlook.
Method to Export Outlook Emails and Attachments
There are two methods available to backup Outlook email and all other data to another file format: 1. Manual Method and 2. Professional Method – Outlook Converter.
Manual Method
Manual method is too-lengthy and time-consuming solution for users who want to backup Outlook Email messages to different format and there is no guarantee of 100% accurate result. To use manual process user needs to have some technical knowledge to export Outlook data to other format. Using Manual method users can convert only single or two PST mails from Outlook to other format. If you try to export multiple PST mails from Outlook to desired format then it highly chances of data loss.
Professional Method – Outlook Converter
Export Outlook 2010 emails with attachments to different file format with Outlook Converter application CubexSoft Outlook Export (http://www.cubexsoft.com/outlook-export/) that supports number of file formats like as PDF, MSG, MBOX, EML, EMLX, VCF and ICS.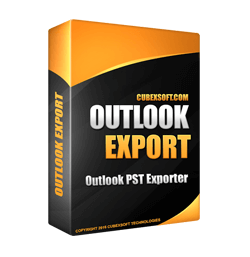 Users can easily use this software without having any technical knowledge. The Outlook Converter supports not only Outlook 2010 even it supports all latest and earlier Outlook editions to export Outlook email messages to desired format. Using this application users can backup all Outlook data like mails, calendars, contacts, briefcase, metadata, notes, tasks, email formatting, layout and attachments to required file format. It can work even without Outlook installation and successfully backup Outlook email messages to other format in exact manner.



Working Process to Backup MS Outlook Data to Different Format:
Step 1. Launch Outlook Converter application on your system.
Step 2. Click on Browse File/Browse Folder button to add PST Files or Folder.
Step 3. After that Select Output Format to backup Outlook PST Files into PDF, MSG, MBOX, EML, EMLX, VCF or ICS file format.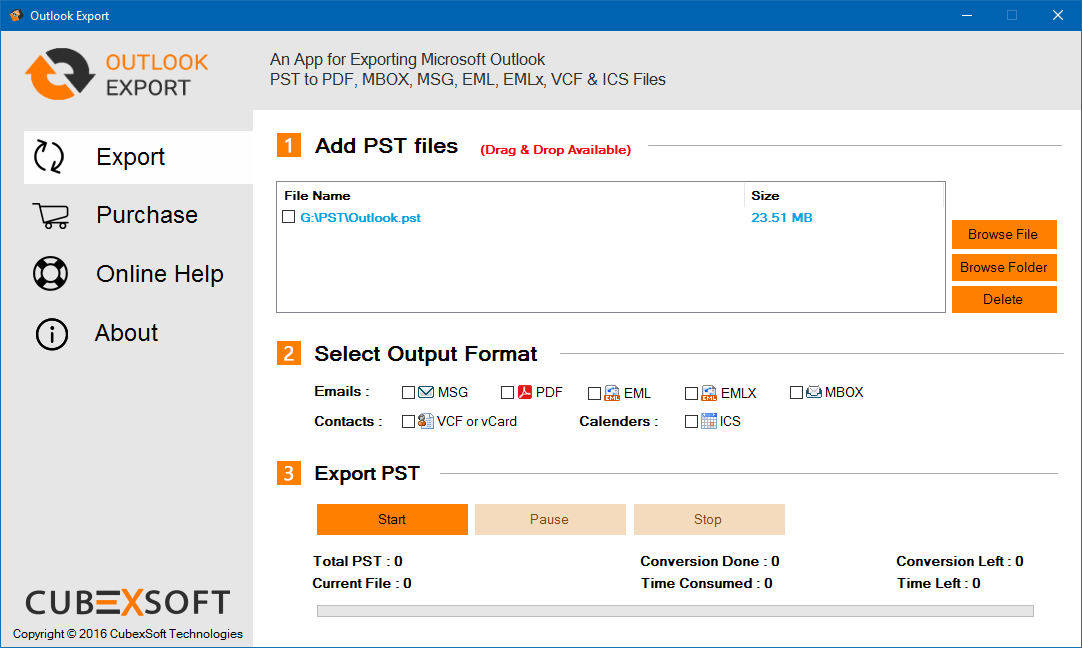 Step 4. Then click on Start button and choose desired location where you want to save the resultant output files.
Step 5. After that a new Window will automatically open displaying message of "Conversion Done Successfully".
Step 6. Click on OK button to accomplish the process.
Some Important Features of Outlook Converter:
Provides easy process to easily export Outlook data to other format.
Capable for bulk migration process of PST files to desired format at once.
Easy to run on all Windows OS platforms i.e. Win 10, 8.1, 8, 7, XP, Vista, etc.
Well-compatible with all latest and earlier MS Outlook (32-bit and 64-bit) editions.
Maintain hierarchy of Outlook folder throughout the migration process.
Allows to backup all data from Outlook i.e. email messages, contacts, calendars, notes, tasks, briefcase, meta-headers, formatting and attachments precisely.
No need of Outlook Configuration to backup Outlook email messages to other format.
Freeware Version of Outlook Converter
Download and use Free Outlook Converter utility to understand more about the software' process and its functionality before getting its license key. The Free Outlook Converter utility works in the same way as well as license edition works. Using the free utility you can export 20 emails from Outlook to desired format without cost. If you are interested in batch migration process of Outlook emails to other format, then go ahead and purchase it license edition.
References: