Doodle Jump is an awesome and insanely addictive game to play on Android and iOS. It is one of the most popular Android game with 50,000,000+ installs and currently has a rating of over 4.3, with 85% of the reviewers absolutely loved it. iPhone and iPad Games website Touch Arcade has described Doodle Jump as "possibly the best iPhone game ever created". This game also got featured in popular Television shows such as Late Night with Jimmy Fallon as well as the Big Bang Theory. The game developer Lima Sky has launched Doodle Jump for iPad with enhanced features. It has support for iPad gyroscopic control and you will enjoy playing the game on the big screen of your iPad.

Playing Doodle Jump game is no-brainer all you will have to do is guide a four-legged creature called "The Doodler" to jump higher in the series of platform avoiding hurdles like monsters, black holes and UFOs. New hurdles are introduced at higher levels as you play the game. The higher the doodler jumps the higher score you will get. The left and right side of the playing field is connected so that the doodler can move from left to right and right to left. If your smartphone has accelerometer support, you can tilt it from side to side to move the Doodler in the desired direction. The Doodler can also shoot the monsters and UFOs just tap the screen to shoot. For iPad version the developer has introduced online multiplayer racetrack theme where you can play games in real-time with other players. It has also Openfeint integration with which you can share your scores on social networking sites.
There's no definitive end to the Doodle Jump game, but the gameplay ends when the doodler falls to the bottom of the display screen, jumps into a monster, falls into a black hole, or is kidnapped by a UFO. Doodle Jump is an awesome time killer game with many fantastical worlds to play in – Ninja, Space, Jungle, Soccer, Underwater, Snow, Halloween, Frozen Ice, Easter and Pirates. The appearance of the Doodler, his enemies, and the background changes in each world.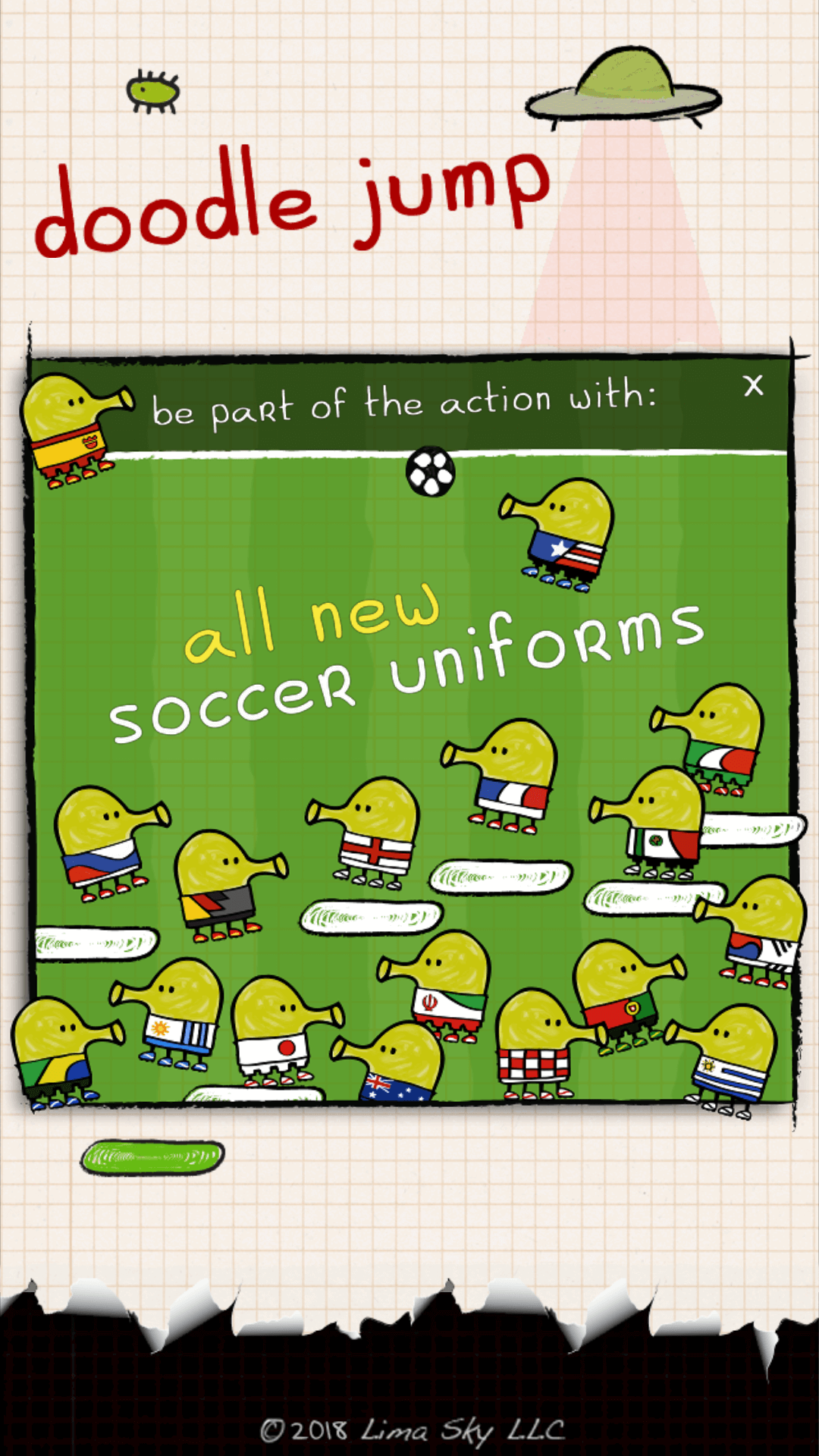 Doodle Jump is an insanely addictive game which you are going to enjoy. This game can be downloaded for free from both the App Store for iOS devices and Google Play for Android devices.
You'll also like: