As the whole society is advancing towards the times of high efficiency and fierce competition, every industry spares no effort to optimize themselves to keep up with the pace. Of course, music service markets admit of no exception, and third-party players, in particular, are changing and growing rapidly. So when some free third-party players equip you with an easier operation experience and richer media content enjoyment, will you, as a new song aficionado, have it on your download list?
A case in point is 5KPlayer, an outstanding video music player and downloader, which, by breaking all inherent limits, caters to your needs of new song download and play to maximum extent. 5KPlayer suppresses many other media players by the ability to handle almost all formats of new song, and download the latest one from 300+ popular online sites free of charge.
Of course, the highlights of 5KPlayer are much more than these, other unique functions like managing your new song library in a stylish UI and sharing songs from phone to computer wirelessly are no difficulty at all.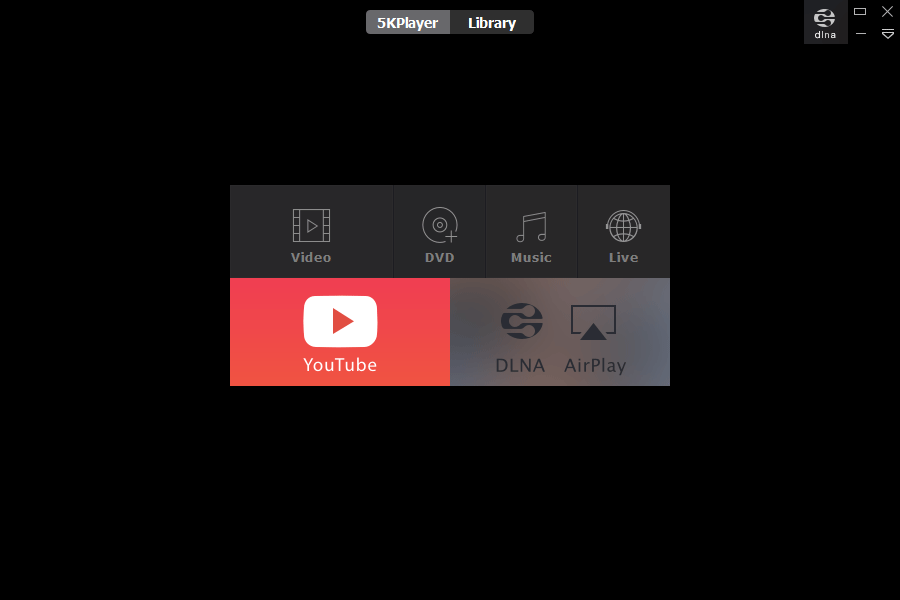 Now let's explore the exact reasons why 5KPlayer can stand out among various competitors.
Play new song breaking format leash
One of the most exciting main feature of 5KPlayer is its ability to play almost any format like APE, FLAC, AAC, AC3 and media content like DVD, VCDs, memo record and so on.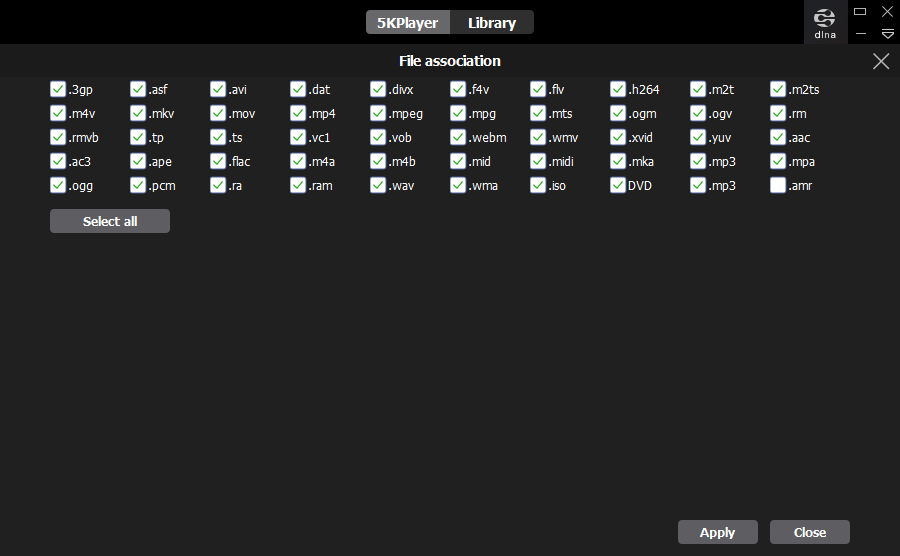 And of course, as a player, 5KPlayer basically can play, pause, stop, fast forward and back forward the new song at will. In addition, there is nothing challenging to change some playback effects like audio track, equalizer style, stereo-mode, playback speed, etc. Also, except for new song, you can enjoy matched MV using 5KPlayer, as well.


Better still, 5KPlayer can become the home of your media library. Apart from playing high quality new song, you can establish your unique multimedia library full of your own personality to manage and sort out favorite song, and to create classified playlists at will.
Download new songs breaking source leash
5KPlayer is not only a versatile player, but also an easy-to-use downloader. With just a few clicks, new song download and play problem can be solved easily and you can enjoy these new song from music sharing sites and online video sites offline.
Now let's check out the process of new song download.
Part 1 – Download New Songs from Music Sharing Sites
Step 1: Launch 5KPlayer and click "YouTube" button under "Library" tab. Copy the song's URL that you want to download, click "Paste URL & Analyze"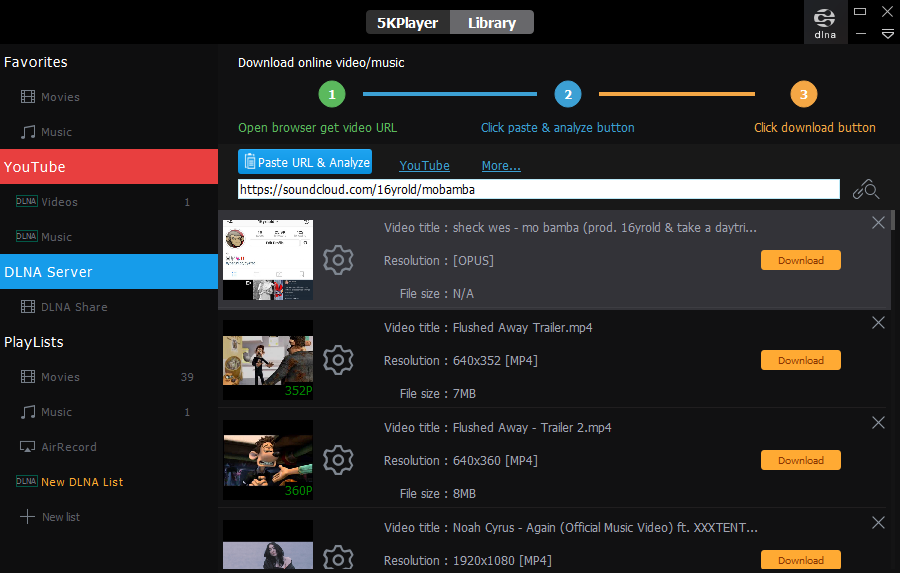 Step 2: After analyzing, press the "Download" button to download.
Step 3: Finally the downloaded new song can be saved to your designated folder and you can find it in the "Music" list under "YouTube" of 5KPlayer.
Part 2 – Download Online Video to MP3 Songs
Step 1: Also copy the video's URL, click "Paste URL & Analyze".
Step 2: After analyzing, click the "Gear" shape icon to check the output format, and choose the "Quality" of "Audio".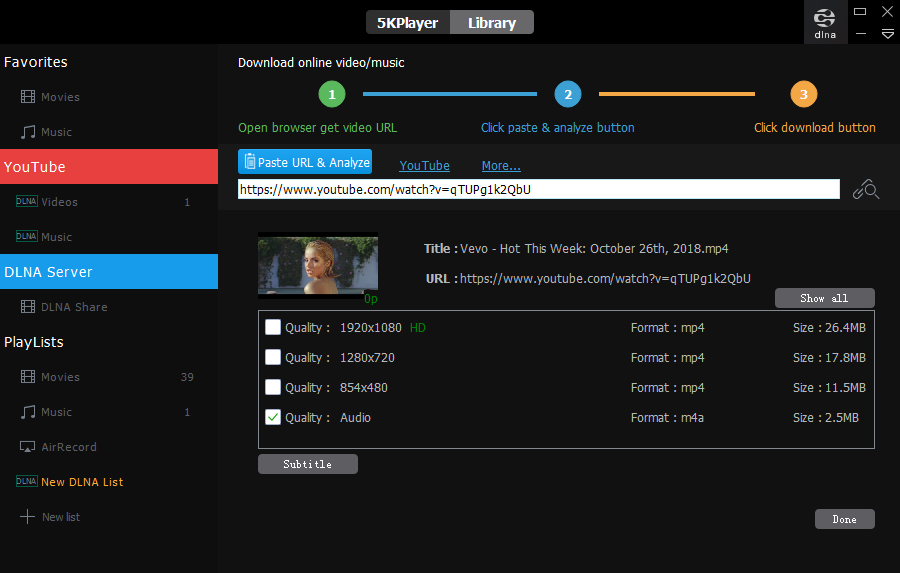 Step 3: Press "Download" button to download the video now.
With just few clicks above, you can download new song from online sites easily. It renders you the handiest method to figure new song download and play problem out for free.
Tips: In terms of source, 5KPlayer extends your pleasure with another option of listening satellite radio like BBC, Heart, Capital, Gold, and LBC, etc. Apart from these recommended stations, you can input other radio URL, as well.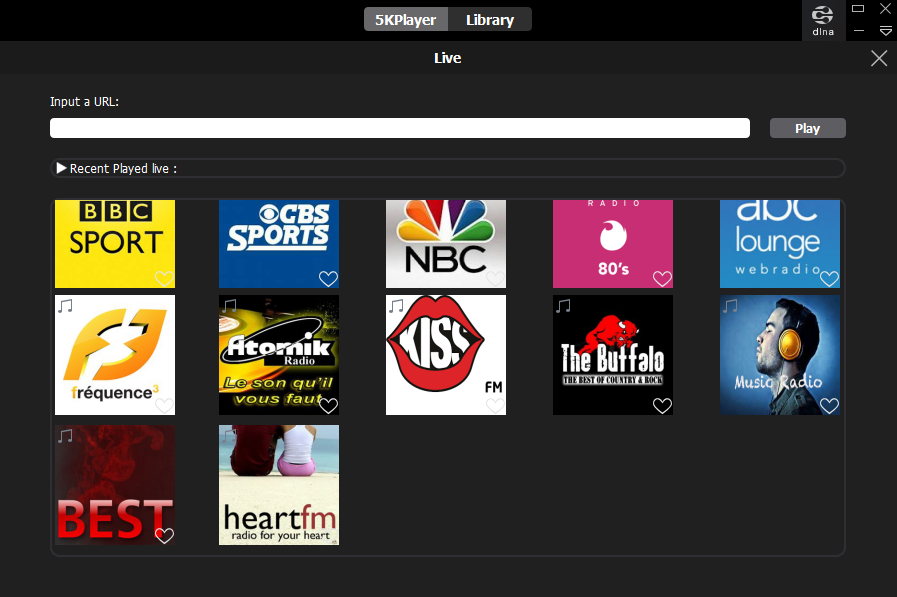 Stream new song breaking carrier leash
Except for the absorbing feature of new song download and play mentioned above, to optimize your listening experience, 5KPlayer strengthens itself by supporting Airplay and DLNA sharing function to stream new song from smartphone to PC, or from PC to TV/Xbox, etc.
In generally, this is why some updated music player like 5KPlayer serves as an exceptional choice among new song aficionado.
New song download and play with 5KPlayer now
To sum up, if you are still facing the problem of the latest song download and play, but haven't got some convenient methods yet, then opt for 5KPlayer, which enables you to download and play new song from YouTube and other online sites or satellite radio. Also, through 5KPlayer, you can build your own media library and stream new song to a better carrier at ease to pursue a super excellent listening experience totally for free. Download it for Windows or Mac.