Hello guys, on our site, we posted articles about AOMEI Partition Assistant before, in how-to-topic and software columns. Last article was published 2 years ago, it's long time to update. As many people know, AOMEI Partition Assistant is an excellent partition manager to help users to optimize drive and system. If you have low disk space problem, this tool is a great choice.
Now in 2019, AOMEI Partition Assistant newest 8.0 version has changed a lot, especially the user interface. From AOMEI official website's changelog page, it said "Brand-new user interface: a more modernized look and feel". Do you think too? Please have a look at following screenshot.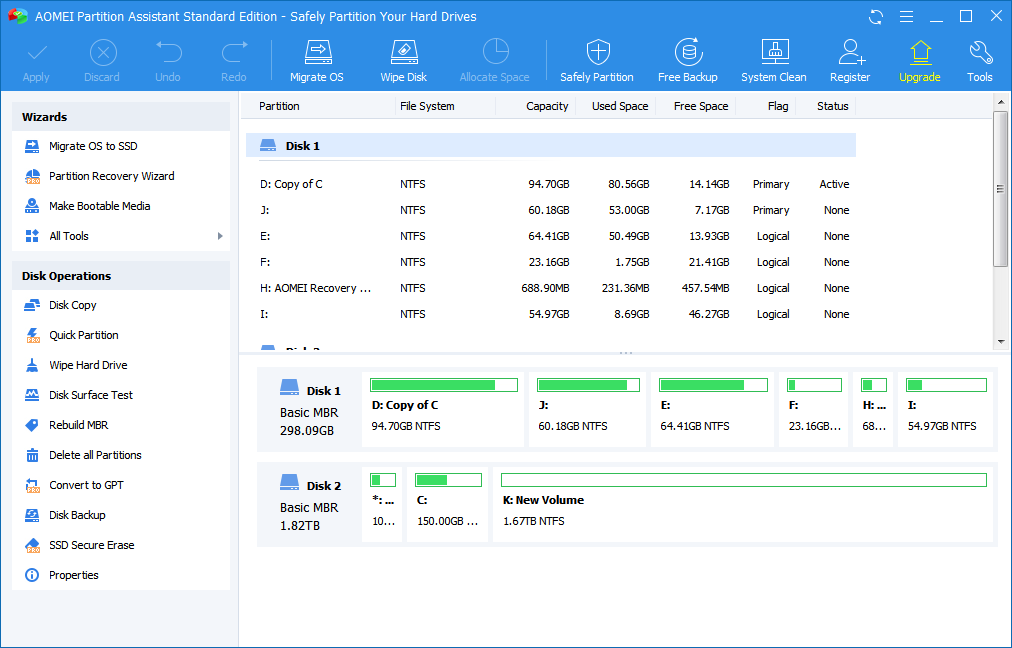 The theme is based on blue color, more simple and clear. Unlike old version, which window is depends on the system, under Win 7 or Win XP, the color and theme are different. Wizards panel from left become less, only three most use options, they are Migrate OS to SSD, Partition Recovery and Make Bootable Media. Others like Windows to Go Creator, copy, extend, converter, SSD Secure Erase Wizard (securely erase your SSD to reset the SSD to its factory state for peak performance) and Integrate to Recovery Environment (designed to allow you to add AOMEI Partition Assistant and/or AOMEI Backupper into the recovery environment of current system) are hided in All Tools, you should click it to open. Thus, list selections on the left all are displayed directly without scrolling mouse. I think 8.0 version makes it easier to use, easier to achieve the goal.
At the top of interface, except Migrate feature button, there are Wipe and Allocate functions. Free Backup and System Clean are two other software. One is AOMEI Backupper, another one is developed by IObit company. Right-click context menu is a bit the same to former versions. More details and concrete steps are hope you could try and find it by yourself.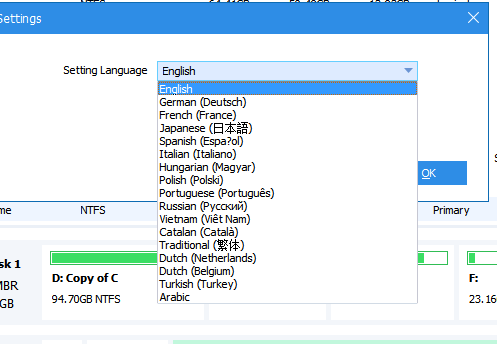 Next, I would like to mention some updates since 2017 to now. Windows To Go Creator support to install Windows 7 onto a USB flash drive or a removable disk, support to choose a system in WIM file, increased Windows To USB feature, which is for migrating current system to USB devices and enabling booting from the target movable devices.
Support exFAT file system, including create, delete, format, move, and copy exFAT partition. Remove the limitation to resize/move system boot partition in Windows 10, version 1703 and later.
AOMEI Partition Assistant 8.0 now supported multiple languages are: English, French, German, Chinese, Japanese, Spanish, Italian, Hungarian, Polish, Russian, Dutch, Arabic, Turkish, Catalan, Vietnam, Portuguese. Hope more and more people could use this free partition software to make computer system better and better, it is safe and won't cause data loss.