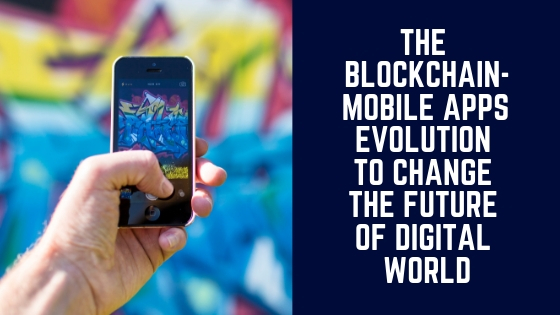 The Blockchain-Mobile Apps Evolution to Change the Future of Digital World
Blockchain technology is here to make our transactions more authentic, transparent and trustworthy.
You may wonder, Is Blockchain really trustworthy or is just a Hype?
But it's a like a situation back in the 1980s where people hardly understood what the internet is and how it would turn the world around. This was probably because people did not understand the Internet. Same is the situation with BlockChain technology.
Seminole county has now become the very first organization in the United States to accept Bitcoins. This news spread the waves of awareness which further were supported by Jack Ma of Alibaba expression of positive sentiments towards blockchain.
The potentials of the infrastructure of Blockchain has astronomically changed the financial services functionalities.
The blockchain is of course a buzz, high-tech word everyone is talking about, so let's understand the definition first.
Blockchain is a decentralized software platform for managing digital assets where the user transacts directly without third party intermediary.
Blockchain technology is reaching all the verticals in the industry be it healthcare, music or a commercial real-estate. It has many emerging opportunities for mobile which are mentioned below:
Cross Border Transactions:
The conventional methods of transferring money to different countries took a much longer duration. The money used to hop from bank to bank and then land up in the actual user account. With the blockchain technology, the whole process can be simplified as the intermediaries are removed.
Healthcare:
The insurance fraud is reduced with the Blockchain as it ensures the certain prescription that is restricted, reaches only to the people who are supposed to get. It can also be used to keep the records of personal health care following the HIPAA laws exactly.
Insurance:
Blockchain has the ability to streamline every business. The exceptional transparency and immutable feature offer more confidentiality. It has efficient storage for records. The editing of records possibly seems non-existent and hence reduces the fraud.
Blockchain technology made Insurance receive more credibility by enabling data tracing and also allowing to know the original date of creation.
Financial Services:
Blockchain technology can really make astounding innovations to Financial services. The security and transparency provision is the eye-catching feature which drove many banks and other organizations to adopt Blockchain for transactions.
By having decentralization of records, and removal of intermediaries, it has made the financial industry more powerful.
Music:
The physical hard copies of music like CD's or records have now become a thing of past. People have started consuming and distributing it digitally.
This shift has created many major problems related to ownership rights and royalty distributions.
By adapting Smart contracts technology for music, it is now possible to create a decentralised and accurate database. The payment methods offer a great transparency and royalties are accumulated according to the terms of the contract.
Smart Contracts:
Smart contracts completely eliminates third party dependencies ensuring the integrity in the transaction process. It has made business transactions more efficient.
Smart contracts have surpassed the adoption of tokenized securities due to multiple benefits offered.
Smart contracts can further be expanded to industries like healthcare, sports, music and other businesses.
Dating:
Online dating is always sceptical as the actual identity is always not verified. Dating apps generally reward the profiles which looks best.
Whereas Blockchain helps to create different types of dating models which can create incentives and a more transparent experience. It becomes easier to verify someone's actual identity.
The top 4 benefits of using Blockchain technology in mobile applications are:
The technology was mainly designed for bitcoin and cryptocurrencies but due to its humongous advantages it has been expanded to mobile applications & mobile development company. Read further to know more:
1.

It offers maximum security to your mobile applications:
Blockchain being designed with high level of data encryption has made the mobile application very much secure and free of threats. It is indeed tough to decrypt the system. It makes use of interlocked blocks that are interconnected making it almost impossible for intruders to tamper with this technology.
2.

Blockchain is reliable:
The technology has highest stability, and zero chances of reliability. The systematic design of block and server storage of data makes it more reliable.
3.

Simple and Easy to use:
As compared to other programs, it is one of the simplest technology to be used. Blockchain technology is user-friendly and easy for users to design, conserve and apply to mobile applications.
4.

Blockchain is continuously evolving:
It is expected that this technology will have tremendous growth in the future. The tools and processes are readily available with an ease of access. With the world migrating more towards digital world, there's lot more to expect.
Blockchain being the new technology on the digital block will create unimaginable wonders in future. With all new features of improving productivity, accountability and efficiency in the workplace, Blockchain technology is thus on the radar of companies and stakeholders.
You'll also like to read: How is Blockchain Technology Being Increasingly Adopted by Tech Mahindra?