Back in the day, you would have to hire a graphic designer to make your business posters, flyers, and other marketing materials. If you have a school or home project, you can also cut pictures and paste them on paper. Unfortunately, this traditional method doesn't look professional. Thanks to technology, you can make stunning layouts by yourself without paying hefty professional fees or pasting glue to your fingers.
Today, you can use a free collage maker online that will make your life easier. With a free tool like Promo, you can seamlessly transfer the pictures in your smartphone to the collage maker. You may also upload your favorite photos straight from your Facebook, Google, or Dropbox account. Talk about convenience! Now, there is no reason why your beautiful photographs will remain unseen and unappreciated in your data storage. You can readily create beautiful picture collages like a PRO!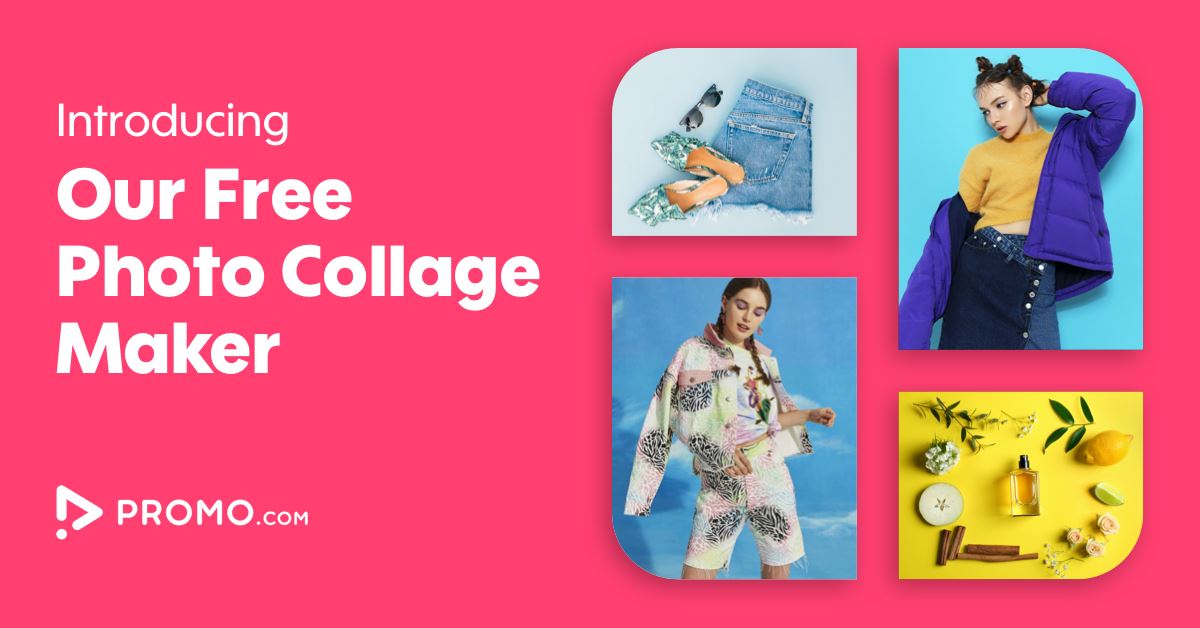 How to Get Stunning Layouts for Your Free Collage Maker Online
First is to find the best template that suits the number of photos you intend to use. There are so many stunning free collage templates to choose from. Templates are built to make your life easy! Though Adobe Photoshop is the most popular graphic design software, it is expensive and quite difficult to use. You need to assimilate and familiarize yourself with the platform before you can use it proficiently. Ordinary folks certainly don't have the time or money to invest in this endeavor.
It makes a lot more sense to use a free collage maker online. Apart from ensuring you don't waste your hard-earned money, this platform comes with tools to make your designing life a breeze! Here's how:
Choose from pre-designed templates, then add stickers, colors, and borders.
Though there is already an existing blueprint to follow, you can still give the final photo collage your personalized touch.
After tweaking your work to your heart's desire, you can save it for easy sharing on your social media platforms.
You can also download it in high-resolution so that you can make stellar print outs.
The Top 5 Free Photo Collage Templates
Choosing a template is an important decision as it will affect the layout and determine the information or pictures you can share. Whether you're a business owner who's looking to print promotional discount cards, a student fulfilling a school performance task, or a mom looking to spruce up your travel photos, your chosen template has the power to convey your story. When using your free collage maker online, you have to select the template that will help you express your message. Let's dive deep and look at the top 5 freebie templates:
1. Classic 15 Grid Template
This template lives up to its name by allowing you to arrange 15 elements in one single square frame in just a few minutes. Just drag those pictures or stickers where you want them placed. Then you can tweak the borders and add your chosen colors. When you can't decide which pictures to use, this template will ensure that your favorite photos can be accommodated. So go ahead, use this for those numerous birthday party photos or for your product portfolio. People today have diminished attention spans. No one wants to click a lot of pictures on social media. If you want all the important stuff in one frame, this is the perfect answer!
2. Social Media Template
You could be an ordinary gal wanting a pleasant Facebook cover to show your closest family and friends. Or you could be an influencer in dire need of a presentable Twitter header that shows the thrust of your brand. Whether it is for personal or business use, everyone loves the social media template provided in your free online collage maker. With this tool, you can use up to seven photos, and the landscape layout will still fit the unique structure of a Facebook cover or Twitter header. Nothing is more frustrating than customizing your collage, only to realize that some parts get cut off because they are not fit-to-size. With this template, you can save yourself from heartache!
3. Special Offer Template
If you're an entrepreneur, the surest way to generate leads and create conversion is to ascertain your offers are visible to your target audience. With the aid of this template, you can use multiple product photos and stickers to make your clients aware of your promos. There's nothing like an eye-catching collage that displays your daily specials in one go. People love to use this template for the following:
Social Media posts
Printing flyers
Text blasts
Email newsletters
4. Happy Home Template
If you have a template for business, then, of course, you have one just for your home. This particular template in your free collage maker online assures that you can preserve your loved ones' memories. It comes with a kitschy sticker that spells out "Happy Home" in the center of the layout. You can then fill the four remaining quadrants with your favorite family photos. The graphic's position truly catches the eye and makes everyone remember that there is indeed no place like home. This is great for sharing on social media, printing for photo books, or putting picture frames for your home wall art.
5. Save the Date Template
Everyone has an important date they want to save, may it be a birthday, engagement, graduation, christening, and more. Even business owners have important events like one-day sales, anniversary promos, or buy-one-get-one deals. If you want people to remember a special date, you need to use this stunning layout to get your message across. You can print this out and send like traditional invitation cards, post them in your group chats, or share them on your social media platforms.
Start Digital Collage Crafting NOW
If you need to tell a story or convey a message, photo collages will help you express your heart's desires. Thankfully, you can count on a free collage maker online to transform your visual art dreams into a reality. When it comes to crafting collages, your options are as limitless as your imagination.
You May Also Like: