You have a busy day ahead of you, lots of things to do and people to see. To ensure you can navigate your day with as little stress as possible, it's a good idea to create a map of your day's journey. For this, you'll need a map with multiple stops. Fortunately, there are several programs that you can use to create this type of map. Read on to learn about the ones we most recommend.
Mapping Programs for Creating a Map for Multi-Stop Routes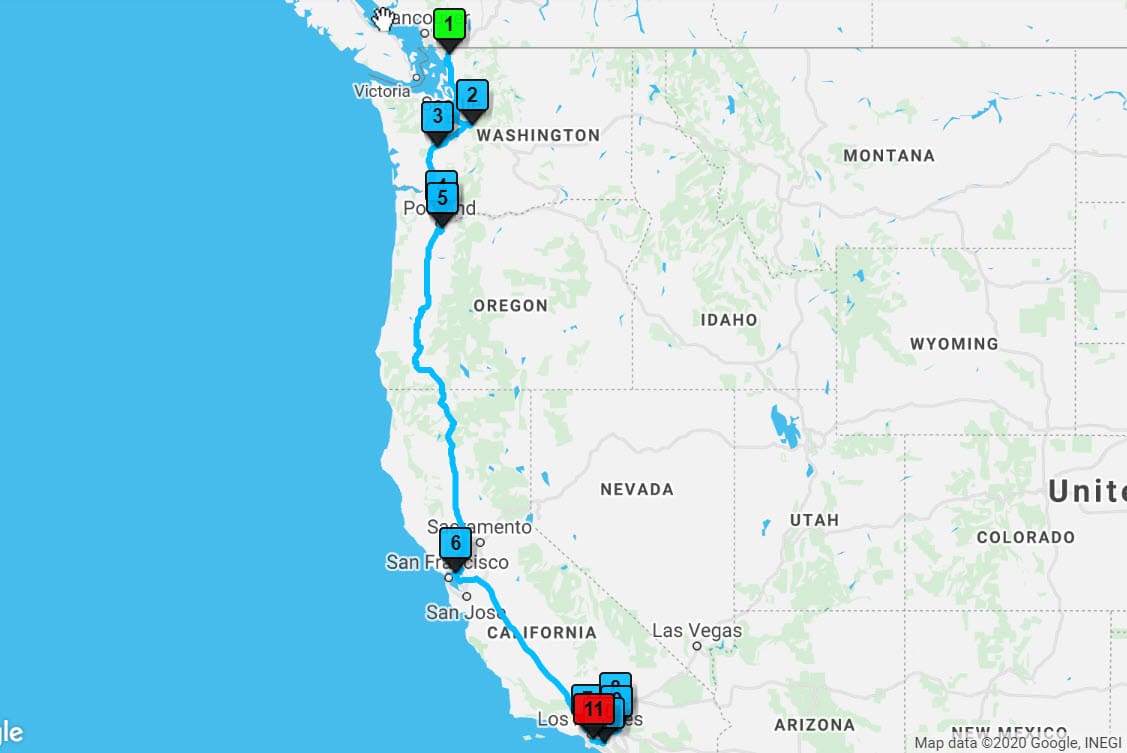 The Maptive Route Planner lets you map the most efficient route between locations, including multiple stops along the way. In just a matter of clicks, this mapping software will provide you with various route options that consider your various stops. You can then choose the route you prefer, and the program will offer you turn-by-turn navigation to guide you to your multiple addresses.
Maptive can plot a route with as many as 25 locations and up to 73 stops. It can also find the distances and estimated travel time between locations as well as calculate the shortest route between destinations. Other features of this mapping software including drag and drop route change and the ability to export your route as an Excel spreadsheet.
MapQuest is a free tool that has been around since 1996 and is still a popular route planning tool today. This program is easy to use and allows users to create a route with up to 26 stops. Additionally, it can help you to locate businesses like grocery stores, restaurants, and gas stations. You can even book a hotel through the app. MapQuest is available on iOS, Android, Mac, and PC.
Known for its optimization features, RouteXL is particularly well suited for anyone in the delivery business. RouteXL lets users input all the stops they need to make and then arranges them in the most efficient and quickest order. You can import your addresses from an Excel spreadsheet, and then once the route is created, you can export the directions to a GPS device or navigation app. You can also share the route via social media or email.
Offering many of the same features as Google Maps, Apple Maps is best known for its map design. The maps not only look great, but they offer a 3D view and include buildings. Furthermore, all maps and directions are synced between all Apple devices. This means you can instantly move directions from your iPhone to your iPad. However, Apple Maps only allows you to add two stops, so it's really only good for occasional recreational use.
This free route planning tool is meant for the trucking industry, but anyone can use it. TruckRouter offers truck-specific routes, which is important to anyone driving a truck as trucks aren't always able to travel on certain routes due to height and weight restrictions. You can add multiple stops, and you get important information about things like toll roads and low clearances. The app also features a trip cost calculator so you can estimate your expenses.
Great for salespeople, the Badger Maps app allows users to plan a route with multiple stops optimized for time and efficiency. It also includes a lead generation and check-in feature. These features make it possible for salespeople to find new business opportunities and maintain contact with their supervisors. This app is available on Mac, PC, iOS, and Android.
If you don't care about the order you make your stops, Speedy Route is a great tool. This program automatically reorders your stops to create the most efficient and fastest route possible. Once your route is calculated, Speedy Route's drag and drop feature allows you to make changes to the order of your stops easily. Once you're satisfied with the route, you can export the directions to a spreadsheet. Additionally, it supports timeboxing. Timeboxing refers to situations where you need to arrive at a location before or after a specific time.
Circuit is route optimization software that lets you prioritize location and lets you set time constraints for locations where you need to arrive within a specific timeframe. After you've set your parameters, Circuit will arrange your stops to create the optimal route. This app is available on the App Store and Google Play, allowing you to take your route with you wherever you go.
Conclusion
If you need to plan a route with multiple stops, you should use an application designed to optimize your route for speed and efficiency. This will ensure that you get to where you need to go in the easiest and quickest way possible.
You May Also Like