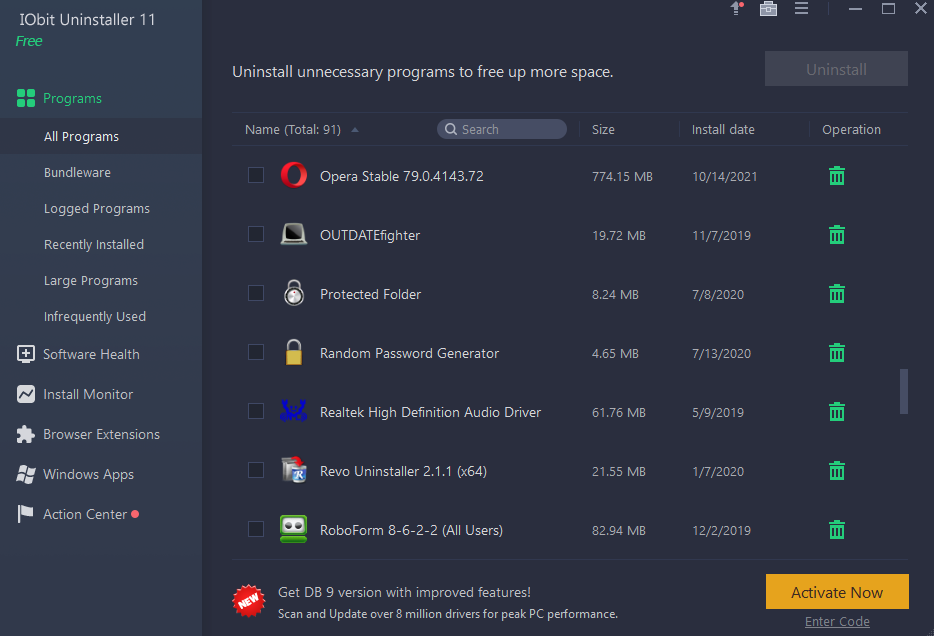 IObit Uninstaller is a free and popular application and plugin uninstaller for Windows to keep a clean computer. When you uninstall the Windows programs, there are still junk files left on your computer, some malicious applications are hard to find and remove, and you find the browser notifications are always disturbing you. Then you can use IObit uninstaller 11 to solve all the problems.
Powerful application uninstallation
IObit Uninstaller allows you to remove one or more applications in bulk from your PC. You only need to click the Uninstall button and the process automatically start and finish with no hassle at all and when the uninstallation is done, it will automatically scan and delete the leftovers in any file, file folders and registries, even the leftovers left by other uninstallers you used before as its unique feature. Compared to the older version, the v11 can remove 5X more stubborn applications and clean 30% more leftovers with its expanded database.
Besides, it supports removing plug-ins for all major browsers of Chrome, Firefox, Edge and Internet Explorer, no matter it's a 5-years old version or the latest browser version. Windows pre-installs many applications that are hard to remove, and IObit Uninstaller 11 can easily get rid of those unnecessary applications with a click.
Brand-new software scan
IObit Uninstaller 11 has a brand-new Software Health feature to scan for applications' issues and fix all in a click. You can scan and manage the applications' right-click, taskbar permissions, shut down the annoying browser notifications, one-click clean up unused installer files, and scan for applications' updates. Your system security is enhanced and you have a better surfing experience without disturbing when you work on the PC.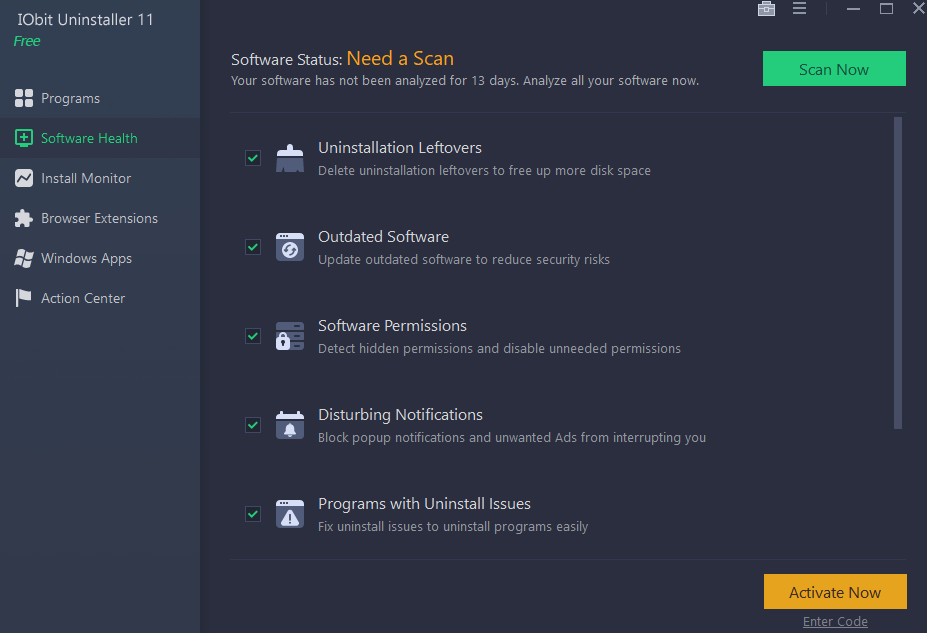 Friendly UI to manage
The program has a clean and more friendly interface than most competitors. In the left side, you see all applications installed on your computer and quickly find what you need in the categories of All Programs, Recently Installed Programs, Large Programs, Infrequently Used Program and Bundleware. You can find every applications' details including the version numbers, publisher name, the installation folder, and its website's technical support link.
The browser plugins are listed in the Browser Extensions by browser name. You can see each plugin's ratings by other users and then choose the browser and remove one ore more plugins in bulk. There is a tool icon on the right top side that it provides the easy uninstall, force uninstall, stubborn program remover, file shredder and Windows updates uninstall to deal with all the application problems and clean up your Windows.
Best system performance
It's very smooth to run IObit Uninstaller 11 on Windows and it has a low processor utilization. It can work perfectly when you work, watch movies or play games on Windows without causing a high CPU or memory usage.
Conclusion
IObit Uninstaller 11 is a free and easy-to-use uninstaller for Windows. It one-click uninstalls all applications in bulk and automatically cleans up the leftovers. IObit Uninstaller 11 can also manage your Windows applications' permissions for a cleaner and safer PC.
You might also like