Construction zones are inherently dangerous. Workers risk injury, and motorists risk collision due to the heavy machinery, traffic congestion, and confusing signage that often accompany construction sites.
To make matters worse, distracted drivers may not notice work crews or signs such as traffic cones indicating lane closures until they are too close to stop in time, leading to an accident. But thanks to some innovative technologies, construction zones are becoming a lot safer.
Here are five of the most important safety technologies in use today.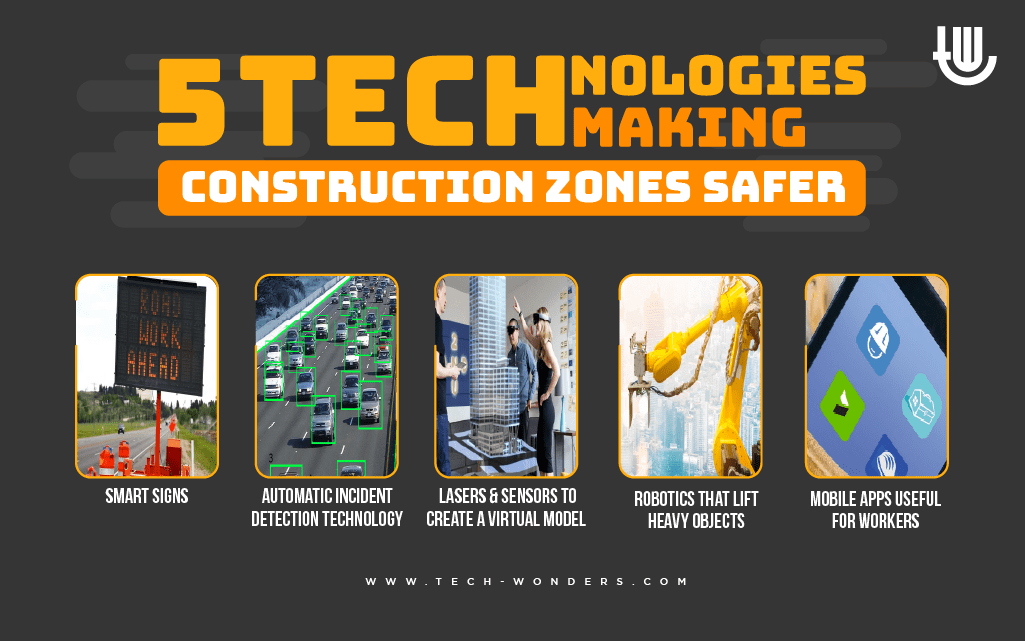 Smart Signs
One of the most important technologies in use today to improve construction zone safety is smart signs. Smart signs are digital signage that can be easily programmed and updated from a central location, making them ideal for communicating changes in traffic flow or other pertinent information to drivers at a moment's notice.
For example, they can show a warning to drivers when a work crew is present or indicate when a lane is closed. Smart signs can also be used to improve safety beyond construction zones.
Automatic Incident Detection
Automatic incident detection is another important technology for improving construction zone safety. This technology uses sensors and cameras to detect accidents or other incidents within a construction zone and then alerts the appropriate authorities so that they can respond as quickly as possible.
This can be invaluable in cases of injury or when hazardous materials are involved. AID systems can alert supervisors of an incident to respond quickly, potentially preventing secondary incidents from occurring due to a delay in response time.
Lasers and Sensors to Create a Virtual Model
New technologies allow construction companies to create virtual models of areas where roadwork is being done. Lasers and sensors can scan the area, including obstacles such as buildings that have already been completed.
The lasers send out a pulse that reflects back to the sensor when it hits an object, giving information about distance and location.
This data can then be used to create a virtual model of the construction site that workers can refer to while working. This can help reduce miscommunication and minimize the chances of accidents caused by workers not being aware of their surroundings.
Robotics
One of the newest technologies being used to improve construction zone safety is robotics. Robots can be programmed with an assigned task and then sent out alone, working independently of human workers while they complete their tasks.
For example, a robot can lift heavy objects, dig trenches, or place cones and signs on job sites where workers would otherwise have to risk injury by performing these tasks themselves.
This type of technology is especially beneficial for remote locations such as tunnels under waterways where a human worker cannot safely reach. While there are still some kinks to work out, the potential for robotics in construction is great, and we will likely see more of them in the future.
Mobile Apps
Finally, one of the most important safety technologies in use today is mobile apps. Mobile apps allow workers to have direct access to important information such as site maps, safety protocols, and contact information for supervisors.
This can help ensure that everyone on the job site knows what they are supposed to be doing and who they should contact if there is an issue. With multiple workers and subcontractors often working on a single project, this can help cut down on miscommunication and ensure that everyone is kept safe.
These apps can be especially useful for workers who need to constantly access information about their surroundings while working in remote locations.
These are just five of the technologies that are making construction zones safer. There are many others, such as drones for inspecting job sites or software that can predict traffic flow patterns, that are also helping to improve safety in these areas.
With the increasing use of technology in all aspects of our lives, it is only natural that safety technologies should begin to play a larger role in improving safety in dangerous situations such as construction zones.
With so much innovation happening in this field, even more, safety technologies will likely be developed in the years to come.
You might also like